Between late October and early November, the small rain season begins in the Serengeti ecosystem, and the Central and Southern Serengeti and the Ngorongoro Conservation Area pastures become once again green and fertile.
Attracted by the distant rains, the herds, begin their journey back to the South; it seems as if the wildebeests are able to perceive the rains and thunderstorms over long distances.
Soon the migrating animals set off, ready to cross the Mara River for the last time with all the dangers that it entails, and continue their march down through the Serengeti North-Eastern plains up to Seronera in the central part of the park, from where they head to Southern Serengeti and the Ngorongoro Conservation Area.
The exact location and stops depend on the rain intensity; the herds will continue their journey only when the Southern fertile pastures are green again and there is sufficient water pools and temporary rivers.
Wildebeests can walk tirelessly for kilometers and for several days, forming columns of animals as long as 40 or 50 kms; a sight to behold.
The puppies are now grown up and have overcome all the possible obstacles, while the pregnant females are about to give birth.
Once the animals have reached the Southern part of the Serengeti ecosystem, a new cycle will begin as it has happened incessantly for thousands of years, as evidenced by some rock engravings at Olduvai, in Tanzania.
Where is possible to spot the herds of Great Migration in November
Salei and Gol Mountains plains: the low grass pastures are very nutritious and ideal to feed the future mothers. Numerous predators live here, including lions, hyenas, cheetahs, jackals and vultures; many herbivorous can also spotted.
Lake Ndutu and Lake Masek: the lands around these salty lakes are very fertile and covered with very nutritious low grasses, and there is no lack of water thanks to the presence of these lakes, so the herds that come here hardly migrate; they only migrate when the water in the lakes has dried up. Numerous animals live here, including giraffes, ostriches, elephants, impalas, several species of gazelle, jackals, cheetahs, hyenas, hippos, crocodiles and 400 birds species.
Moru Kopjes: they are located between Ndutu and Seronera and in this period, the herds leave the perennial water sources, such as the Seronera River, and come to this area. Here the pastures are less nutritious, but it is easier to find food because of the abundance of water.
Kusini: this area is located in the South-Easternmost part of the Serengeti, where the grasslands give way to hills and mountains, which are home to buffalos, zebras, lions and cheetahs.
The position by journey stages is characterised by the following events
The birth and weaning of puppies
The start of the journey
The mating season
The crossing of the Grumeti River and the Mara River
The growth of puppies and new pregnancies
The return to the Southern pastures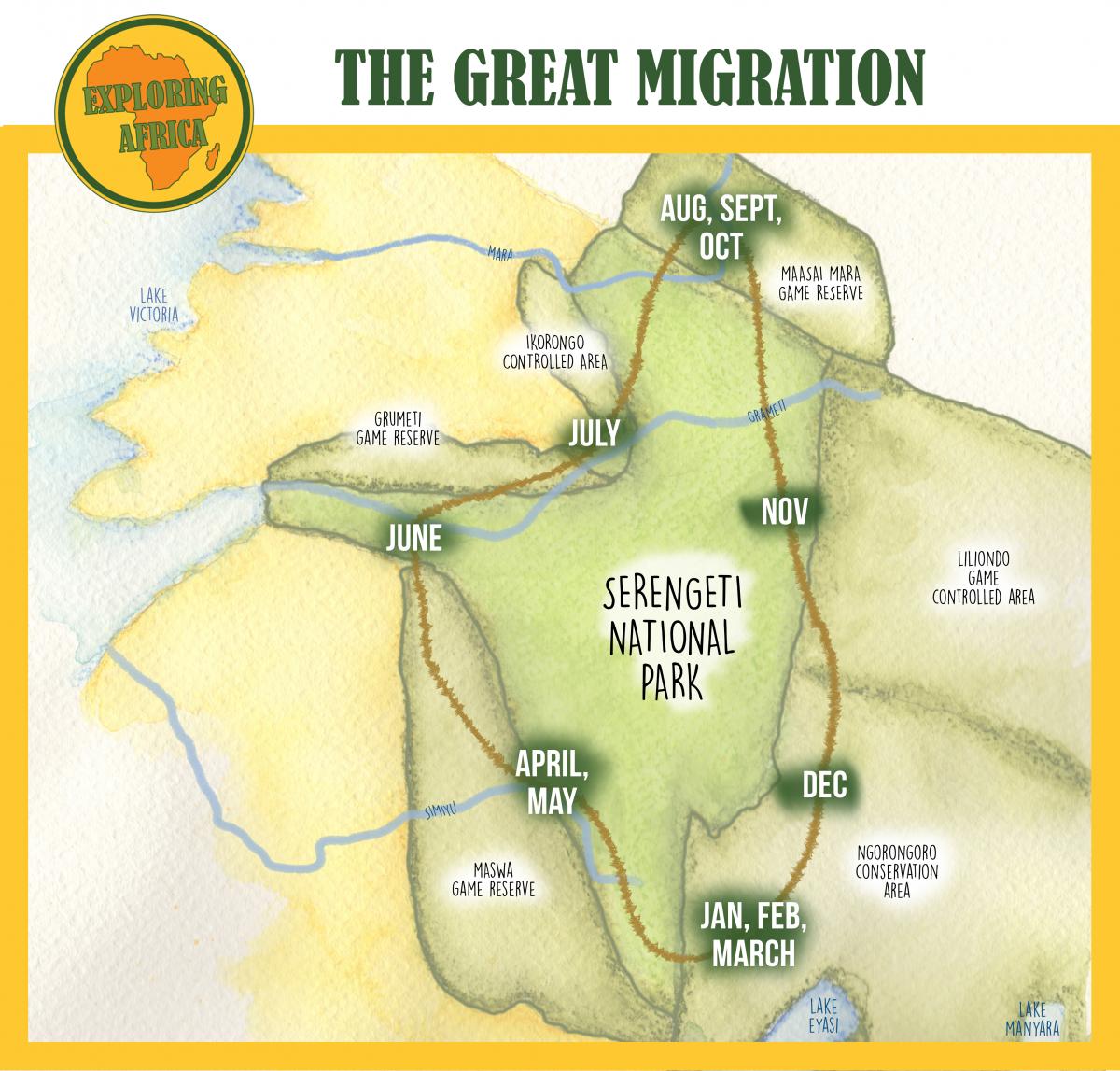 Great Migration through Serengeti National Park Map - Illustration Credits: Marco Dal Molin - marcodalmolin.it