The herds follow the North-West leading to the lands to the West of Seronera, as far as Lake Victoria and the Western Corridor.
This is the mating period and, as it happens for births, half a million wildebeest mates in less than a month in May and June; it seems that this phenomenon is highly influenced by the full moon.
Fighting between males jostling for females is quite common at this time; it is not a violent combat and the animals rarely suffer wounds or injuries, but rather a demonstrative gesture since it is up to the females to decide in the end if they want to mate.
Thanks to the "synchronisation", in Southern Serengeti and the Ngorongoro Conservation Area as many as 400,000 wildebeest pups are given birth in January over 2-3 weeks.
This is a sort of strategy for the protection of the species: in this simultaneous birth the pups are more likely to survive attacks from predators during delivery.
The herds do not stay for long in this area as the dry season begins, so they have to continue their journey and reach the perennial waters in time, as they risk to remain without water and food.
Where is possible to spot the herds of Great Migration in April
Western corridor: the herds reach this area by either of two main directions: one passing from the West of Seronera, following the Mbalageti River up to Kirawira; the other in Northern Seronera along the Grumeti River, that is where the herds flock in great numbers.
Musabi and Mbalageti plains: here there is the highest presence of Topi antelopes, the Ndabaka plains and the river Grumeti south bank are the laces where the herds stop after had reached the river.
The position by journey stages is characterised by the following events
The birth and weaning of puppies
The start of the journey
The mating season
The crossing of the Grumeti River and the Mara River
The growth of puppies and new pregnancies
The return to the Southern pastures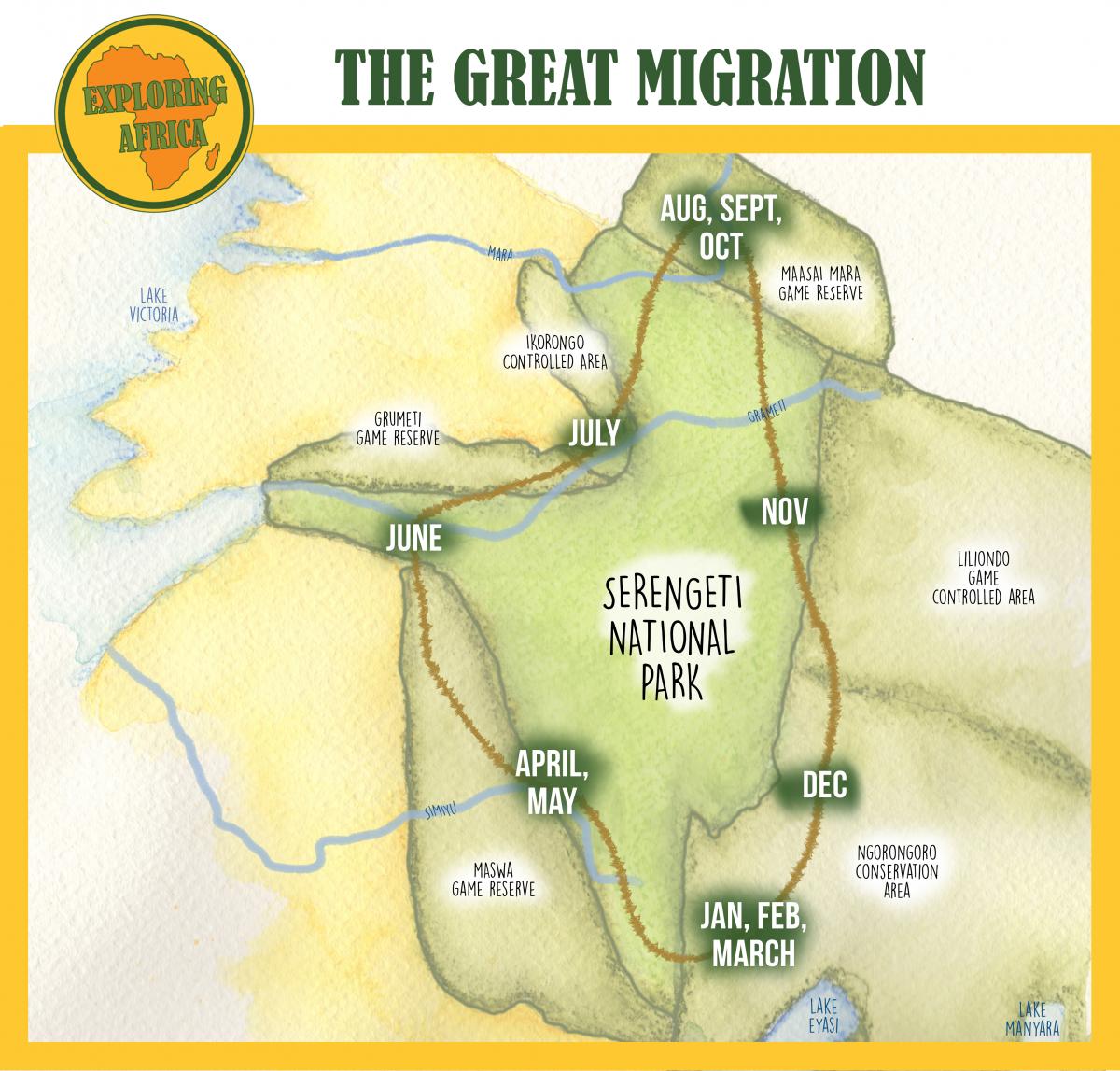 Great Migration through Serengeti National Park Map - Illustration Credits: Marco Dal Molin - marcodalmolin.it