From July to October, or at least until the rain season begins in the Southern Serengeti ecosystem, the Great Migration stays in the evergreen pastures of the Serengeti Mara and the Masai Mara, where there is no lack of water.
Here the pastures are less nutritious than in Southern Serengeti and the Ngorongoro Conservation Area, as the soil contains less minerals, but thanks to sporadic downpours, this area provides a constant supply of food, unlike the rest of the Serengeti ecosystem that at this time, is completely dry.
The herds do not rest at one point, they continue to move around in the area as the pastures are exploited and to search new grassland, thus allowing the regeneration of the exploited pastures.
As they move around they come to cross the Mara river several times, with the same meanders that prevent the animals from grazing; the crossing is one of the most critical and hazardous tasks as the animals have to find the best point for crossing, which involves a consideration of such features as the bank steepness, the presence of vegetation, the water depth and current, and the identification of predators both in the water and on land.
Where is possible to spot the herds of Great Migration while pasturing in the North of Serengeti and in Maasai Mara
Lobo: a highly scenic area of the Serengeti with big kopjes, where the animals that are reluctant to cross the Mara River stop during all or most of the time of their stay in this area. Lions, leopards, buffalos, elephants and several species of gazelle also live here.
Serengeti Mara and Lamai Triangle: this Northernmost area of the Serengeti National Park, bordering the Masai Mara Reserve in Kenya, is very similar to the latter with flat large pastures and scattered bushes and trees.
The Mara River dominates the landscape and with its meanders it is home to cheetahs, lions, leopards, hyenas, various species of antelope and some elephants.
Maasai Mara: it is the natural continuation of the Serengeti Mara with its gently rolling hills and green pastures with shrubs and trees. A high concentration of animals lives here, mainly lions, but also leopards, hyenas and cheetahs, who await the arrival of the migration throughout the year; there are also numerous herbivorous, as well as wildebeests and zebras, giraffes, elephants, buffalos and many species of antelope and gazelle.
In the Mara River live herds of hippos and the lurking Nile crocodile.
The position by journey stages is characterised by the following events
The birth and weaning of puppies
The start of the journey
The mating season
The crossing of the Grumeti River and the Mara River
The growth of puppies and new pregnancies
The return to the Southern pastures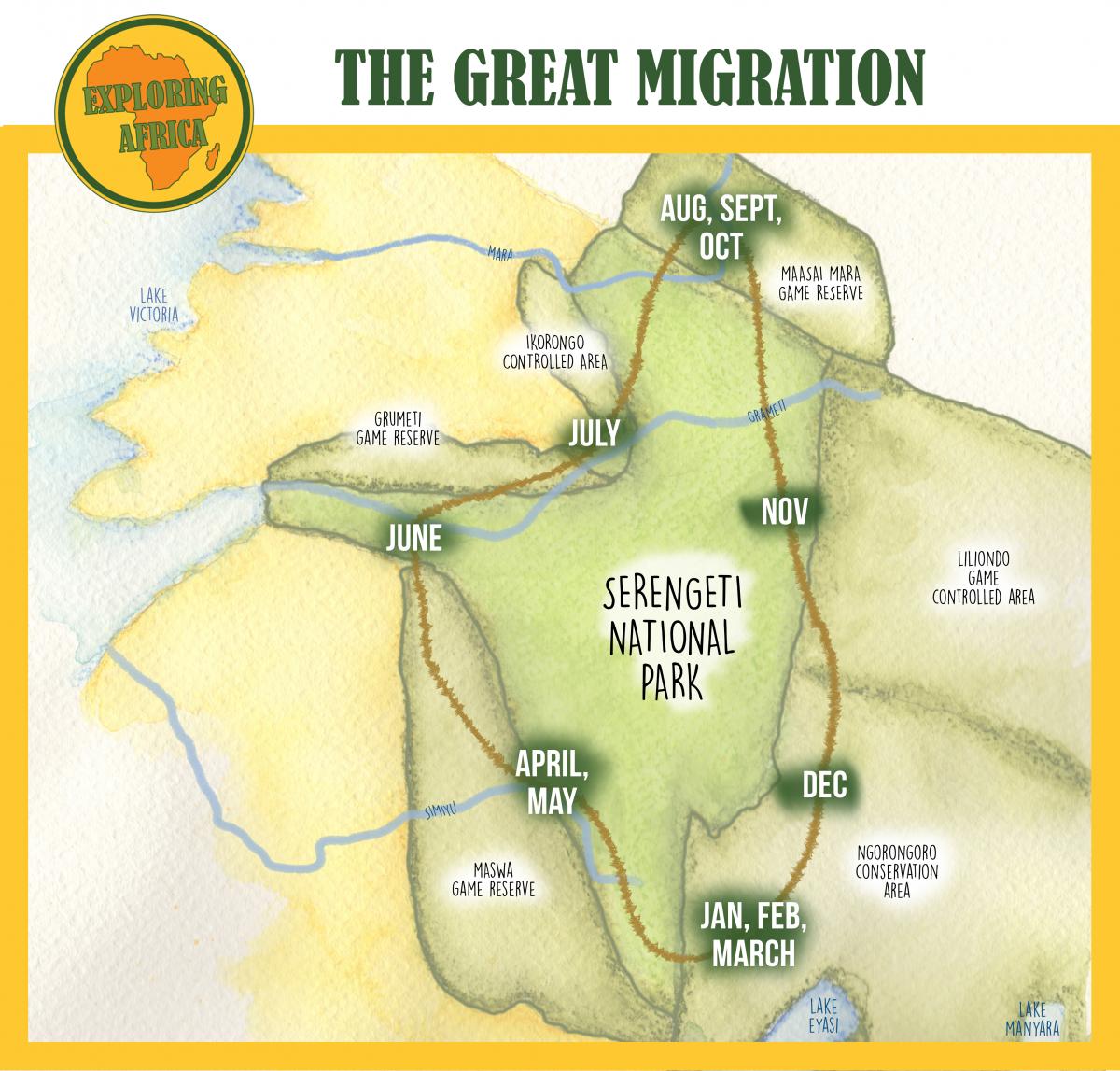 Great Migration through Serengeti National Park Map - Illustration Credits: Marco Dal Molin - marcodalmolin.it