Submitted by SafariADV on Thu, 2018-10-18
This journey began a long time ago, when, maps, Tracks4Africa and Google Maps in hand, we started to study the itinerary and the various stages.
The study and planning are one of the most important parts of a trip because you have to select well the things to see, the places of interest, the roads, the travel times, etc. and then start sketching a route.
Once you have studied the itinerary, you must decide where to stay; since we travel by Dr. Livingstone, our car, a Toyota Hilux pick-up turned into a bush camper, we prefer camping, but sometimes we choose to sleep a few nights in the cottages or tent camps, a lot depends on the offer present in the places where we decide to go and the availability.
We enjoy traveling as South Africans do, sleeping in campsites and cooking with the braai, that is nothing but a barbeque; more and more it is becoming our way of traveling in Africa.
The next step is the reservation of both flights and accomodations.
As for the flight we had little doubt: we booked the business class flight by Ethiopian Airlines; now we have been using this airline for some time, we are comfortable with the operating hours, the service on board is excellent, they have new planes, the staff is very kind and, not to be underestimated, we can take a lot of luggage and, in our case, this is also an advantage.
When we move on to the booking of the accomodations usually the first obstacles appear, it happens sometimes that you cannot book everything you want and then you have to change the lodging or, sometimes, even make changes to the itinerary.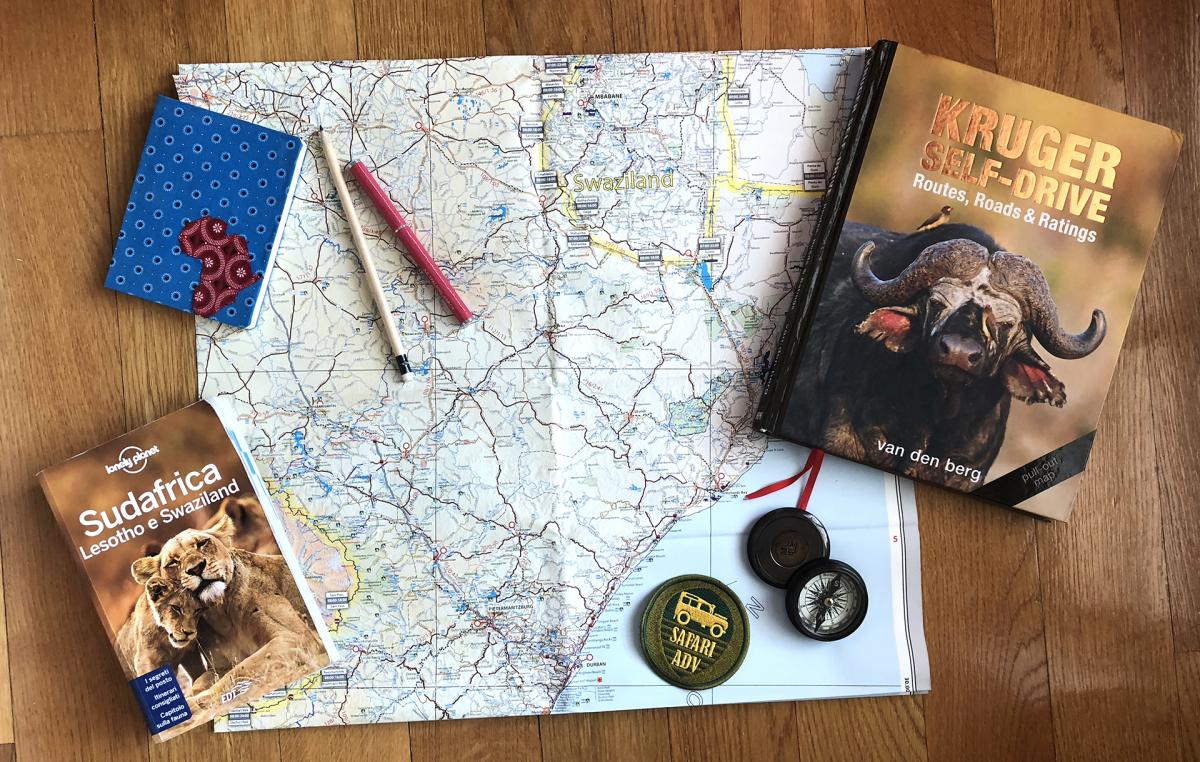 Planning is one of my favorite parts, already beginning to savor the journey, to fantasize about what we will see or the animals we could spot; for me the journey starts here.
Subsequently, in the months preceding the trip, in addition to do the count down with the days that are missing till the departure, there is a preparation phase; in fact, we usually need to purchase items or clothing or other things to take with us or for our car.
This year we bought a tire pressure gauge, very useful for checking tire pressure, especially when you have to inflate and deflate them according to the ground conditions; this year we should not need it, but we will certainly need it for future trips.
We also bought the photographer bags, we have taken 2, one of which we will leave in the car always ready to use; we are happy with this purchase because they can be used on both flat surfaces and on the side of windows, doors, they serve to have more stability and, in the case of the SLR camera, they also help us to support the weight of the lenses.
We also bought several materials to fix the interior floor of our Dr. Livingstone.
Originally it was the floor of a pick-up, so it does not have a smooth but wavy surface, a little annoying when you walk on it; so we bought rubber, synthetic grass and a mat to see if we can solve the problem, also beautifying the environment.
We have also bought new material to take photographs and videos, just to add a little more weight to our technology baggage
We bought a steadycam for iphone; it is mainly used to shoot videos without that annoying flicker and oscillation happening when filming by hand, we will not use the smartphone to film a lot, but, the few times we use it, the videos will have to be of quality level.
We also bought a Panasonic Lumix FZ 1000, our main goal is to use it to take videos, but, if necessary, we will also use it to take photographs; it's small, light and handy, it will be easier to always carry it with us instead of the SLR camera.
Finally, just before leaving, we also bought some groceries we struggle to find in South Africa; yes, because this year we will almost always cook ourselves, we will rarely go out for dinner, obviously the main shopping we will do once we arrive in Johannesburg but, inevitably, some things that are not easily found in South Africa, we have to buy them here.
We had the list ready for some time and in the last weeks we bought everything.
We are really getting closer to our departure ... we just have to pack and then we can leave!!!