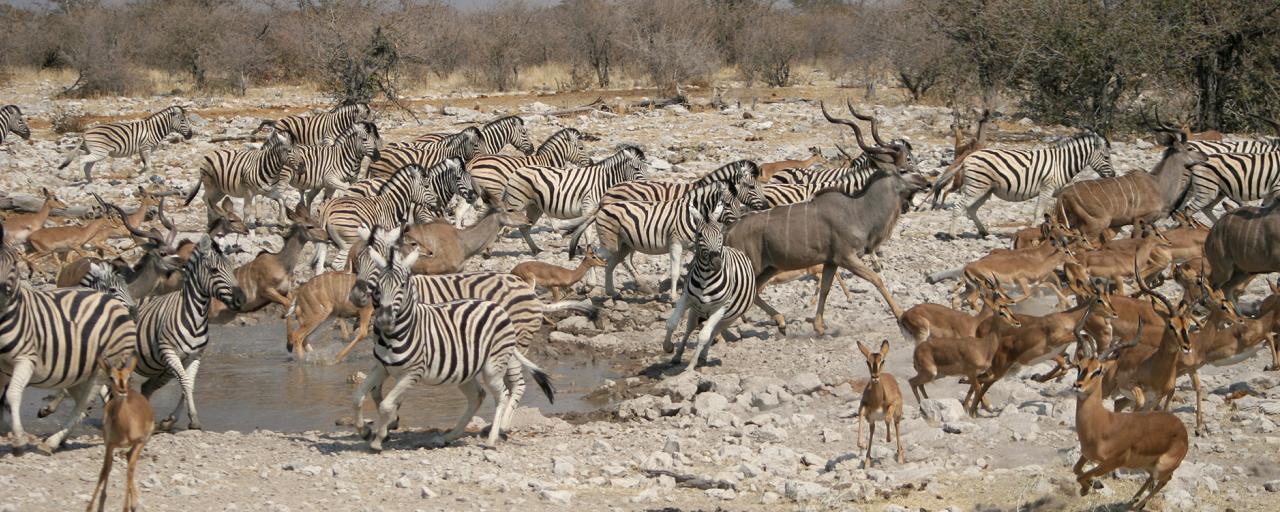 Namibia between deserts and savannah
Useful Information
Duration
15 days / 13 nights
Trip stops / Highlights
Etosha National Park
Damaraland
Swakopmund
Namib Desert
When to visit
Namibia has a particularly arid and dry climate, but from November to March it is the rainy season that strikes mainly in the North of the country
Type of trip
Luxury or Classic (according to the category of accomodation choices)
Activities
Natural Safari
Desert dunes excursions
Hot air balloon on the Namib desert
Visit to the Twyfelfontein petroglyphs
The trip
A trip to Namibia is an adventure that gives you an extreme sense of freedom: endless horizons, the red dunes of the Namib Desert and the expanses of the Etosha National Park are unforgettable places.
The Etosha National Park, the "great white place", as it is called in the local language, because of the white and salty land that characterizes it, hosts numerous species of animals; you can see the majestic elephants, lions, leopards, rhinos, giraffes and numerous antelopes.
In the Damaraland area you can see the rare desert elephants that have adapted to live in an extremely arid and inhospitable place, seeing them walking on the drained bed of the seasonal rivers of the area is an incredible emotion.
Swakopmund is a corner of Germany, houses with sloping roofs that remind more of a Bavarian village than Africa.
The Namib Desert, with its dense orange sand dunes that reach to dive into the waters of the Atlantic Ocean, is a mystical place that fascinates and at the same time exerts fear.
Excursions to Sossusvlei, where you can climb the dunes to look up from the dry beds of the lakes and rivers and to see some oryx walking slowly on the sand, are a must for a trip to Namibia.