Submitted by SafariADV on Wed, 2019-11-27
We are always at the Central Kalahari Reserve, in Botswana, this morning we woke up at 6.00 am, a little later than our usual time, we have breakfast and at 6.45am we leave, we leave the CKDEC06 campsite where we slept last night .
This was not our campsite, we should have been at CKDEC02, but apparently they made a double booking, that happens more often than you think, and so besides us there was also a family from Durban, South Africa; it was much easier for us to move than for them, since they had much more than us.
We left and headed straight to the Deception Valley, shortly after we meet a safari car that is touring these parts, probably looking for the leopard they saw several times at the campsite area; maybe the footprints we followed yesterday morning were its, who can say it.
The guide tells us that yesterday he didn't see our beautiful lions, but he saw 3 cheetah cubs with their mother, who knows if it's the same one we saw, but we didn't see the puppies, so we try looking for them today.
We take the road that crosses the Deception Valley and suddenly we see something that trots in the low grass, they are two bat-eared foxes, they are too funny with their giant ears and their snout; proceeding we see others, always in pairs, but how many are there in the Central Kalahari?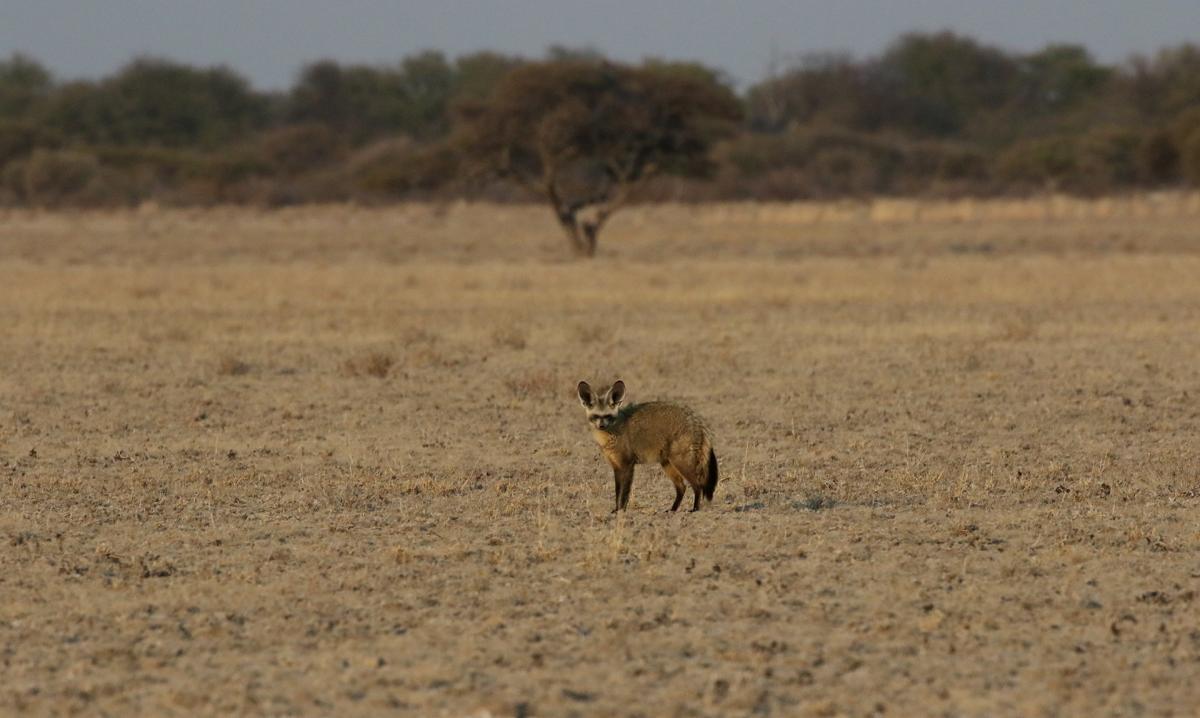 After about 20 km suddenly we see a profile of ears at the base of an acacia, we immediately take the binoculars and here they are the cheetah cubs with the mother.
We look for ways to get closer a little but without disturbing them, the cheetahs are threatened with extinction because the larger felines have the upper hand over them and often kill the cheetah cubs, the reason for this behavior is simple: they are in competition for food.
They are beautiful, the mother is wary but does not seem nervous about our presence, it does not even give us a glance, I think its biggest concern is the lions that we saw yesterday that were not very far from here; furthermore we note that it has a swollen belly, a sign that it has eaten recently, so for a while it does not even have the problem of having to hunt and leave the puppies alone.
The three puppies are simply wonderful, they are awake and have a curious nose, they are small and for them it is all a novelty; they still have the long and white hair typical of cheetahs when they are puppies, this is a form of defense of the species, with the white hair long and bristling on one side they seem larger and on the other resemble the honey badger that, given that it is aggressive and has no problem to attack anyone, it is usually avoided by other animals, in particular lions and leopards, that are the biggest threat to puppies.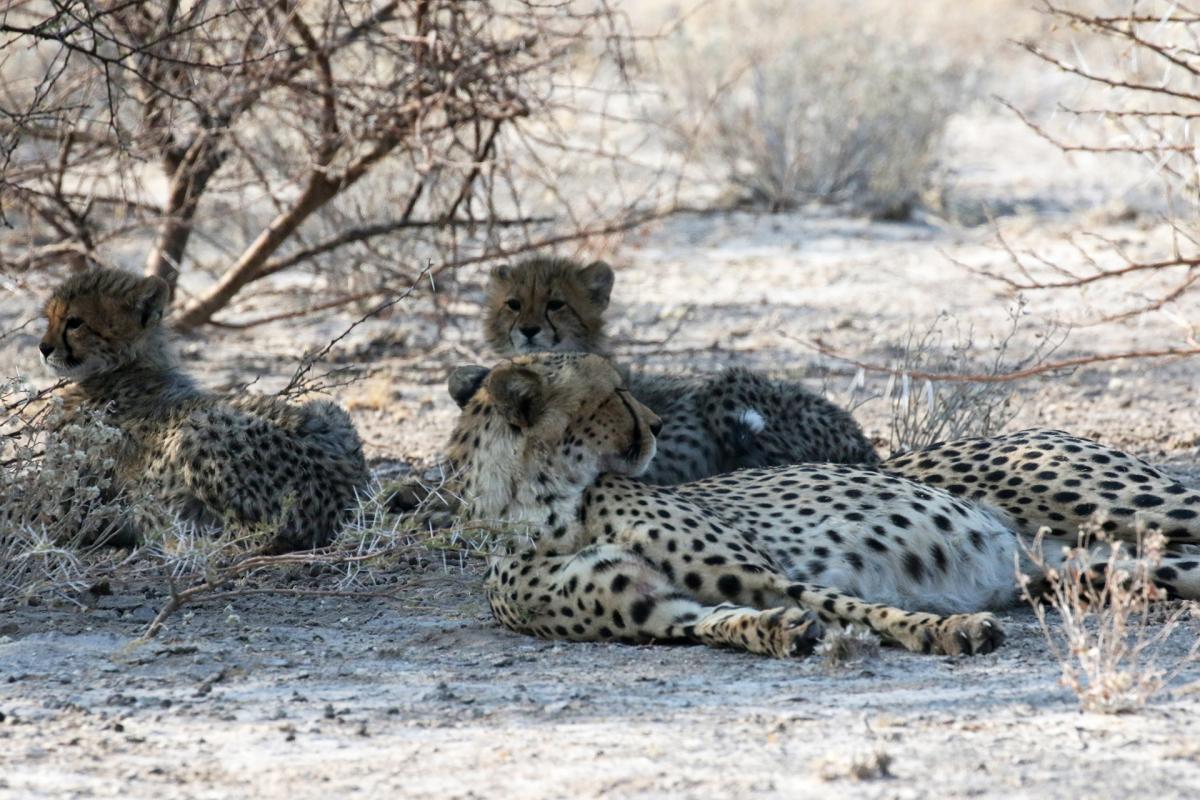 We remain a bit in admiration of this female cheetah with its three cubs, we take many photographs and we do some videos; if it were for us we would stay here all day, but we want to prevent the female from getting tired and decide to move the puppies, perhaps in a less safe place for them, so we decide to say goodbye and continue our exploration.
We continue along the road that leads to the Letiahau Waterhole and we arrive in the area where yesterday we saw the lions, we look for them everywhere, we travel the secondary roads and we look with binoculars but there is no way to find them; they probably have moved farther from the road and will be lying somewhere out of sight, patience, we saw them so well yesterday that we are still so satisfied.
We arrive at the Letiahau waterhole and find the same safari car we saw this morning, they too looked for the lions but couldn't find them.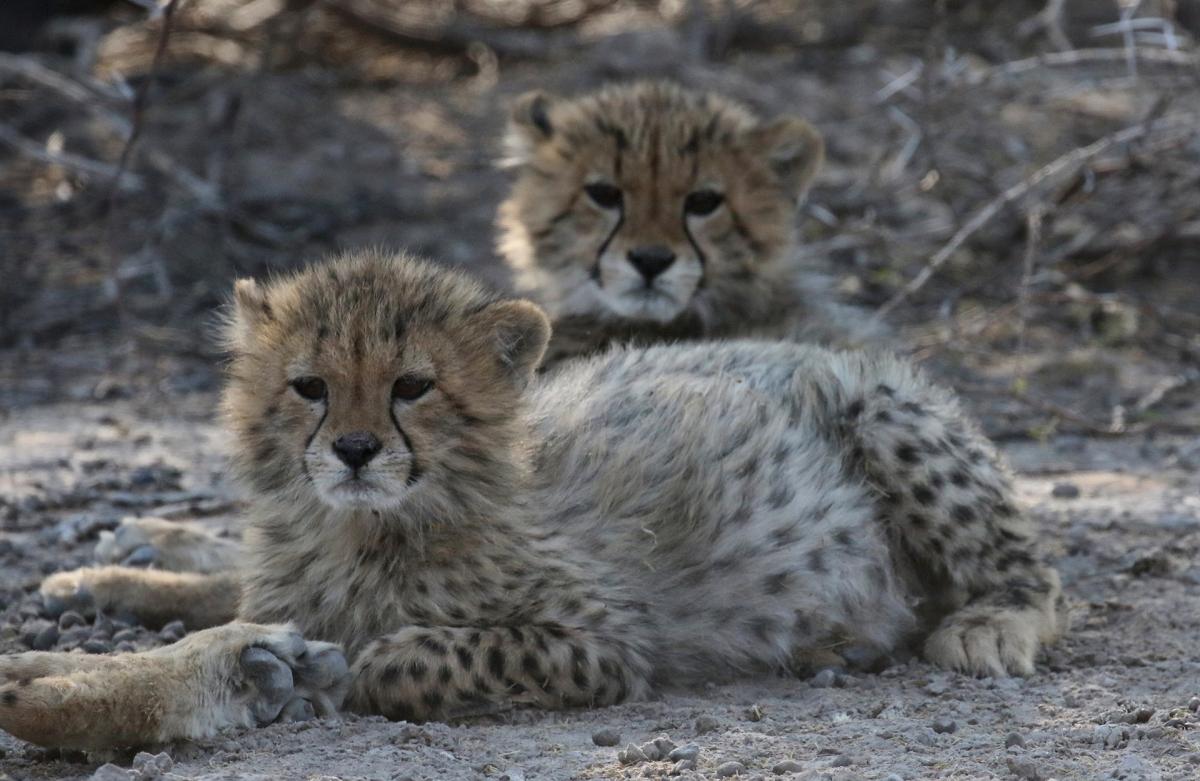 At the waterhole there are seven giraffes, they are a bit wary and look at us suspiciously; they trust the cars a little, it is clear that they are not very used to seeing them, not like in other parks and reserves where they are always curious but do not run away like these.
At a certain point they start running and run away towards a small grove of acacias; they will probably come back to drink when there are no cars.
Since it is early we decide to continue a little along the road that leads to Piper, surely we will not go there because from here it is about 50 km and Tracks4Africa indicates the track as sandy.
We drive a few kilometers and then the track becomes more sandy and the grass at the side of the road becomes high, even if there was something to see it would be a good challenge; we don't want to go on to see nothing and so we go back and stop again at the Letiahau waterhole.
When we arrive we find a self drive car lurking to admire the pond, and so far nothing strange, what surprised us a bit is that they set up the table with chairs and are having lunch; in our opinion they are a little too close to the pond where, potentially, there could be anything, they also seem a little naive and this makes us a bit afraid for them.
Meanwhile the seven giraffes returned to the waterhole but they are a little reluctant to drink, perhaps they are annoyed by their car that is a little too close, instead we have hidden ourselves in the bush; one by one they try to drink but it is as if they take small sips and then get up, it is clear that they do not trust.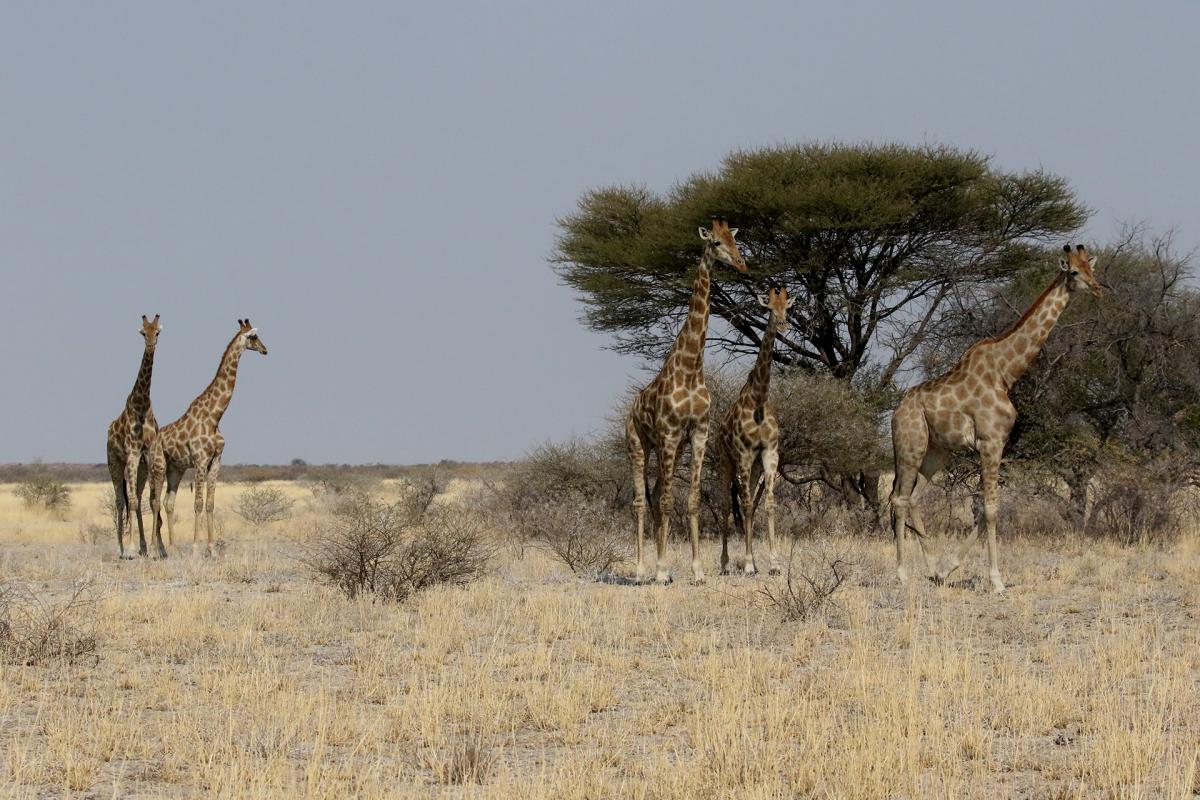 We drive around the grove where the pond is to see if there are other animals and we see a herd of kudus running away, who knows if they managed to drink or are running away because they are afraid.
We decide to leave the hole and head North; the idea is to try to look for lions again, but since it is now 12.00 pm they will surely be lying in the shade somewhere, impossible to spot, but we will try anyway.
Meanwhile we are hungry, after all we had breakfast at 6.00 am, so we stop in the shade of an acacia and have lunch; we have a few things to finish, today is the last day of safari on this trip and we must make sure not to leave perishable food.
After lunch we try to take a secondary track that does not exist on Tracks4Africa, we are curious to see where it leads but above all we have not yet abandoned the idea of ​​looking for lions; the first part has a compact background and there is little vegetation, so much so that we can see a leopard tortoise standing in the shade of a tree, but soon after, as soon as the trail leaves the valley and climbs on the vegetated dune, it becomes more sandy and the vegetation is thicker, here we would not even see a mammoth, so we return to the main track and turn left.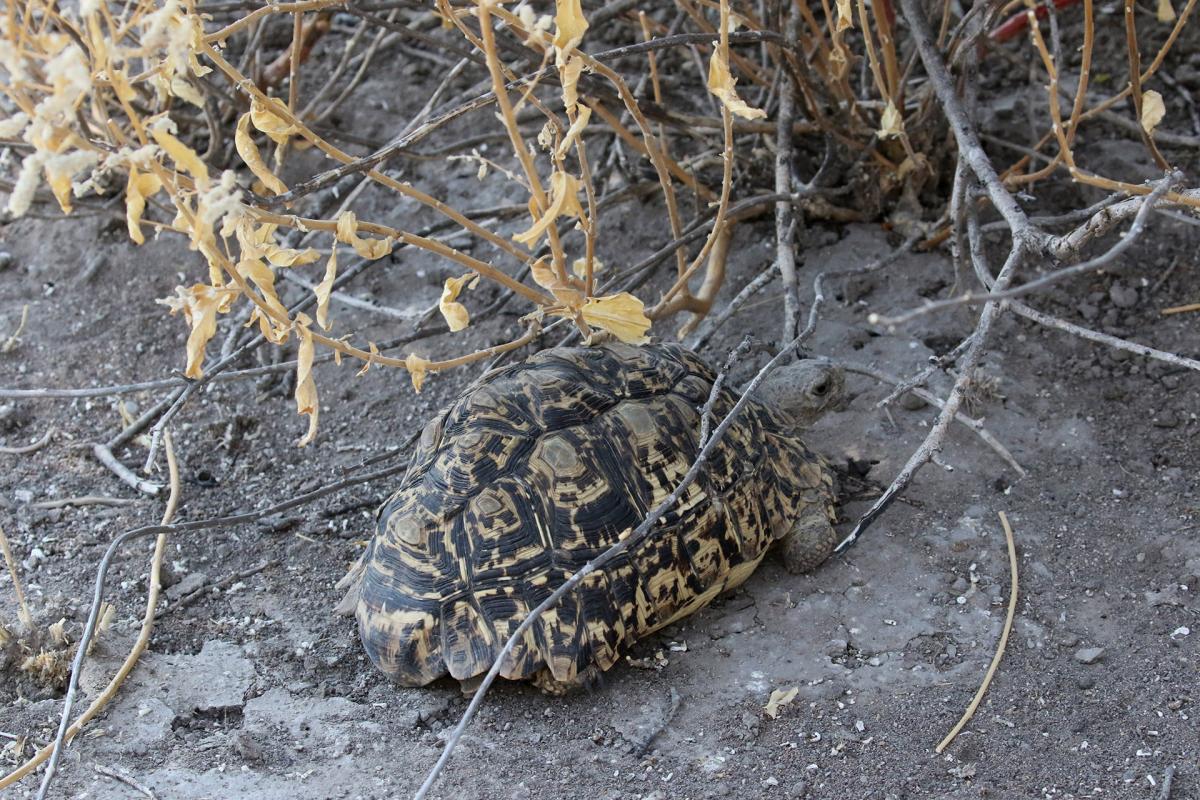 We go back up along the main track that, in some places, shows clear signs of mudslide of some off-road vehicles during the rainy season, we wonder how long it took to get out of the morass some of them; we try to avoid the holes and the deepest traces in order to avoid touching with the bottom of Dr. Livingstone, the result is that we go a bit in a zig-zag among the various deviations that have been created by those who passed by here before us.
We arrive at the area where we saw the cheetahs this morning, we look for them and they are still under the same tree where we had left them, but the light has changed, it is much harder and the cheetahs are in the shade; this morning, however, the light was much softer and the shadows were soft, perfect for taking photographs.
We try to drive the track that is behind them to see if we can see them from another angle and another light but from that part we just can't see; we should approach a little but this would mean doing an off-track and frankly we prefer not to do it in order not to frighten the cheetahs but also to avoid damaging the vegetation and whatever else may be on the ground, such as the den of some animal or the nest of some terrestrial bird .
We greet our cheetah friends hoping that all three puppies will reach adulthood and continue our safari.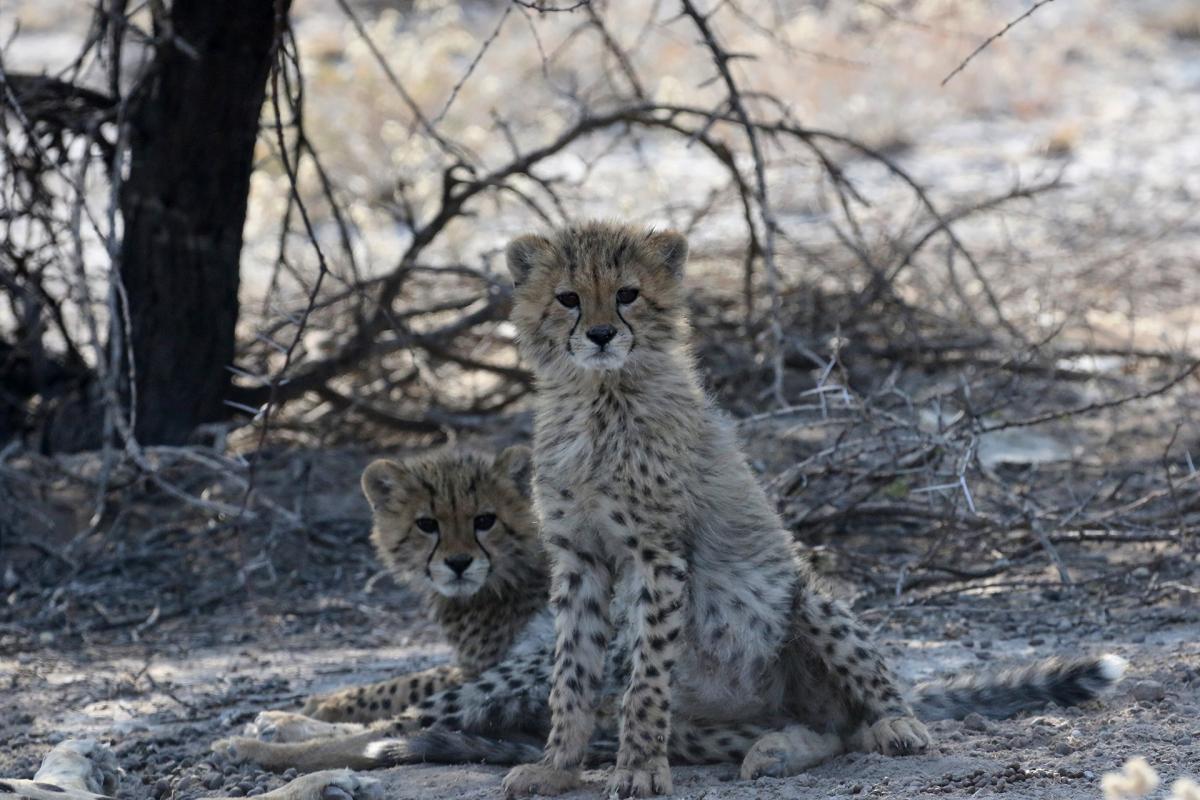 We arrive at the upper part of the Deception Valley, here the landscape is almost surreal, somewhat reminiscent of the Complex of the Makgadikgadi Pans although there are no areas completely devoid of vegetation and so salty.
We take the road that leads to the Kori campsite, at the Maswere Gate they reported seeing leopard and lions almost every day around here, it is to understand whether they saw them on safari or whether they found them at campsites during the evening or the night, the fact is that we try to go and see, you never know.
We only see South Africans who have built forts that might be the envy of Fort Apache, well it must be said that doing camping is another thing, in practice they have mobile villas.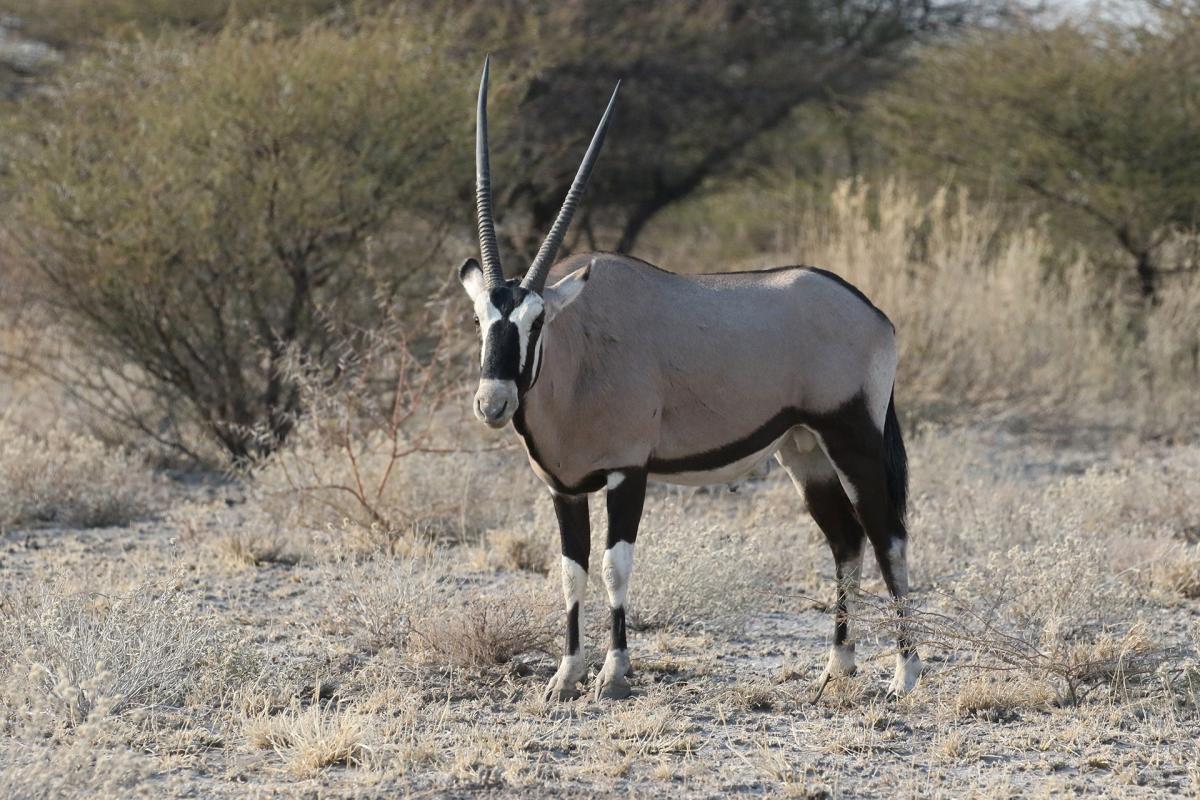 When we reach the bottom of this track we turn to the right and make a last lap of the Deception Valley, it is spectacular and we don't stop taking photographs and shooting videos.
Then we take the road that leads to the Deception campsite, who knows if tonight we find someone who has a double booking or not; along the way we could still spot the leopard, so we look around analyzing every single form that may look like a cat.
We arrive at our campsite, the CKDEC02, today there is no one; we position Dr. Livingstone and relax a little; it is quite early compared to our standard, it's 4.00 pm, so we have plenty of time to fix a few things, to download photos, write and take some selfies.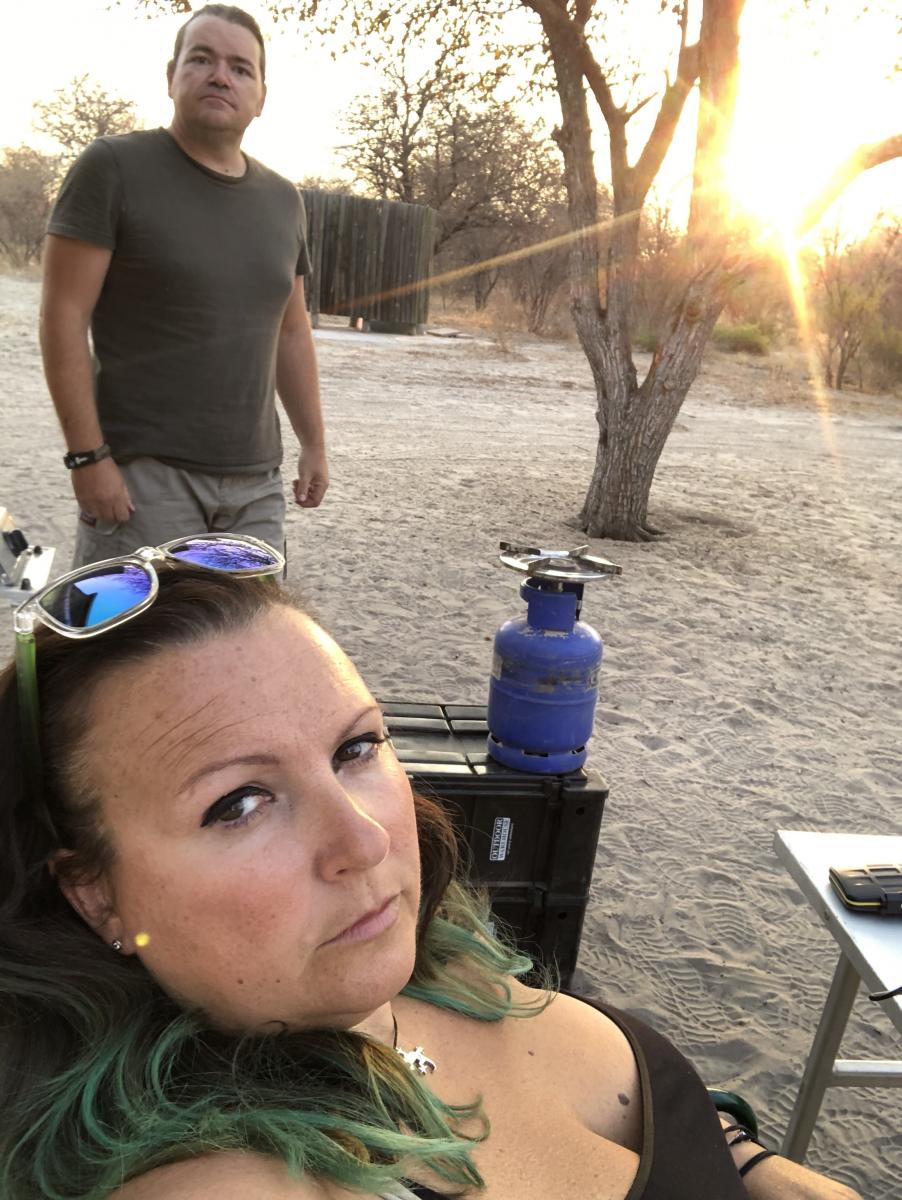 When the sun starts to descend towards the horizon we prepare the last spritz of this trip and enjoy the show of the sundowner with its warm colors and we think about the journey that will end soon and we are happy.
Today was the last day of the safari of this trip, apart from the road we will take tomorrow morning to leave Central Kalahari, we are sorry, as always, as the day when we take the flight to return to Milan, but if we think about the journey we have taken, all the safaris, sightings, photos taken, videos taken, laughter, the starry sky and all the other wonders of this journey, well we can only be happy and satisfied.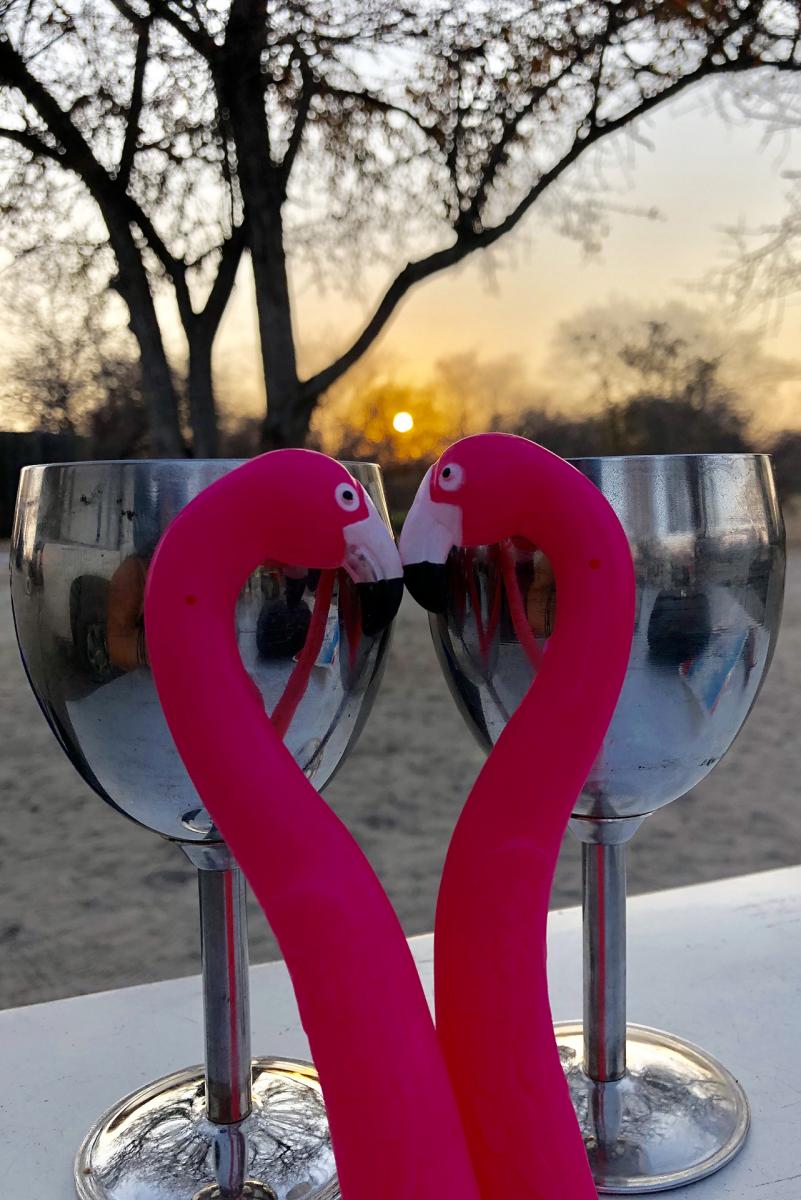 Data di inserimento:
Wednesday, November 27, 2019