The Great Migration alone is worth a trip to East Africa; this extraordinary and exciting event is something that everyone should experience at least once in life.
Due to the vastness of the area where the herds move, it is important to be up to date on their current location for better chances to seeing them closely with your own eyes.
Below is a brief guide to identify the best areas where to go in each time of the year chosen for your safari.
The Great Migration is an incredible wildlife spectacle that you can enjoy at best if you know exactly where the herds move around at a given time of the year.
Serengeti is a vast wilderness area with a varied ecosystem, and you should be in the right place at the right time.
Along the 800 kms migration route, the herds move in circle in a clockwise direction throughout the year.
Their long journey starts in April from South-Eastern Serengeti and the Ngorongoro Conservation Area in Tanzania, when the calving is complete and the plains start to dry up.
The herds then move North-West deep into the Serengeti national Park and in July they start to cross the Grumeti River and further South to Masai Mara, and from October to December they return to the Southern Serengeti to graze and give birth to their cubs before the cycle starts again.
Seemingly wildebeests complete their journey effortlessly.
They can cover long distances quite quickly without much fatigue. Their journey is dotted with obstacles: always lurking predators on land and in water, rushing rivers, drought risk or, conversely, unexpected floods; a dangerous journey that need to be undertaken for the survival of the species.
The movement of the herds is caused by several factors, the main one being the constant need for water and increasingly new rich grassy pastures.
So the herds live in different ecosystem areas throughout the year according to the changing seasons.
How to understand the position of the Great Migration in Serengeti Ecosystem
The Great Migration month by month
The Great Migration with the alternation of the seasons
The Great Migration based on the lifecycle of the wildebeests and zebras
A month-by-month analysis is certainly the best way to identify the location of the herds and hence decide where to go to enjoy the best view.
But the place where the migrating animals move changes every year, as this depends on numerous factors: rainfalls, the abundance of grass in the plains, water sources.
The itinerary and schedule are always the same.
You can identify the location month by month and plan your trip accordingly.
Discover the location of the Great Migration month by month
January, February and March

April

May

June

July

August, September and October

November

December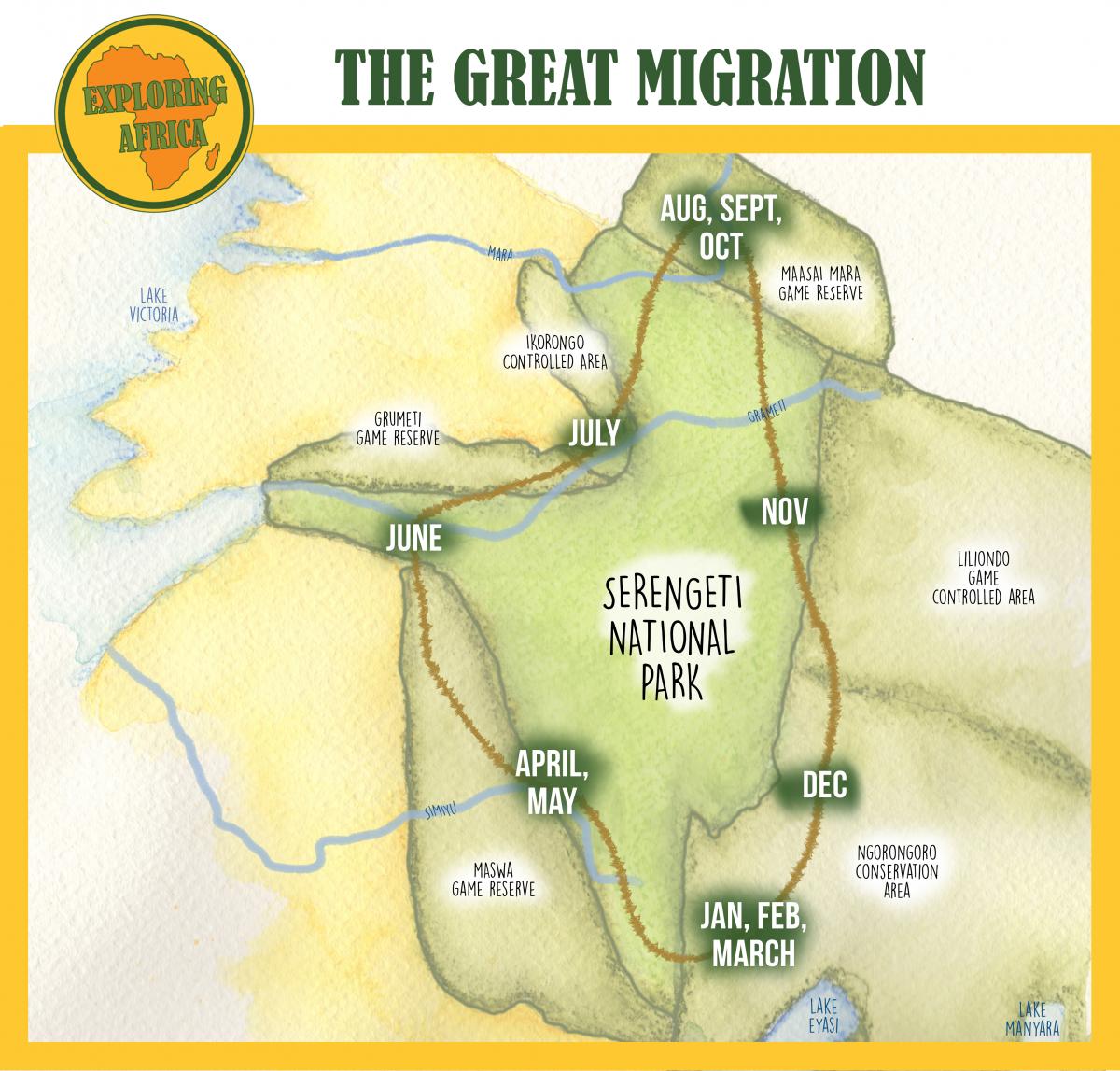 Great Migration through Serengeti National Park Map - Illustration Credits: Marco Dal Molin -
marcodalmolin.it