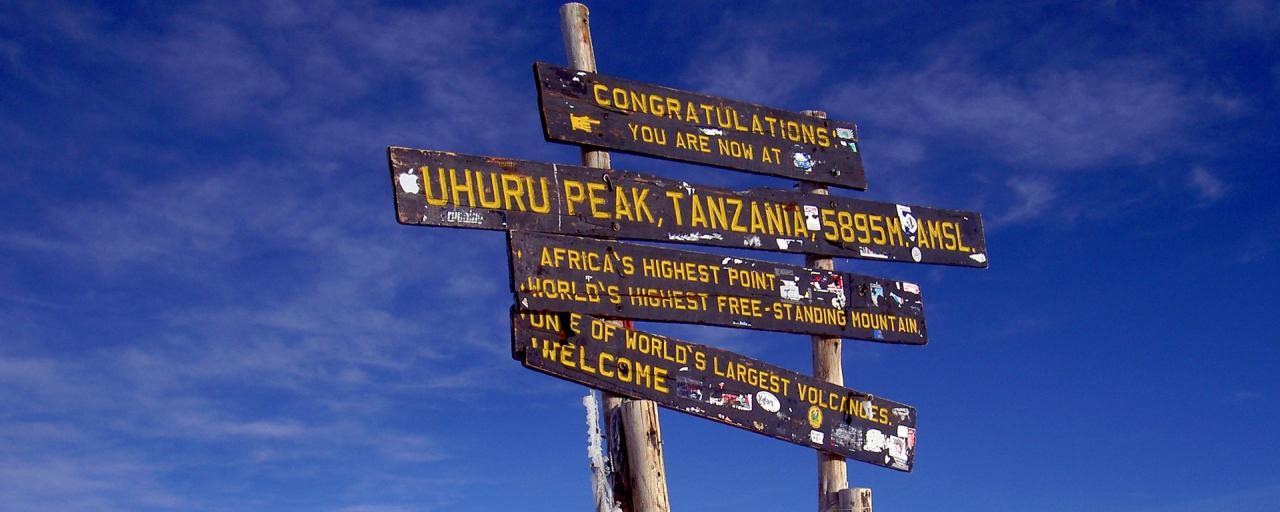 Kilimanjaro experience
Useful Information
Duration
The days needed to climb depend on the chosen route, you go from 7 days for the Marangu trail to 10 days for those who choose the Lemosho trail
It is usually added one day before the ascent to acclimatize
Trip stops/ Highlights
Kilimanjaro
When to visit
The best period is in the months from July to October and from December to February
Type of trip
Trekking
Activities
Trekking
The trip
The Kilimanjaro is the highest mountain in the entire African continent and the tallest mountain in the world but it is primarily an icon and a landmark for trekking enthusiasts.
The Kilimanjaro is a 5,895 meters high volcano; it has perennial snow above 5,000 meters and, during the climb, different climates and habitats are met along the slopes.
Between 1,800 and 2,800 meters we find rainforest; between 2,800 and 4,000 meters, where the temperature can drop below zero at night, we find a dry mountain vegetation; between 4,000 and 5,000 meters there is a cold desert characterized by very little vegetation, during the day the high altitude equatorial sun is very strong.
The top is often above the clouds, the night temperature can drop from -15 ° C to -25 ° C so you need to be well-equipped.
The view, that climbing the Kilimanjaro offers, is unmatched, admire the great savannah stretches at the foot of the mountain, the lava peaks, the secondary craters and the Meru Mount in the distance.
The challenge is open, the Kilimanjaro is waiting for you.