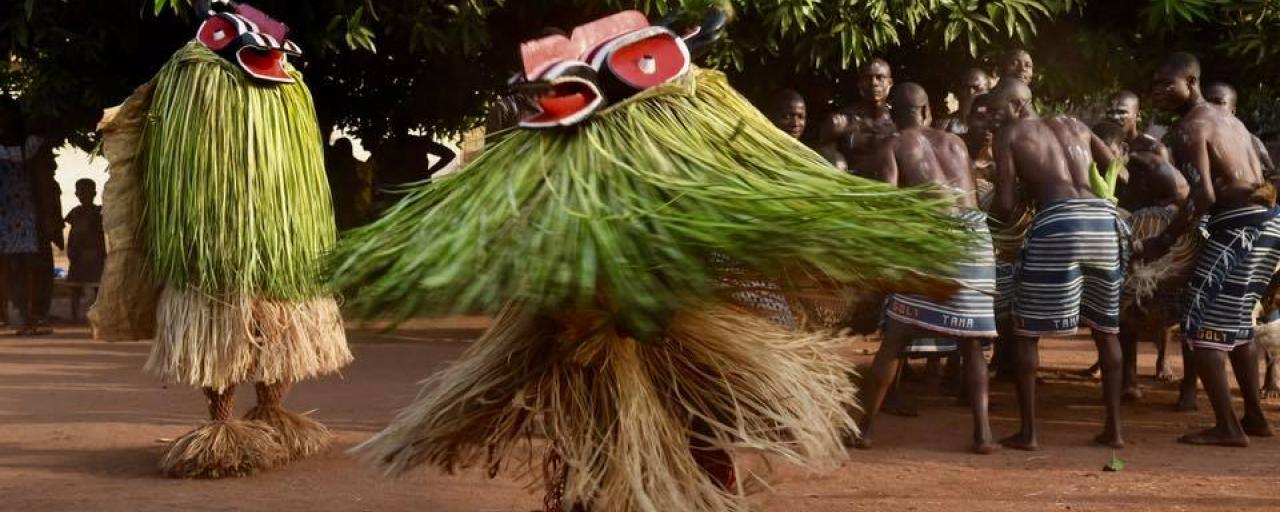 Traditions and tribal rituals in the Ivory Coast
Useful Information
Duration
9 days/ 8 nights
Trip stages/ Highlights
Abidjan
The Baulè and the Goli masks
The Senoufo and the panther dance
The Fulani nomads
The Malinké warriors
The Yakuba
When to visit
In the Ivory Coast the climate is tropical, with a dry season from December to February, and a rainy season from April to October, due to the African monsoon.
Type of trip
Classic cultural
Activities
Savannah excursions
Boat cruise
The trip
The Ivory Coast is a country of forests and savannahs populated by about 60 tribes, each of them with rich traditions and numerous initiation rites.
The variety of landscapes of the country is accompanied by a great wealth of cultures and traditions.
We begin from Abidjan a pretty city with the lively market of Treichville and the quiet Cocody, the elegant residential district with the Presidency and the white colonial buildings.
The itinerary continues and focuses on the populations, starting with the Baulè and the incredible dances of the Goli masks, that are performed as entertainment and during the funeral of high-ranking people.
The Senoufoè are famous for their complex initiation rites, the initiation of the boys in fact lasts 21 years, during which they learn social and religious taboos, as well as passing some tests and performing in masked dances: among these the more spectacular is that of Boloy, or dance of the panther, celebrated by the boys returning from a period of isolation in the sacred forest, in the evening at a village we will witness this dance.
Along the way we will meet the Fulani nomads, who move with their herds in search of new sources of water.
We will then meet the Malinké, descendants of the ancient empire of Mali, a population of warriors and great healers who know the esoteric properties of plants and animals.
A Malinké warrior dressed in fetish clothes in traditional bogolan fabric and with a rifle covered with amulets, will accompany us on an excursion on foot in the savannah, to tell us about the power of some plants.
Later we meet the Yakuba, better known as Dan; we will visit the villages, built on the slopes of the hills and characterized by large round huts with thatched roofs; at the edge of the village are the coffee plantations.
Here the masks dance, celebrated by the initiates coming out of the sacred forest, will be witnessed, they are acrobatic dances that evoke unforgettable emotions.