Here there is only one private reserve, the Siana Conservancy located East of the Masai Mara National Reserve, covering the area between the Sekenani entrance, the Ololaimutiek gate, reaching down to the road to Narok; it is one of the largest reserves with its 117 square kilometers of surface and was founded in 2010, when these lands were taken under management by the Siana Ranch.
The priority of this reserve is the conservation and protection of nature even though, unlike the other reserves, this conservancy is not operating at full capacity yet, although in 2016 progress has been made in this direction; however, there are rangers monitoring the area.
The conservancy is an important buffer between the Masai Mara National Reserve and the surrounding territories in the East and encloses different habitats from plains to hills covered with forest.
Here there are many species, easy to spot, including giraffes, buffaloes, elephants, gazelles, zebras, wildebeests, Coke hartebeests, topi antelopes, elands, dik-diks and other herbivorous; of course, no shortage of predators as well, such as lions, hyenas, leopards, cheetahs and others; occasionally wild dogs are also spotted.
The herds of wildebeests who do not take part in the Great Migration can be sighted at the Loita Hills during the wet season; here in the months from mid-January to mid-March, in fact, you can witness the birth of their puppies.
A few minutes after birth, the wildebeest calves, not only are able to stand, but can already run; if it was not like that, they could not keep up with the herd constantly moving in search of new pastures.
To these herds, in the months from July to October, are added those coming here from the Serengeti National Park in Tanzania.
Research and conservation projects that works into East Zone of Masai Mara
the Mara Hub Monitor studying and monitoring lions, wild dogs and cheetahs
the Elephant Voices studying the movements of these wonderful animals here and in other reserves present near the Masai Mara National Reserve
The areas of the Great Masai Mara Ecosystem
The North Zone of the Great Masai Mara Ecosystem
The East Zone of the Great Masai Mara Ecosystem
The South Zone of the Great Masai Mara Ecosystem
The West Zone of the Great Masai Mara Ecosystem
The Central Zone of the Great Masai Mara Ecosystem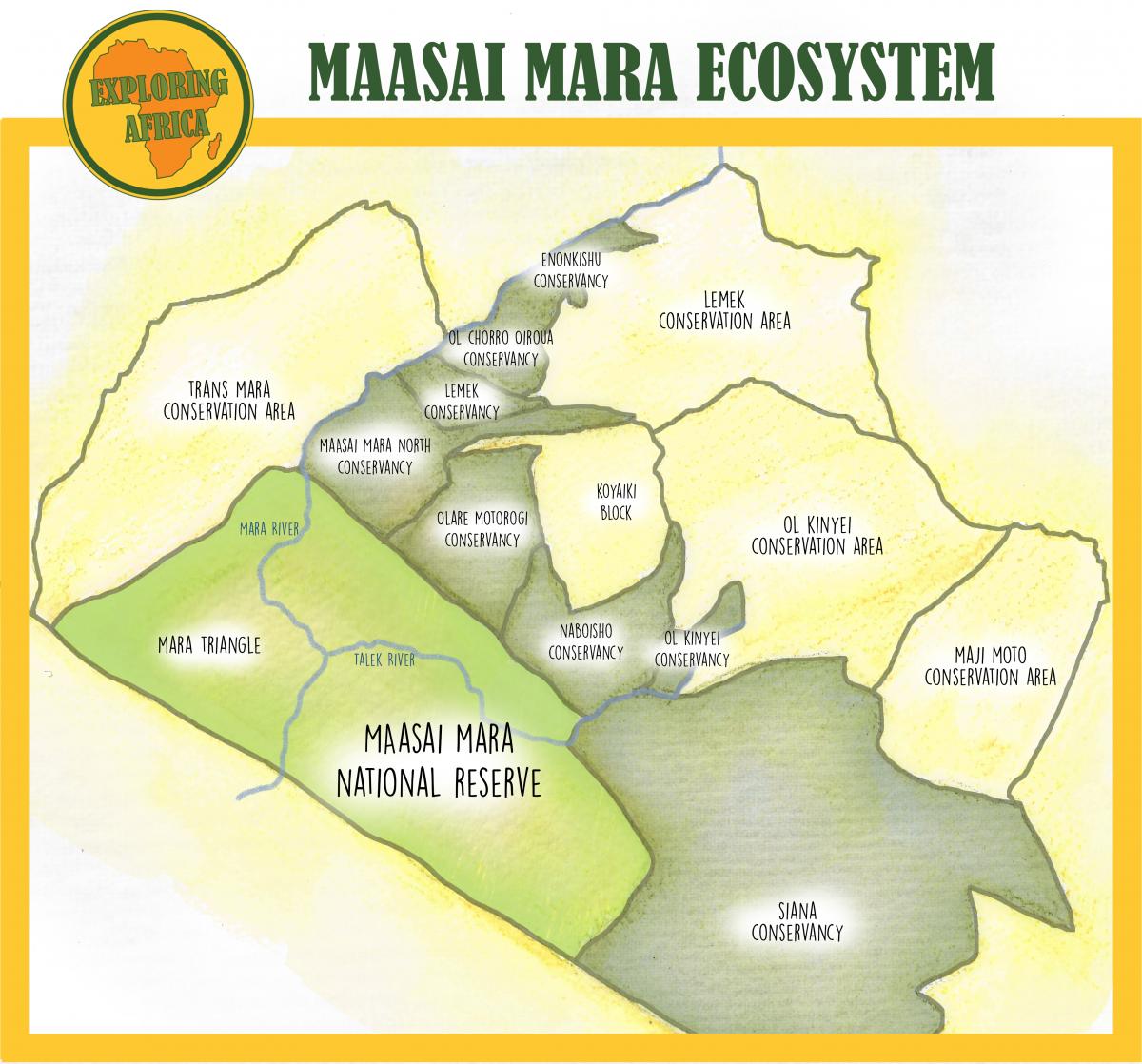 Maasai Mara National Reserve and neighbouring Conservancies - Illustration Credits: Marco Dal Molin - marcodalmolin.it