Here is the Masai Mara National Reserve and this is the part of the Great Masai Mara Ecosystem most frequented by visitors as it is here, along with the Mara Triangle, that you have to go to get the best opportunity to witness the spectacular crossing of the Mara River by zebras and wilebeests herds during the Great Migration.
Therefore, here you have the highest concentration of lodges and tented camps and consequently also a higher presence of Safari vehicles, to be added to those of the people staying in the surrounding reserves who come here to spot the crossing.
Those staying in the surrounding private reserves have to pay an entrance fee to the Masai Mara National Reserve to arrive here, in addition to the payment of the fee to stay in the reserve; this double payment discourages some visitors to travel to this area.
Traffic and crowd are the price to pay to be able to attend one of the most fascinating and exciting events that nature can give us: the crossing by thousands of wildebeests and zebras of the impetuous Mara River infested with crocodiles; the tension and anxiety of these animals, who face these dangers, are palpable, in a moment you find yourself rooting for them, that they arrive safely to the opposite bank of the river, but not even here they are safe: lions, hyenas and leopards await for them in ambush looking for the right moment to attack.
This is an excellent area all year long to see the animals, and not only from July to October when there are the herds of the Great Migration and of the Loito Hills Migration.
The grassy plains interspersed with some acacia woodland and small conical hills are excellent vantage points on the surrounding savannah; here, throughout the year, there are several species of antelopes and gazelles, as well as buffalos, impalas and giraffes, and, as always, when there are many herbivorous no shortage of predators such as lions, leopards, cheetahs, hyenas and other small carnivores, they are present in large numbers and this facilitates the sightings.
In the period when there is no migration in the National Reserve there are fewer visitors, so it is more pleasant to visit this area, also in the months from November to April, there is the highest concentration of birds even species migrating here from Europe to spend the winter.
The Masai Mara National Reserve is crossed by two major rivers, the Mara and the Talek, dividing it into three sectors:
the Mara Triangle that lies West of the Mara River
the Musiara Sector located between the two rivers
the Sekenani Sector located East of the Talek River
Only the Musiara Sector and the Sekenani Sector are administered by the Narok County, while the Mara Triangle is under the jurisdiction of the TransMara County Council.
The areas of the Great Masai Mara Ecosystem
The North Zone of the Great Masai Mara Ecosystem
The East Zone of the Great Masai Mara Ecosystem
The South Zone of the Great Masai Mara Ecosystem
The West Zone of the Great Masai Mara Ecosystem
The Central Zone of the Great Masai Mara Ecosystem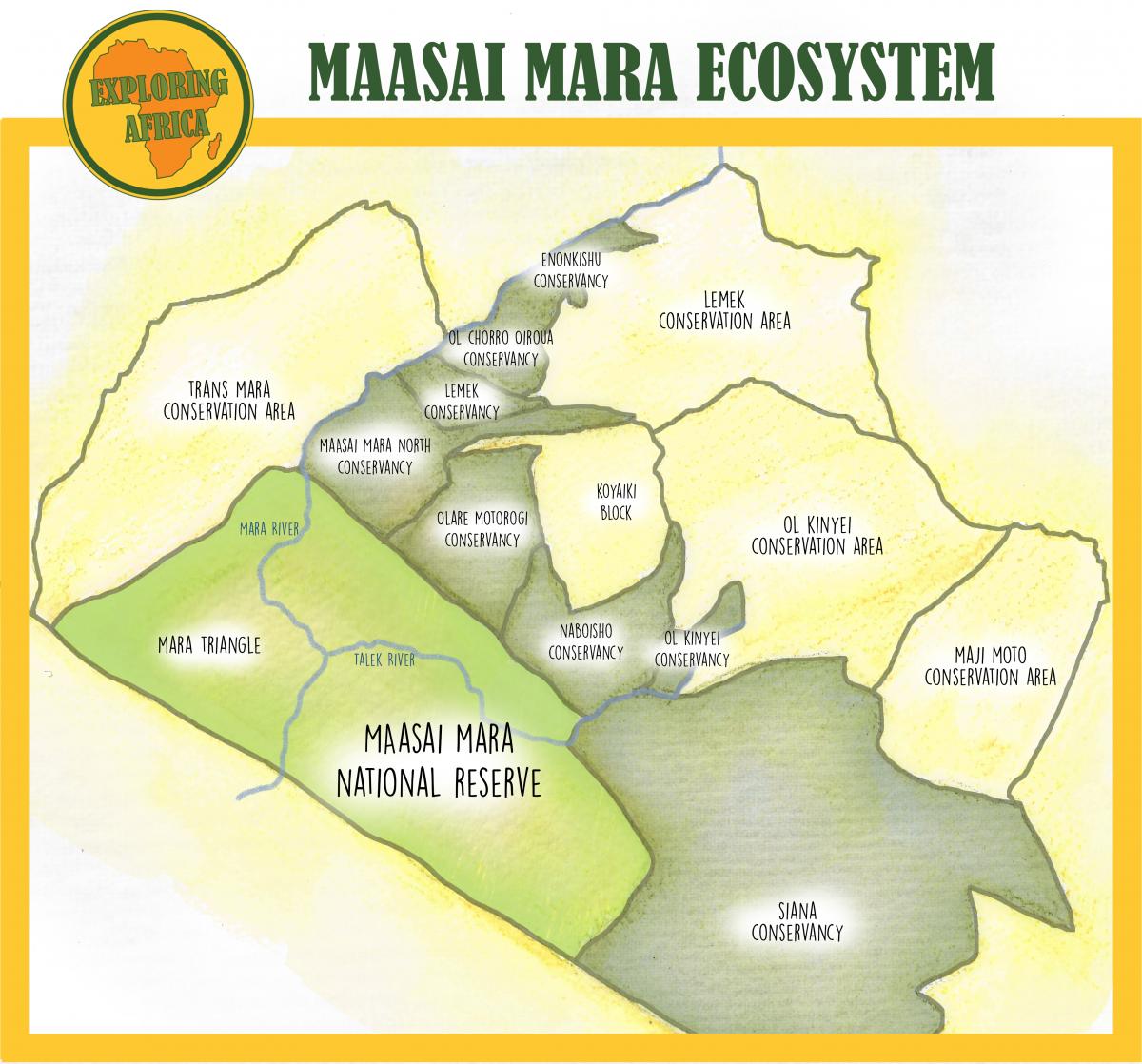 Maasai Mara National Reserve and neighbouring Conservancies - Illustration Credits: Marco Dal Molin - marcodalmolin.it