The rainy season runs from November to April, and if rains are abundant, at this time of year there are many species of animals in the park that come here for food and water; they come from both the nearby Okavango Delta and the Chobe.
It is possible to see large swarms of springboks, gemsboks, giraffes, impalas, wildebeests, elands, hartebeests and zebras; sometimes even some elephants are noticed; obviously there are also predators such as lions, hyenas, cheetahs, leopards, jackals and wild dogs.
In the summer months there is also the birth of the puppies of some herbivores, in particular in January the springboks' one are born.
This park is also crossed by the second largest African migration, although less known than the Great Migration of the Serengeti Ecosystem.
In the summer months, wildebeest and zebra herds descend from the Okavango Delta and head towards the Makgadikgadi Pans, crossing the Nxai National Park; it is one of the most important zebras' migrations in numerical terms: about 25,000 specimens.
Visiting the park during this time is definitely the best moment to spot the animals, but it is not easy as the slopes are muddy and slippery; you need to be particularly skilled in driving an off-road vehicle, or better to rely on a local guide.
Since the month of May, with the beginning of the dry season, water reserves begin to shrink, accompanied by the heat of the sun, that is particularly intense here; this is also due to the absence of tall trees, except for a few blocks of baobabs, but it is not enough to hold the moisture to the ground.
It is possible to see animals until the month of August, but progressively they move from this area, that starts becoming not livable to them, towards the Okavango Delta and the Chobe where they are able to find reliable sources of water, allowing them to overcome the winter.
During the dry season it is easier to drive in the park as the roads are dry and therefore there is no longer the danger of being bemired; in this period, fewer animals are observed than in the rainy months, but on the other end you can admire the loneliness and silence of this deserted place that lurks in sight.
At some puddle of water, that can withstand drought, focus the few animals, preys and predators, who decide to stay in the park; ostriches, gemsboks and springboks survive in this inhospitable habitat; here are the most numerous flocks of springboks of all Southern Africa.
At the end of the dry season, especially in October, the Nxai National Park can reach very high temperatures while the climate remains dry; you have to pay attention to dehydration if you want to visit it during this period.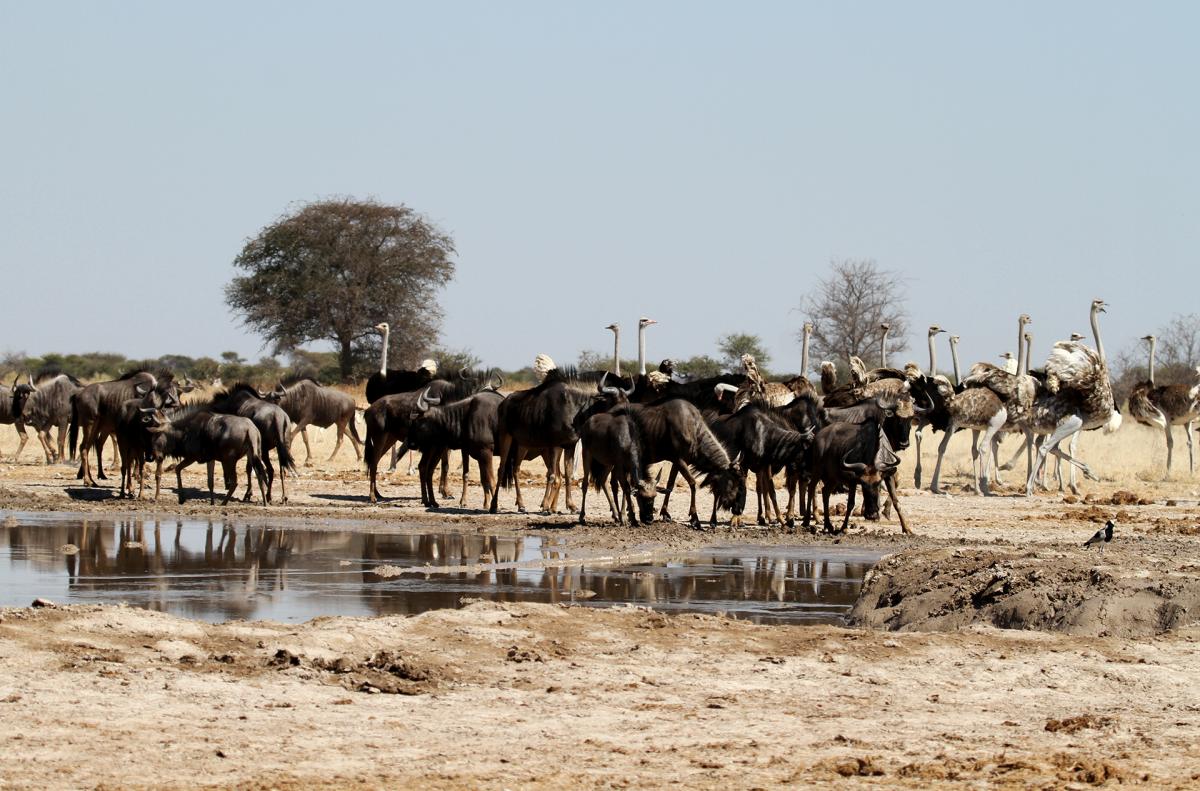 Highlighted articles for this topic