The main attraction of the Southern area of ​​the Nxai National Park are the Baines Baobabs, that are located near the salt and dry lakes of Kudiakam.
These millenary baobabs have their name for the artist and explorer Thomas Baines who first painted them in 1862 while traveling with the explorer James Chapman in this deserted Botswana area.
Baines and Chapman crossed this vast salty expanse during their journey and stopped at the Baines Baobabs for a break, during which Baines made the painting of these wonderful and impressive baobabs.
Baines' journey from Namibia to the Victoria Falls lasted about two years; it was partly accomplished with the help of a horse while in part Baines walked.
He met several local people along his path who helped him find the way in these unexplored and unknown territories.
It was not a simple expedition, some members became sick or died because of unknown illnesses at that time in Europe or banal dehydration.
During the expedition, usually overnight, Baines was abandoned several times by his local guides who robbed him of his stock, but he, in spite of everything, went on in his quest to carry out the path he had prefigured.

The seven enormous baobabs, and the island where they arise, have changed very little since Baines painted them on May 22, 1862, only the branch of a tree broke, for the rest they remained intact in their millennial majesty.
Since 1992, this area was annexed to the Nxai National Park to protect this millennial environment and the Baines Baobabs, that are one of the must-see destinations for those visiting the park.
The seven baobabs are also known by the name of "the seven sisters" or "the sleeping sisters".
The salt lake near the Baines baobabs is dry for most of the year, while during the rainy season it is filled with a thin layer of water where the baobabs mirror, creating a spectacular effect.
The Baines Baobabs have fascinated many travelers over the years, including Prince Charles of England who visited them several times.
The area around the Baobabs of Baines is also of great importance from the archaeological point of view. In fact, several artefacts of the Stone Age have been found, particularly in the area extending 4 km East of the baobabs.
In detail, various stone tools, ostrich eggs shells, zebra teeth and fossil hippos were found; this site was dated between 105,000 and 128,000 years ago, the same time that Homo sapiens made its appearance on our planet.
At the same time there was a huge lake, that geologists call "super lake", that filled the basin of all the salt lakes now existing, or the entire complex of the Makgadikgadi Pan.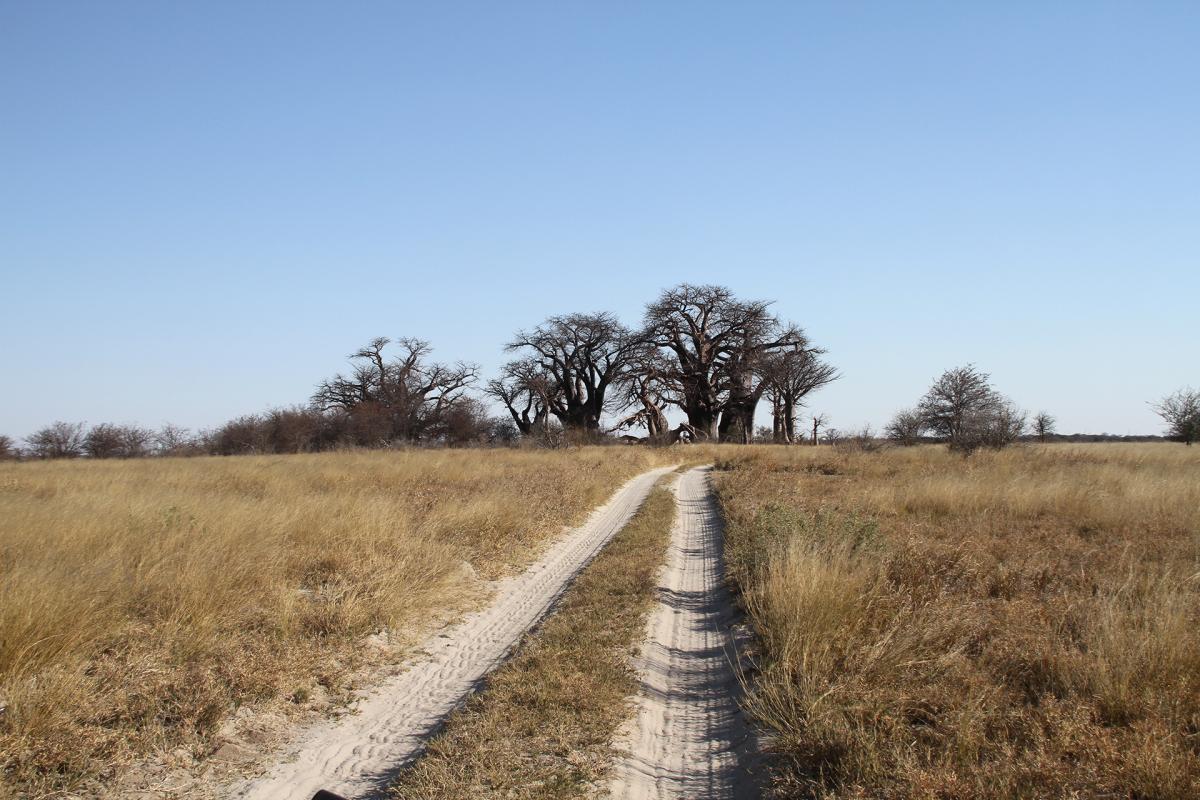 Highlighted articles for this topic