Submitted by SafariADV on Sun, 2019-09-29
This morning we woke up at our hotel, the Haile Resort, located on the shores of Lake Hawassa, or Awassa, one of the Rift Valley lakes in Ethiopia; we have breakfast and leave immediately leaving our bags in the room.
We are heading to the Hawassa fish market that is located not far from our hotel and directly on the lake; we leave our car in the dirt parking lot and head to the entrance gate, Jimmy hires a local guide who will accompany us during our stay at the fish market and will tell us some information.
The fishermen go fishing early in the morning on small wooden boats and armed with fishing nets, they usually fish for tilapia and catfish; once they return to the shore they immediately sell the fish they have fished to the market operators, the sale takes place on the beach and the selling price ranges from 4 to 6 birr for a fish, the price varies according to size.
Some clean and eviscerate the fish not far from where they bought it and then bring the fish fillets to be prepared, cooked or simply seasoned to be sold to the public, while some waste is used in other ways.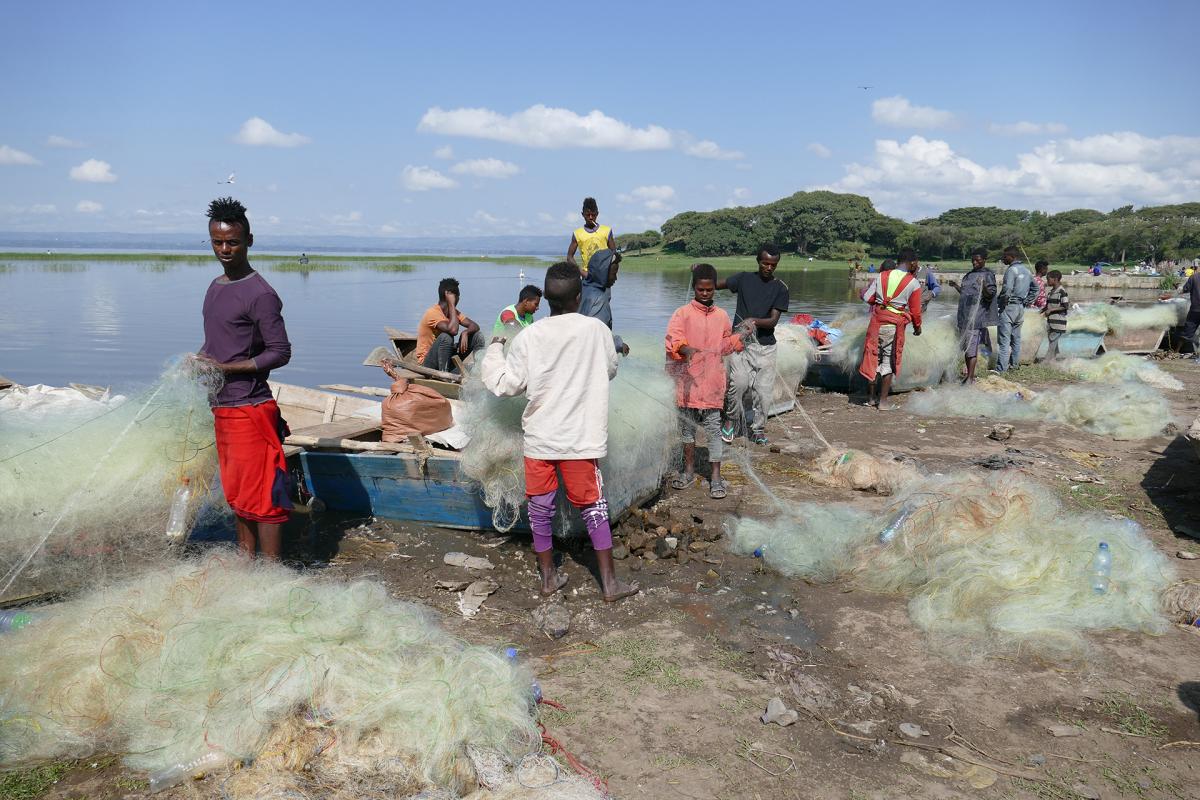 In the shallow water of the lake and on the trees nearby it is full of birds, such as the pelicans and the marabu storks, they are patiently waiting for pouncing on the fish waste that will be thrown away.
We enter a shed where there are several vendors who prepare a kind of sashimi with fillets of freshly caught fish: a plate of filleted and chopped fish that is then accompanied by a sauce, that is created using red chilly, green chilly, garlic, black pepper and some local spices that we could not identify, and from a crushed and still hot bread; it only costs 50 Birr, the equivalent of € 1.50.
It seems inviting, too bad it is 9am and raw fish is not exactly one of the things we would like to eat, and the guide tells us that it is a bit borderline, some visitors eat it and someone has no problems while others get sick; better to avoid it, we just take pictures.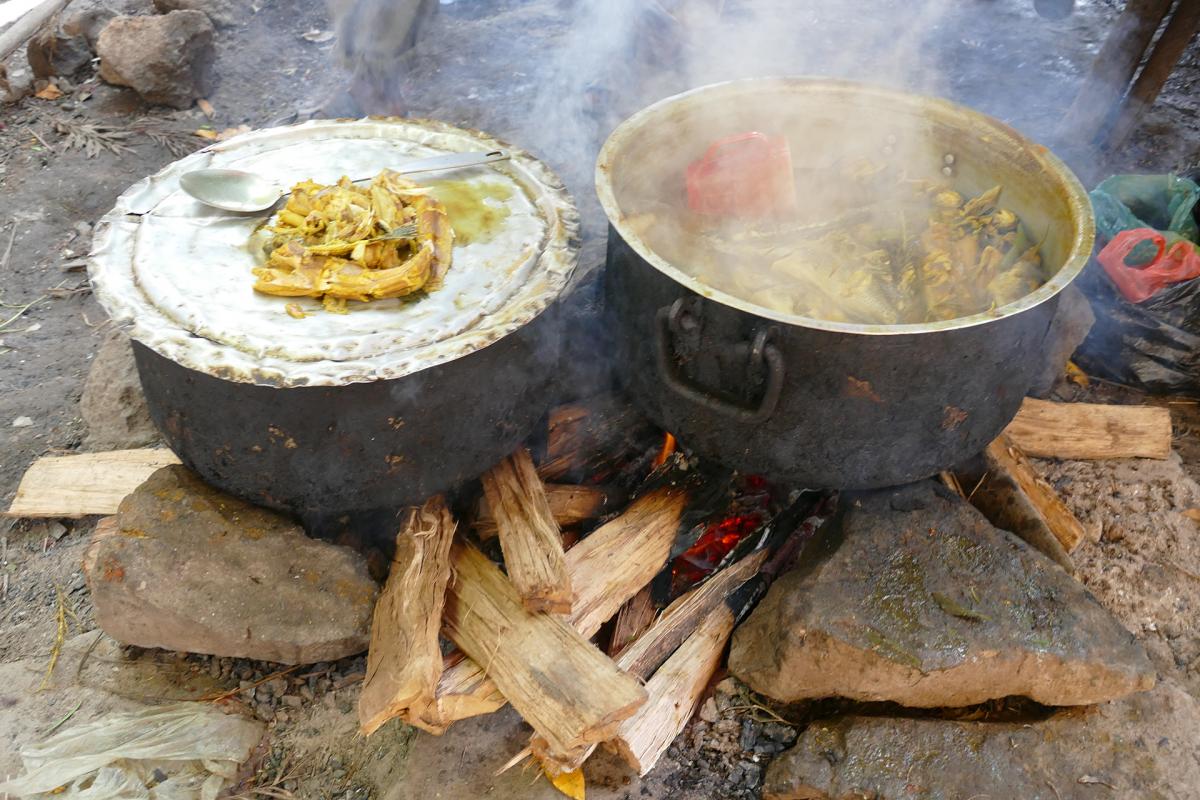 Just outside the shed there are a couple of stalls that prepare the sauce to accompany the fish; they have a series of plastic buckets where the various ingredients are kept, one of the women explains the various ingredients and shows us how to prepare the sauce at the moment, she tells us that if you want you can ask for variations.
In another part of the market there is a huge canopy under which there are several vendors who are cooking fish soup with filleted fish scraps, to which are added turmeric, a mix of herbs, including rue, and garlic; a bowl of soup costs only 20 Birr, about € 0.60.
Other sellers instead fry whole fish, a fried fish costs 30 Birr, or € 0.90, our guide tells us that fried fish is preferred by most of the customers of the market, but not everyone can afford it and so they fall back on the soup.
There is also someone who prepares bread that looks a bit like Emilia tigelle even if the flour is coarsely ground; our guide buys us the bread and we eat it hot, just removed from the fire, it's really very good.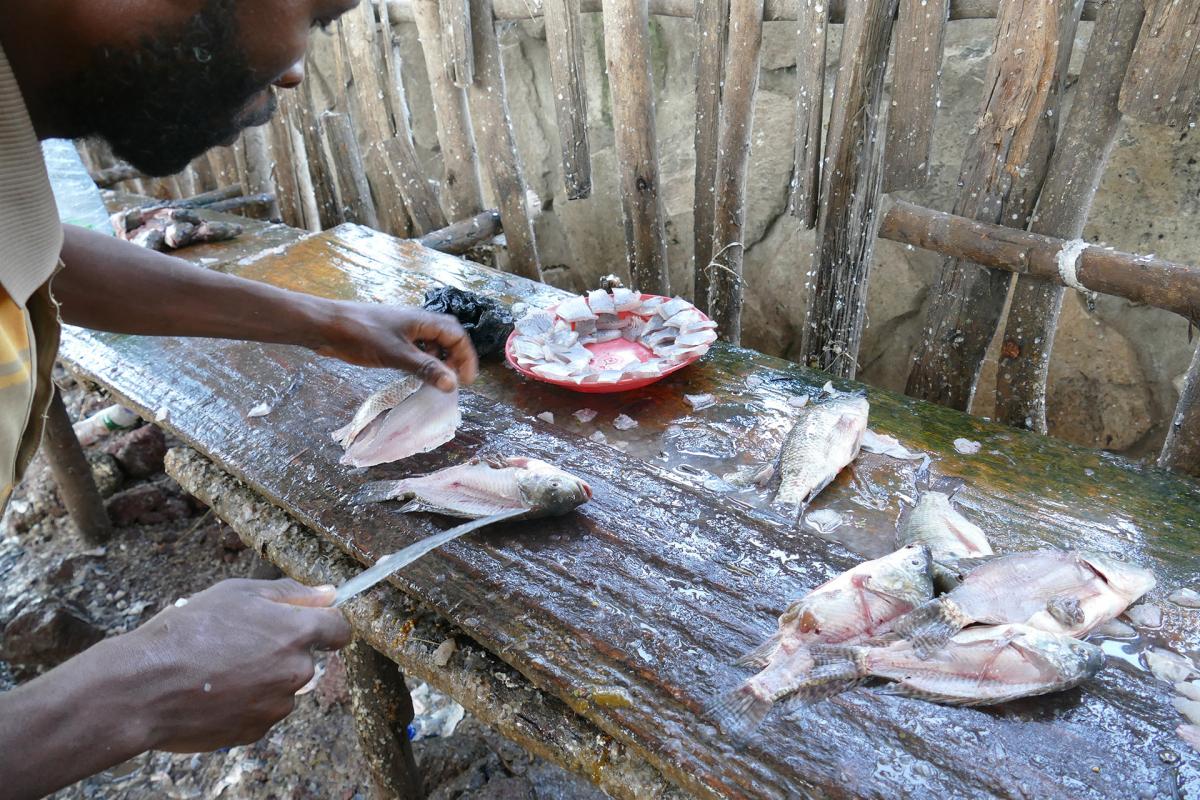 In front of this line of sellers and cooks there is a covered area with wooden tables and benches where it is possible to eat the fish just bought and prepared in different ways.
There are several people who are eating but, when we pass, we attract their attention, in fact there are not many visitors and therefore, as we are curious to visit the fish market, they are curious to know who we are, where we come from and why we are there.
Our local guide is a very nice and kind girl, she tells us many things and keeps us away from a series of vendors selling low-profile souvenirs that have nothing to do with the fish market.
Before returning to our car we sit on the plastic stools of one of the few bars here and drink a coffee, that our local guide insisted on offering us, and we chat with the local guide and Jimmy; then we return to our car and drive back to the hotel to take our bags and leave.
The fishermen market was very interesting because it is very genuine and true and we like to visit these places where you can enjoy the local daily life.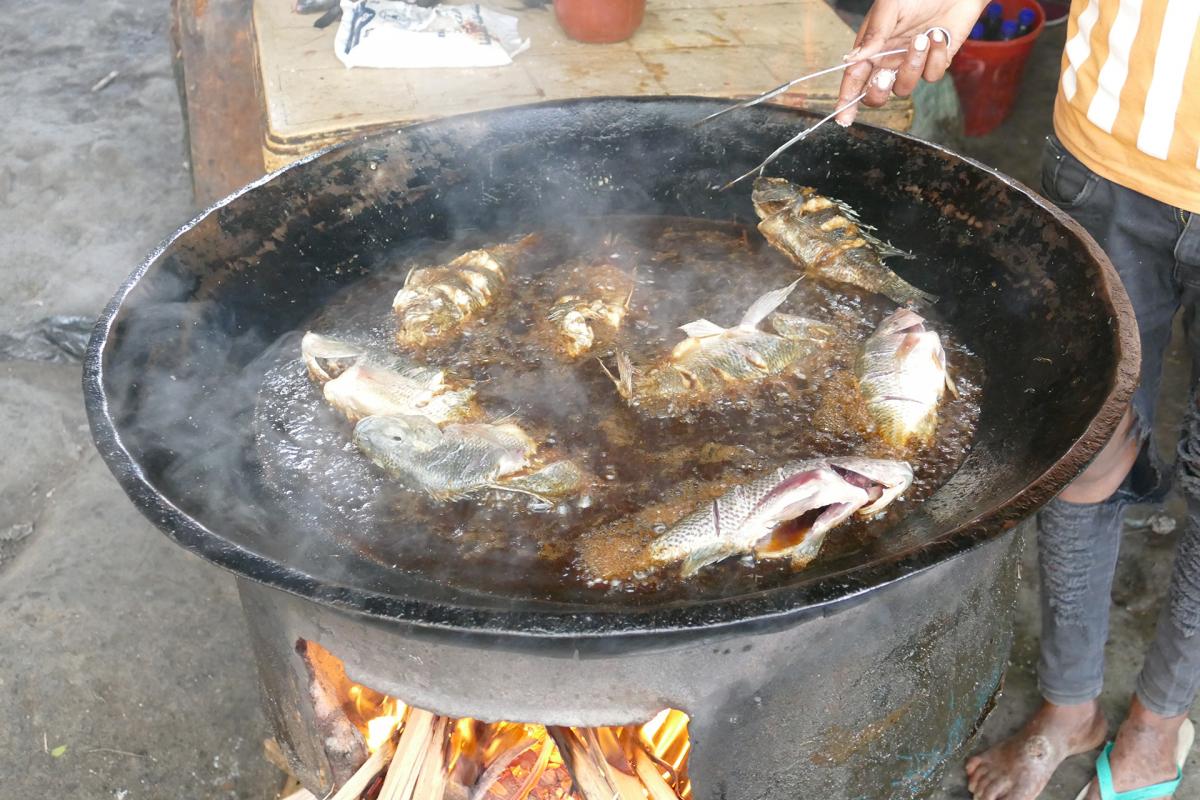 Data di inserimento:
Sunday, September 29, 2019