Submitted by SafariADV on Fri, 2019-09-27
Today we are in the land of the Dorze, in Ethiopia, today it is a special day, in Ethiopia they celebrate the Meskel, one of the most important Ethiopian and Eritrean Orthodox Christian holidays of the year that commemorates the discovery of the Holy Cross in the 4th century.
This holiday is celebrated in Addis Abeba in Meskel Square, but in every town or village this ceremony is repeated and many Ethiopians return to their country of origin to celebrate it with their relatives.
As soon as we arrived we visited the compound of a Dorze family to discover their culture; they were very hospitable and as always it was an interesting experience.
After the visit we left their compound and went to a large lawn where they are celebrating a Mass for Meskel, in reality more than a mass it is a religious gathering.
Initially we find it hard to understand what is happening but then our guide explains that they are auctioning a sheep that was donated to the church, all the families are keen to win it and compete to make the highest donation; in the end the sheep is sold for 8000 Birr against a market price of 3500 Birr.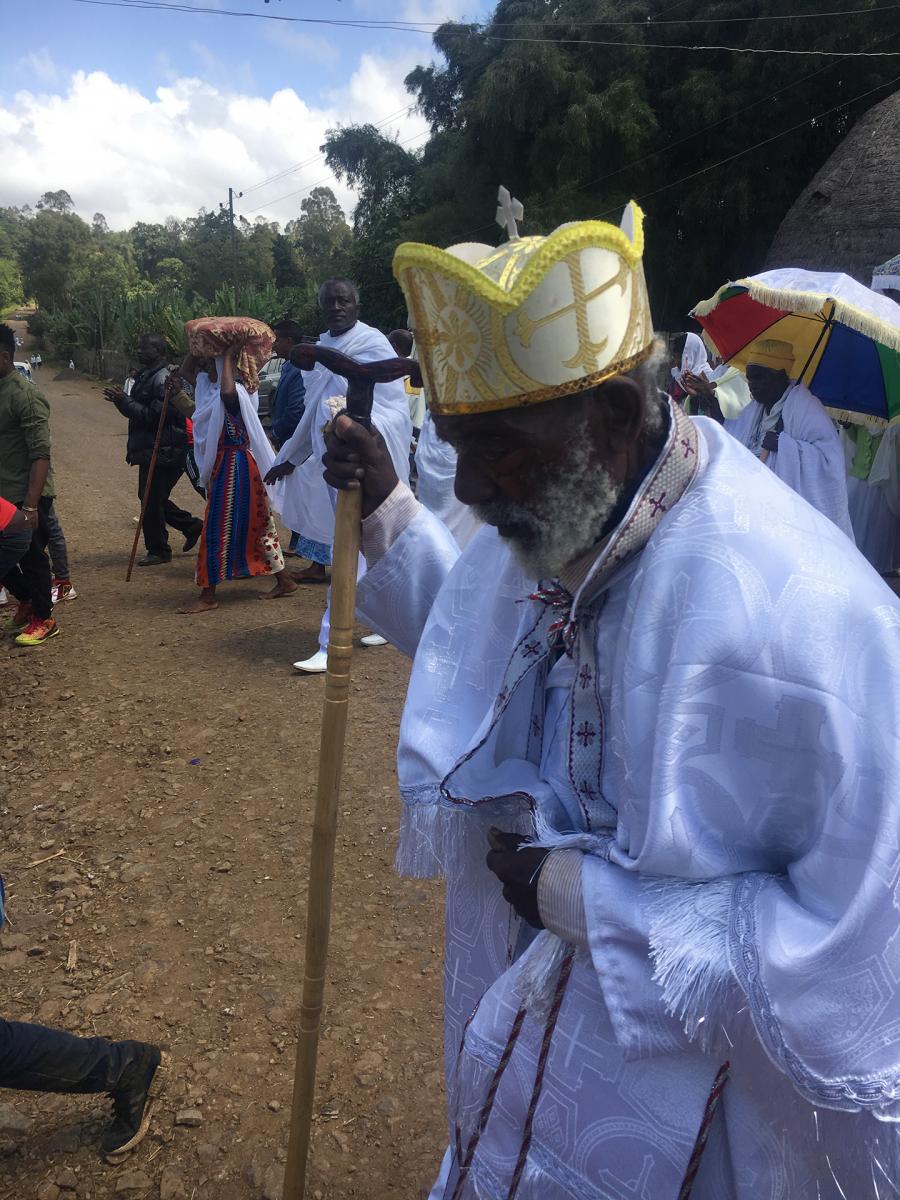 We sit on the lawn to observe everything that happens and we are besieged by children intrigued by our presence, but who want us to take pictures of them to be immortalized on our smartphone; while behind us people continue to arrive in groups, some wear important ceremonial dresses, dance and sing and all reach the lawn where we are.
We stay here until this celebration ends and all the people, who were on the lawn, start to walk along a narrow street that leads to the village church; we follow them and take some pictures, initially we are a bit hesitant because we wouldn't want to bother them, but instead they seem happy, they smile, they ask us to be photographed, they pose and they thank us for the photos and therefore we unleash ourselves.
We also see some priests who carry the reproduction of the tables of the law of Moses; they perform this gesture only on two religious holidays: the Meskel and the Epiphany.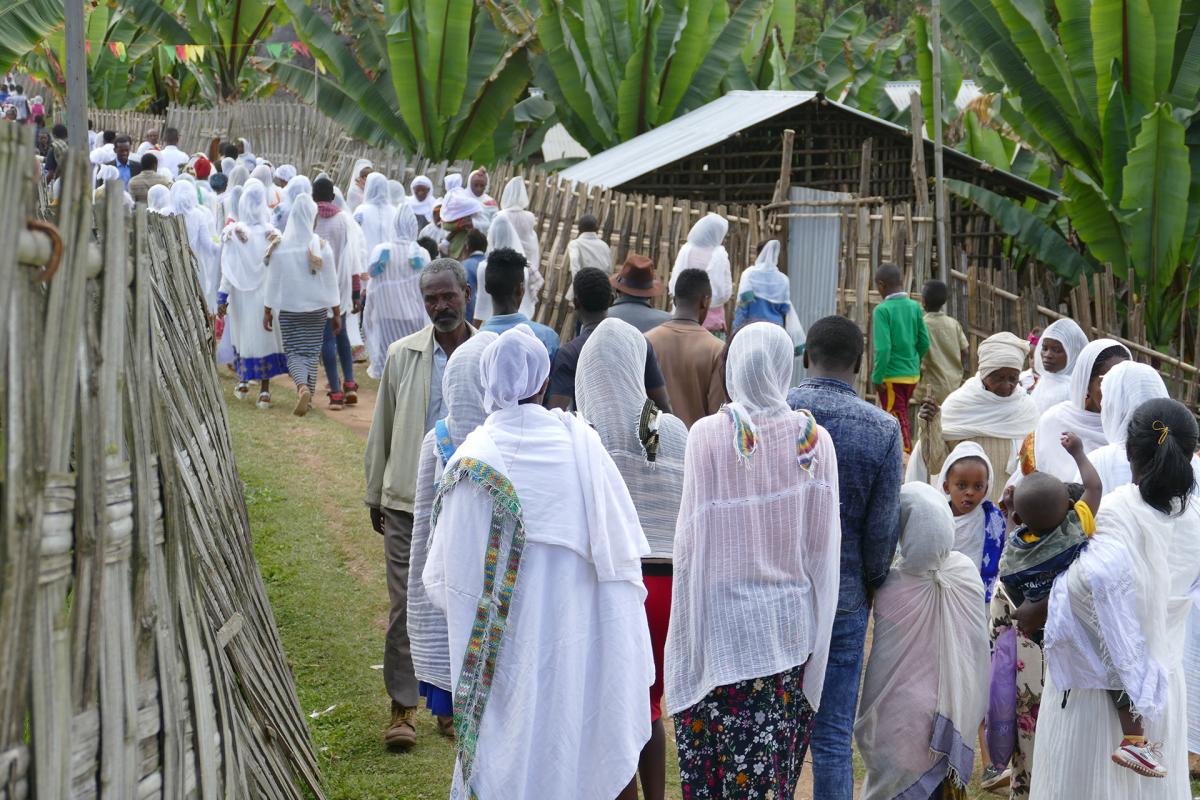 We don't get to the church, we are too busy taking pictures and joking with people; in reality now that the whole procession has arrived at the church the first are already returning, the movement they have made is not very clear to us.
We go back to the lawn but, along the way, a lady asks us where we come from and when we answer "Italy" she literally drags us into her backyard and wants to host us for lunch; there with her are all her relatives who have gathered here to celebrate the Meskel and everyone wants to see us and touch us, for a moment we feel like celebrities!
Unfortunately we have to decline the invitation because "our" Dorze family is waiting for us for lunch and for the coffee ceremony.
We enter the gate of the compound of our Dorze friends and, after so many people and so much confusion, we enjoy the silence and tranquility that there is at their compound.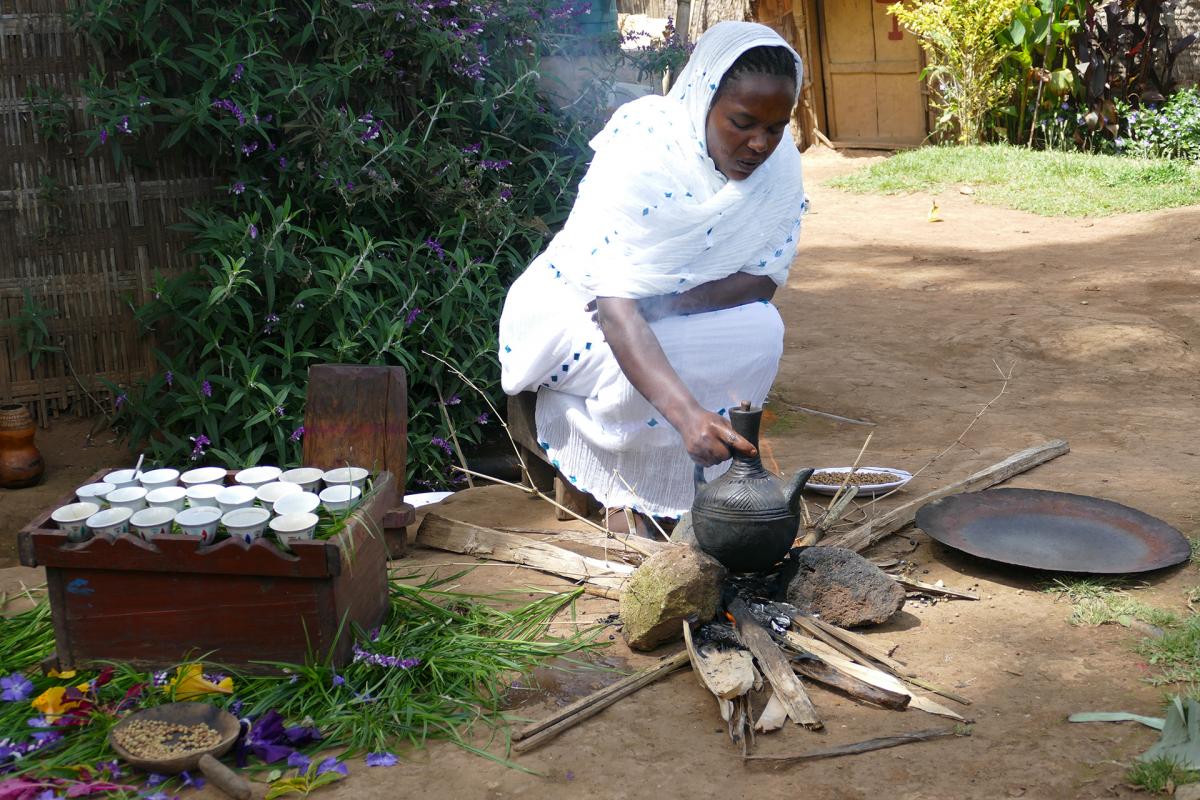 After lunch and after coffee, we stay here a little and relax, in reality we expected a colder climate, also because often at this altitude, 2700 meters, there is also the fog, today instead there is the sun and it is warm, much better this way; we spend a few hours here and around 4:30pm we go out again.
Most people have gathered on another lawn: a series of small groups have formed, some chat, others laugh and joke and others still celebrate; some women sat on the lawn and observe everything that happens, we decide to put ourselves there too in this privileged sighting spot.
Every now and then someone comes and hugs the women one by one shouting "yooooo!", it is a very special greeting and the thing that amazes us most is that they greet us too; it's kind of an auspicious and festive greeting but it's too fun to see it done by older women who seem to have turned into Bronx rappers for a moment.
We spend some time here and in the meantime people keep coming; the lawn is very large and in one corner we see a very high pile of wood; it will be used to end the Meskel celebration tonight.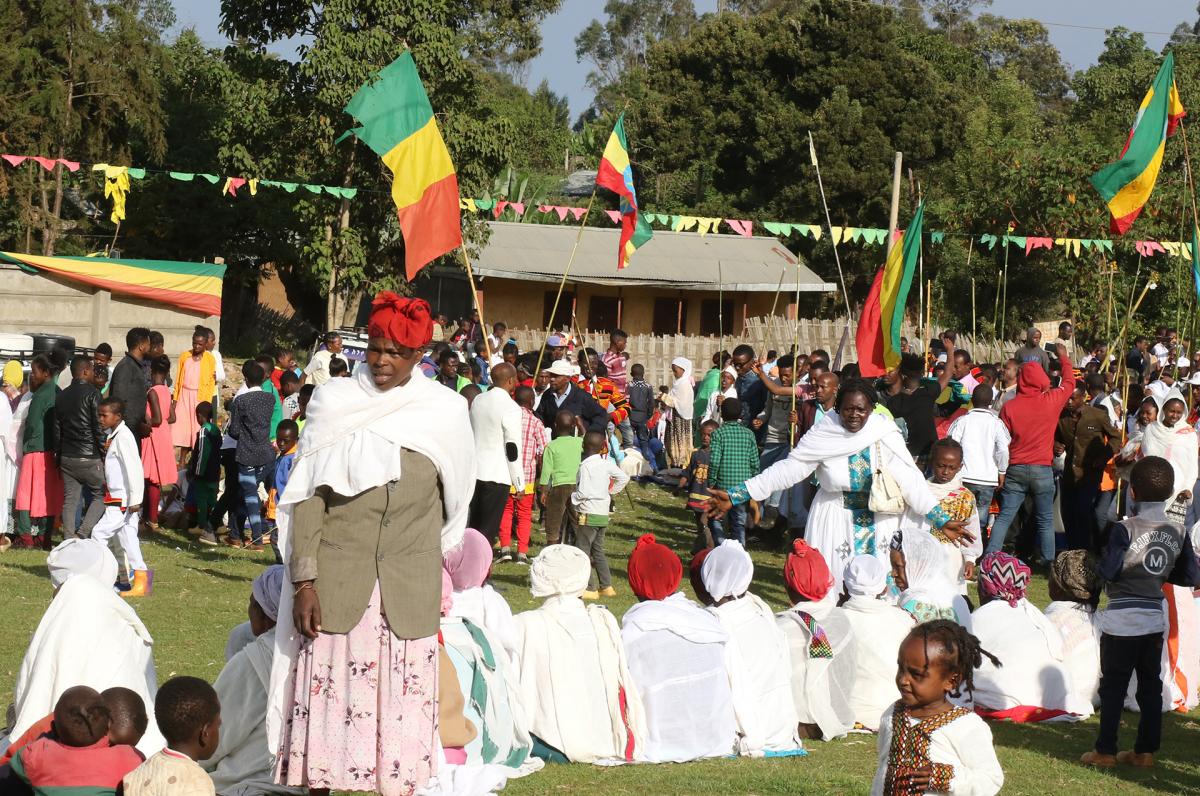 We become friends with some guys who approach us curious to know who we are and what we do there; they are cute and they want to take pictures with us, in a moment different people arrive who want us in their photos, it's always a funny situation.
At a certain point some priests arrive and position themselves in front of the pyre that is covered with some drapes and on which some paintings depicting sacred figures have been placed.
Many people approach the sheaf and the priests and we also go there; the priests sing songs and the women follow them, they sing a kind of litany that seems to never end.
After a while the priests, who are dressed in ceremonial dresses and rich in drapes and decorations, begin to turn around the sheaf of wood carrying a cross and playing some traditional musical instruments; while the faithful pray absorbed, it is indeed a very mystical and spiritual situation.
When the sun goes down the sky is painted with a fiery red that creates an atmosphere that is the prelude to what is about to happen: the priests position themselves again in front of the sheaf, move the musical instruments, the paintings and the drapes that wrap the woods and set fire to the sheaf.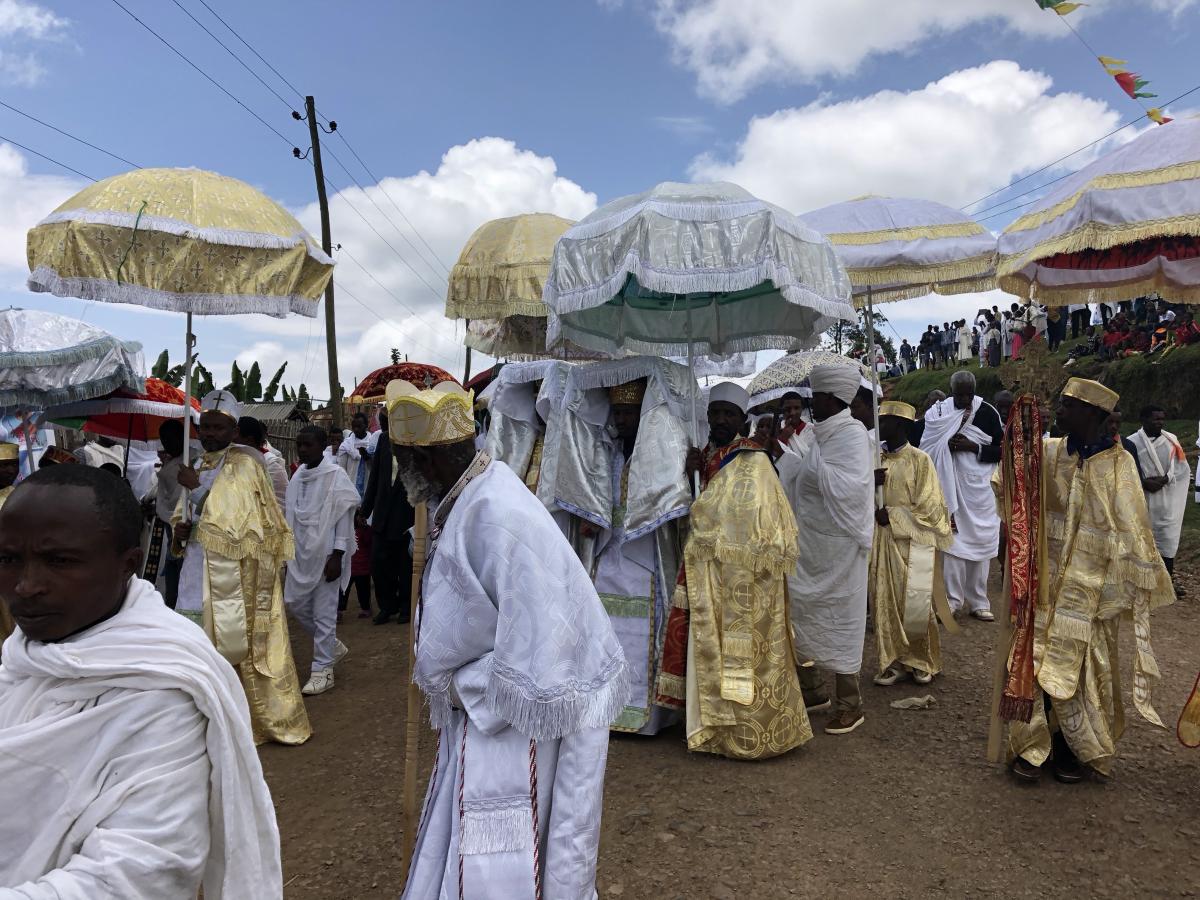 On top of the pyre, that is called Demera, there is a green sprig, this will have to fall as late as possible because the later it falls and the more prosperous the year to come will be; the fire begins to wrap the woods and everyone has the eyes fixed on the green branch.
In the end the branch falls but it took a really long time, so everyone is happy.
When the fiery sheaf collapses some boys begin to jump from side to side crossing the fire; in reality some of them seem drunk and even our guide tells us that it is better to go, at this point of the party someone begins to exaggerate, in fact shortly after they start to throw the burning woods around.
We go back to our car and as we descend towards Arbaminch we comment that it was a really nice ceremony and we were very pleased to participate in it, and we were very pleased to meet "our" Dorze family and visit their home.
Even today it was a busy day and we are happy because Ethiopia is giving us unforgettable moments.
Data di inserimento:
Friday, September 27, 2019