Submitted by SafariADV on Sat, 2019-09-21
We are in Ethiopia and this morning we visited a Dassanech village, it was a very interesting experience; then we went back to the hotel for lunch and to rest for a while, the heat of this morning proved us a little.
Around 3:00pm we leave by our car and with our guide and head towards our destination this afternoon: the town of Dimeka.
Dimeka is located on the Turmi-Jinka road, about 30 km North of Turmi; it doesn't have much to offer to visitors except on Saturday, when the tribal market is held here.
Here we are in the territory of the Hamer and the market is mainly frequented by them, but it is also possible to meet some Banna farmers, but it is difficult to distinguish them from the Hamer because they dress and style their hair in a very similar way, besides Banna and Hamer can marry each other, so this can create even more confusion in distinguishing the two tribes.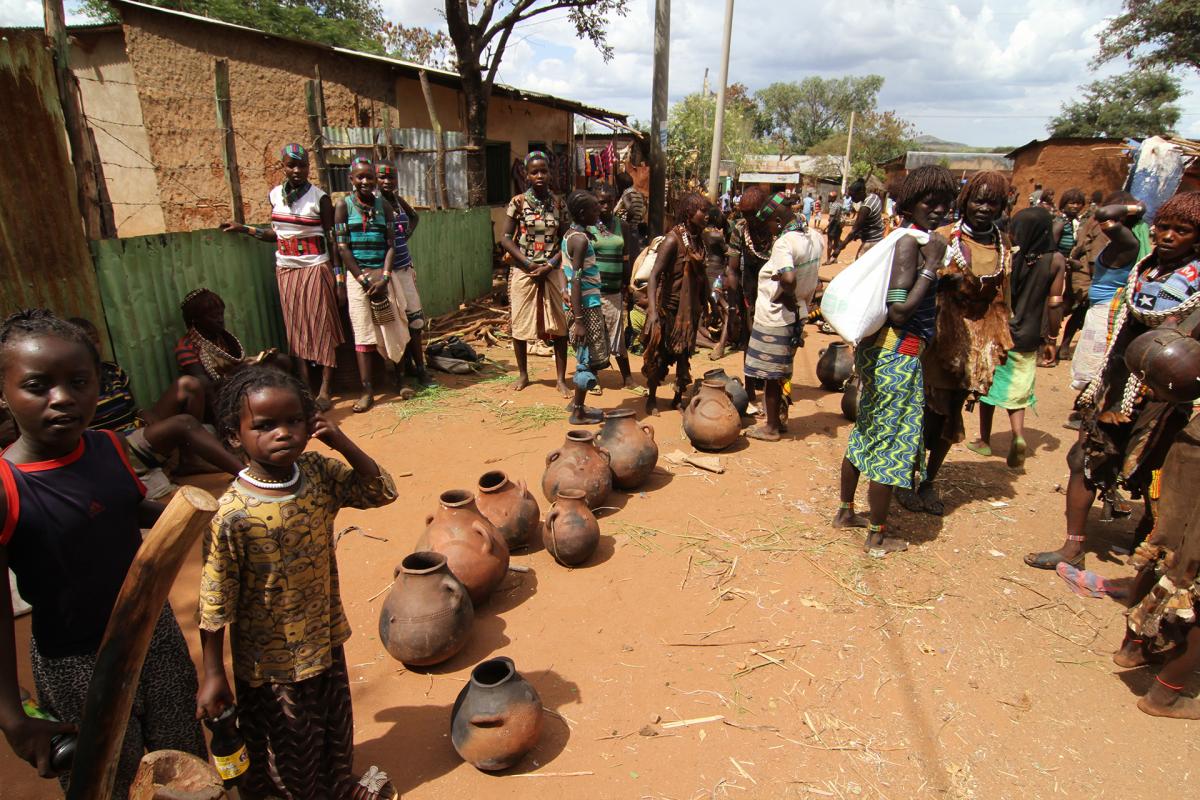 It is also possible to meet the Kara and the Erbore, but it is more difficult because their villages are further away and they should travel tens of kilometers on foot.
To visit the village we must take a local guide who will guide us through the stalls, telling us a series of interesting things.
Unlike the Key Afar Thursday market, the Dimeka market is laid out in a square but also along a series of alleys; the goods for sale are mainly honey, chewing tobacco leaves or sniffing powder, corn, the dried skins of coffee to make tea, pumpkins and other vegetables.
Some women sell a brick-colored powder, it is the ocher that Hamer women use for their hairstyles: they mix the ocher powder with water or butter or incense, they told us different versions about it, and then they sprinkle this mixture on their braided hair; difficult not to notice the similarities with the Himba women of Namibia.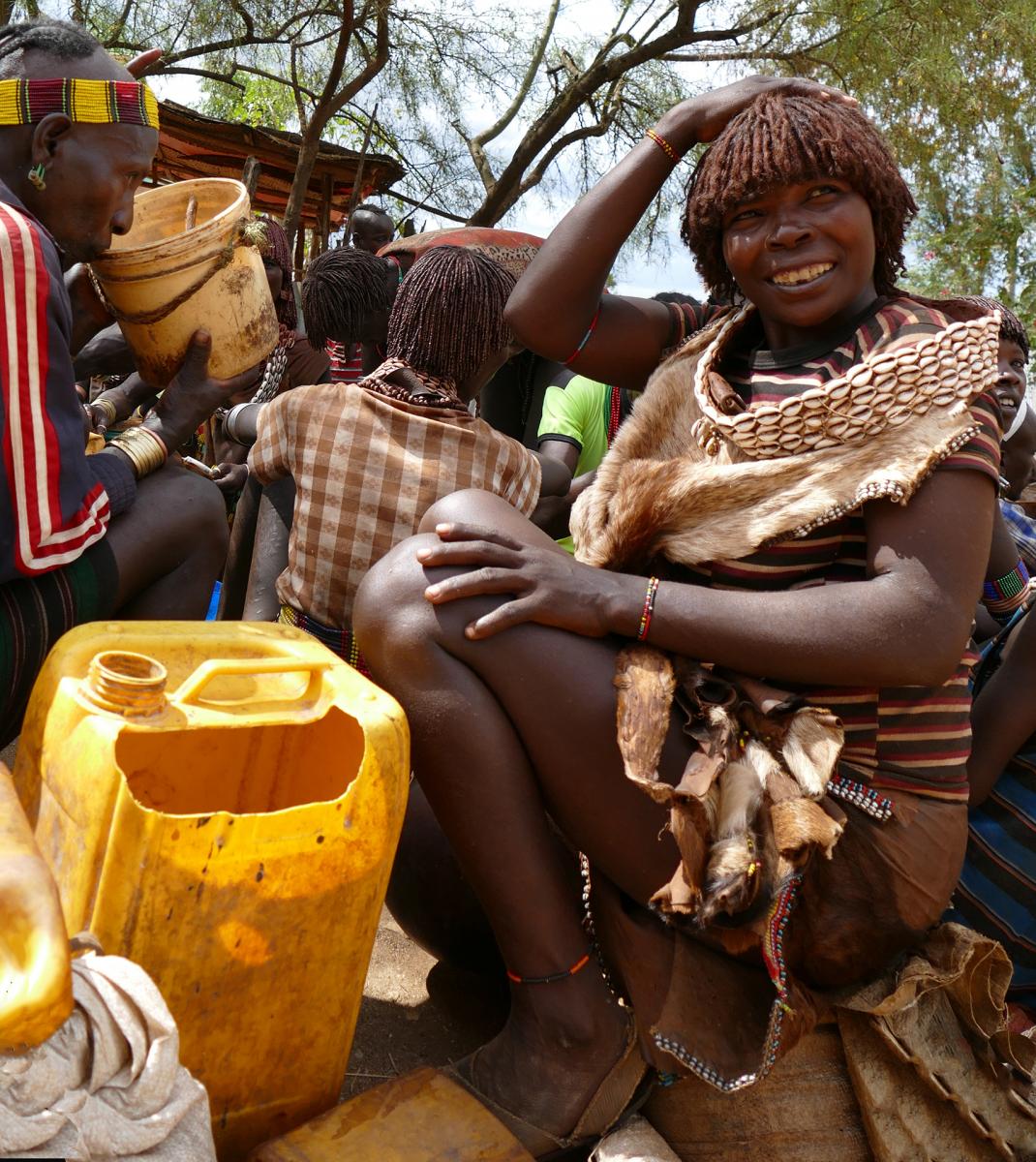 Given the passion of women, and not only, for accessories, there are whole stalls selling necklaces and other bijoux, while other sellers offer clothes, and various objects, including the trumpets that Hamer women play during the bull jump ceremony, finally there are plenty of stalls selling wood to make fire.
We also see some sellers selling corn beer and sorghum, as in the Key Afar market, many who go to the market, whether it is to sell or buy, stop more than they should to drink beer and, even if it is not very strong, with the high temperatures here, it's easy to get drunk.
Also here in Dimeka, as in the Key Afar market, there is a part dedicated to souvenirs and crafts, while we are busy discovering something beautiful we hear ourselves called, we look up and see the boy from whom we bought the statues in Key Afar; he comes to meet us and we joke a bit with him, he is really very nice.
Then we finish our tour and buy two pumpkins that are used here as containers, one is new and has some decorative fire engraved incisions, it is very pretty; the other, on the other hand, looks ancient, has a leather handle covered with white shells, it is all worked with wire and the cork to close it has been made by interweaving the straw so that it does not get ruined by liquids and keeps perfectly even after some time.
To tell the truth we would buy so many other things, there are so many obviously handmade and traditional objects, but we cannot buy the whole market.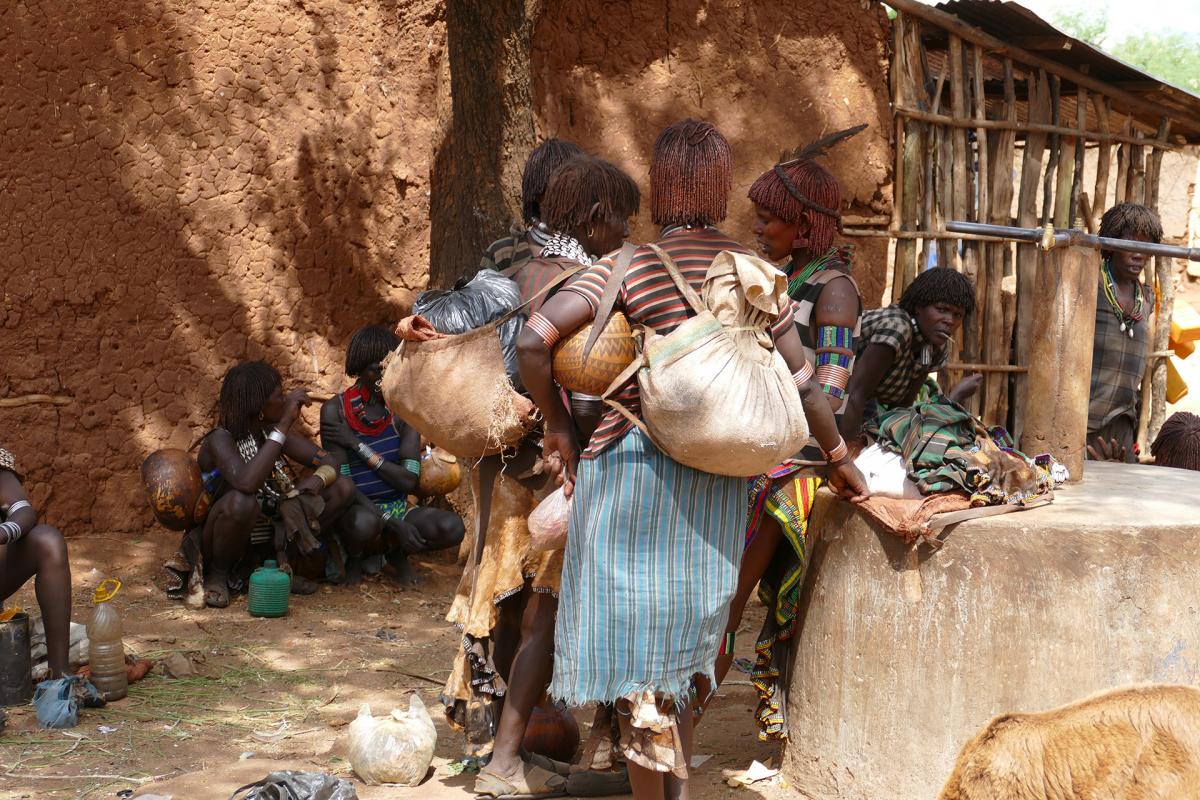 When we are about to leave a boy approaches with the labial plates of the Mursi in his hand and with their headdress made of leather and with the tusks of a warthog on his head, it is really a beautiful object and we would like to take it, but how to do it; it is not so much for the cost that, after all, is modest, but for the tusks, we are not sure that they can be taken out of the country and imported into Italy without any certificate, so we prefer to avoid and continue.
While we are crossing the market to return to our car, some Hamer women approach us, tell us something and laugh, it is very clear that they are shy, but their curiosity for once had the upper hand; the guide tells us that they are intrigued by us, they want to know where we come from, but it is clear that they have no idea where Italy is, then they also ask us why we are there at the market, how do we explain it to them that we are fascinated by their traditional way to live when they are fascinated by our way of life because they see us as if we were new Scrooge McDuck?
In these situations we realize how relative everything is.
We say goodbye to our new friends and go back to the car, some craft salesman follows us for a while hoping for a last minute sale, but the ladies at the stalls tell them to leave us alone; maybe they took a liking to us.
When we get back in the car we return to Turmi and go straight to the hotel, this is the last night we will spend here, tomorrow morning we will leave and head North again; we have to pack our bags but the most complex part is shopping, as usual we have already bought a lot of things.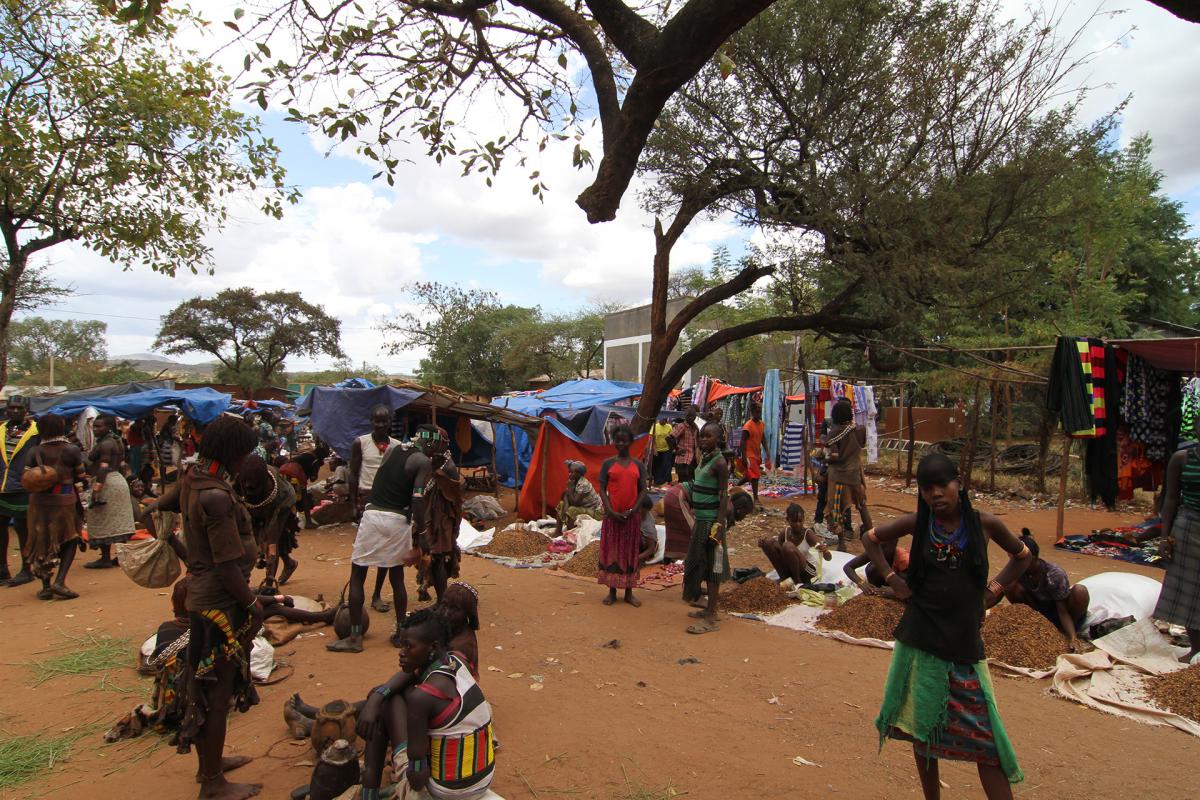 Data di inserimento:
Saturday, September 21, 2019