Submitted by SafariADV on Sat, 2019-03-02
Yesterday evening at 9:00pm we went to the airport atAbidjan, it is time to say goodbye to the Ivory Coast; this country has fascinated us and its people welcomed us with an unparalleled warmth.
But our Brussels Airlines flight was already waiting for us to bring us back to the cold Europe, cold in every sense ...
We checked in, we passed the controls and made the exit from the country: bye bye Ivory Coast, we will carry with us forever the memory of a wonderful country.
Abidjan airport seems brand new, there are some shops and restaurants, it does not look like the typical African airport, on the one hand we're sorry because now we are used to that kind of airports and they make us feel in Africa, but on the other it is definitely more comfortable.
We take a last shopping tour, we would like to take home the whole Ivory Coast and buy handicrafts, or something else, it's like taking home a slice of this country; in fact, every excuse is good for shopping!
Then we go to the lounge, relax a bit and drink something; we do not want to eat, also because we will have dinner on board.
When the gate opens we embark and settle in our seats; we are happy to fly in business, traveling at night is definitely more comfortable, the armchair in fact becomes a bed and to sleep it is ideal.
While we wait for them to complete the boarding, they offer us excellent champagne and kir royale, my favorite! Cheers! Let's make a toast to this journey that is coming to an end and the next we are already studying!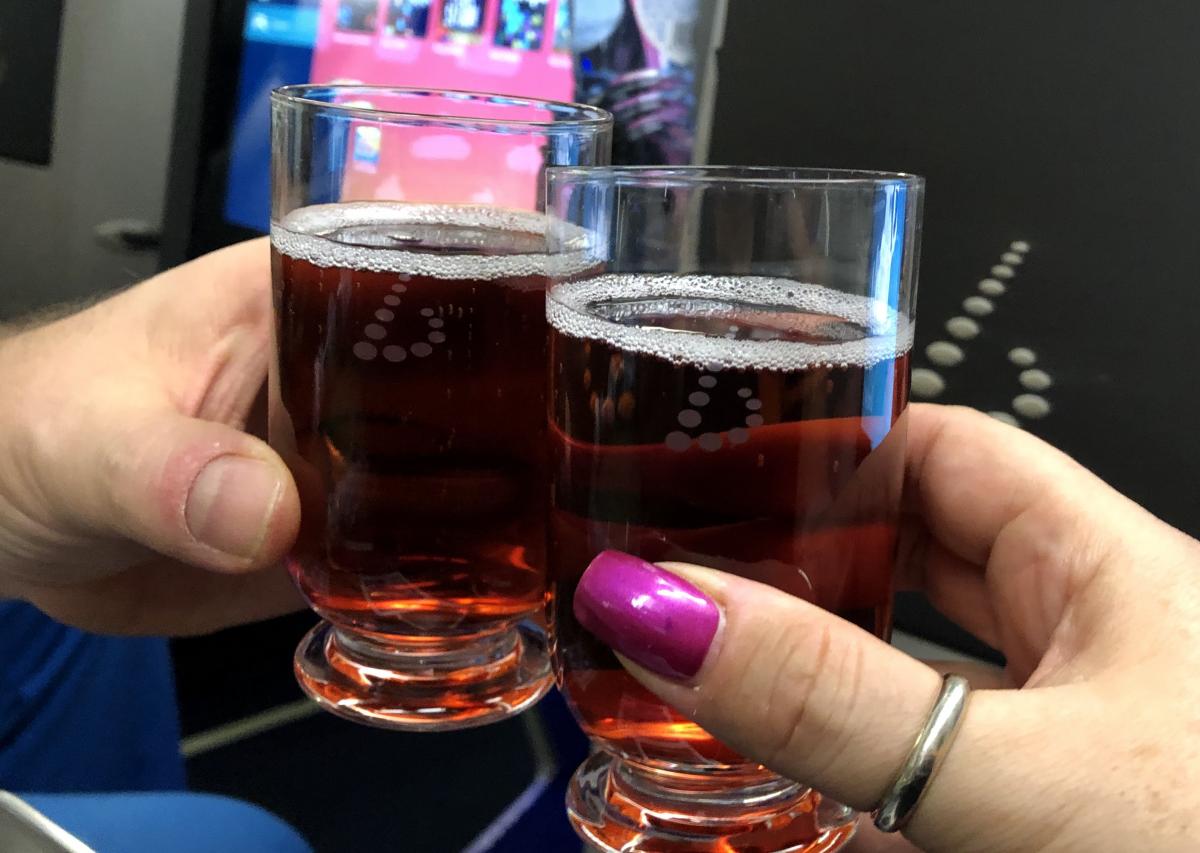 At 11.15pm we take off on time, we will not make the stop in Burkina Faso as we did in the first leg; it's definitely better, so, in addition to saving time, we have dinner right away and then we can sleep.
In fact, as soon as we arrive at altitude we have dinner: appetizer with a taste of cheese and a parmigiana tile, then we choose the halibut with a very good parsley risotto and finally a coconut dessert; not bad, I would say.
Immediately after dinner we go to sleep, we are sleepy and we cannot wait to lie down on our wonderful armchair / bed of Brussels Airlines.
In practice, we sleep for the entire duration of the flight and we wake up when it lacks a little to land; as soon as the hostess sees that we have woken up, she asks us if she can serve us breakfast, I would say yes, we need a coffee.
They bring us yogurt, orange juice, jam, bread, butter and a croissant that can be envied by a French patisserie, and of course a good coffee.
We land in Brussels just before 7.00 in the morning, get off the plane and go to look for a bar at the airport to get a coffee bis; we like very much Brussels airport, we find a very nice cafe, the Java Breakfast.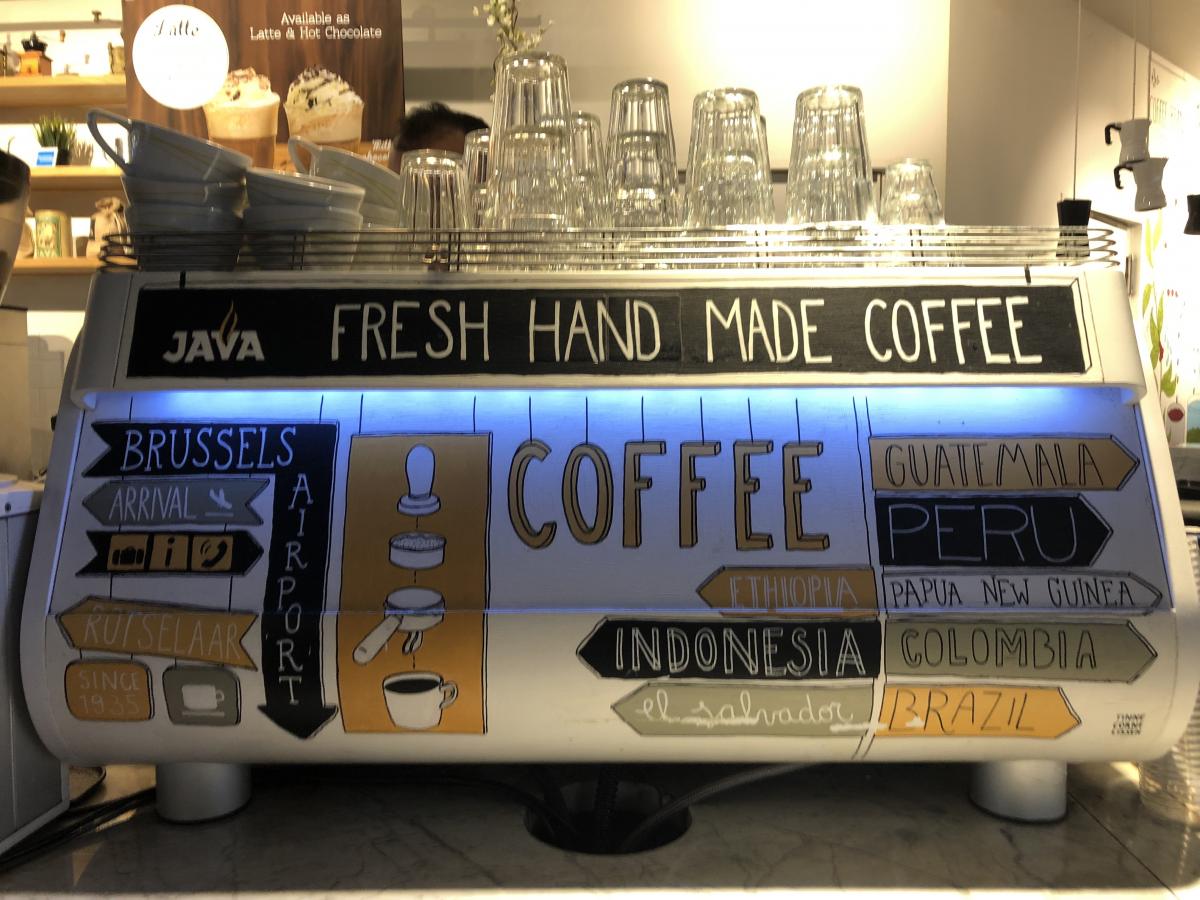 We have a stopover of almost 12 hours here in Brussels, so we decided to go for a ride in the city, but 7 am is a little early, so we stay a bit here at the Java Breakfast until about 9.00 am .
For a moment we almost think back, it's cold outside and we arrive from the 35 degrees of the Ivory Coast, but then the desire to see Brussels after several years takes over: we leave our bags in the luggage deposit and go to catch the train .
The train is very convenient to reach the city from the airport, in 15 minutes we arrive at the central station of Brussels, that is a few hundred meters from the Grand Place.
We take a tour of the small streets, we enjoy the spectacle of the Grand Place, with the beautiful building of the town hall and all the guild houses; you immediately realize how rich this city was in the past.
We also go to see the statue of the Manneken Pis, that depicts a child who pees; this is one of the symbols of Brussels and one of the most photographed statues by visitors and more reproduced in souvenir shops and Belgian chocolate shops.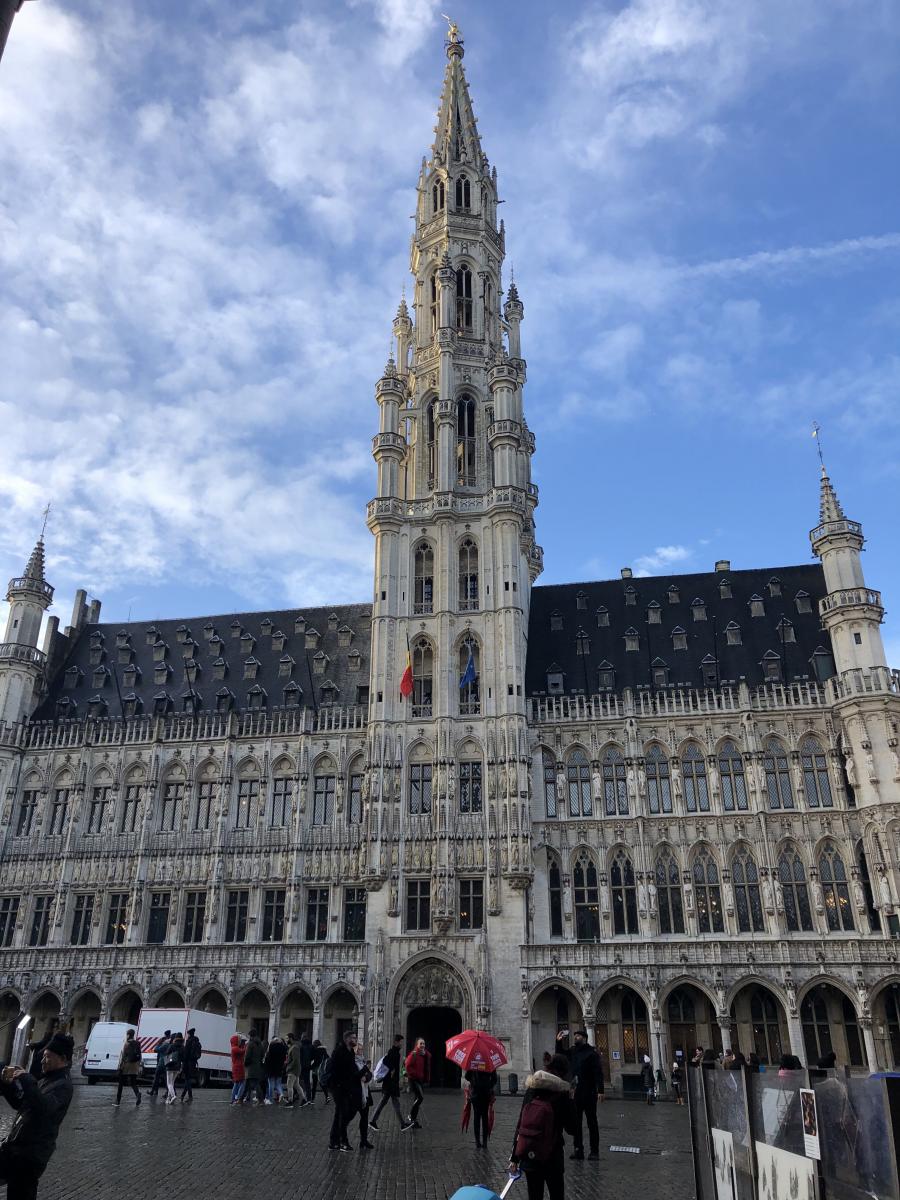 We had lunch at one of the restaurants at the Grand Place and of course we ate mussels with fries, a typical Belgian dish.
After spending a few hours wandering in the Belgian capital, we decide to go back to the airport, it is late afternoon and the cold begins to be felt; on the way to the station we come across a giant statue of a smurf sitting on a mushroom and also the ceiling of a passage completely painted with the smurfs, in fact even the Smurfs are native to Belgium.
We take the train and we go back to the airport, we retrieve our luggage at the depot and we go to do the controls, we already have the boarding passes; we go to the lounge and wait for the boarding time.
At 7:00pm our flight takes off, in flight they offer us champagne and a snack and, after just over an hour, we arrive at Malpensa airport, we collect the luggage, that fortunately all arrived, and then we go to get the taxi and we go home.
It was a wonderful journey and the Ivory Coast, with its people, traditions, villages, dances and masks, really bewitched us.