Submitted by SafariADV on Fri, 2019-03-01
This morning we left Yamousoukro, we arrived at Abidjan and, after escaping the chaotic traffic, we finally arrived at Grand Bassam.
The town of Grand Bassam was, even if only for 3 years, the capital of the Ivory Coast during the colonial period; the French decided to found the capital here, but the town was abandoned in 1896 due to an outbreak of yellow fever, and the capital was moved elsewhere.
From that moment Grand Bassam fell into ruin, only a set of crumbling colonial buildings remained; but, as a result of tourism development, since the 70s, the town experienced a second rebirth.
Grand Bassam is located between the Embriè lagoon and the Atlantic Ocean; what is known as "Ancien Bassam", with its colonial buildings and beachfront resorts, it is located between the Gulf of Guinea and the lagoon, and it is connected with "Nouveau Bassam" by a bridge; Nouveau Bassam is instead located inland, along the lagoon and, today, houses the city center and the commercial part.
Grand Bassam and its colonial buildings were declared a World Heritage Site by UNESCO in 2012.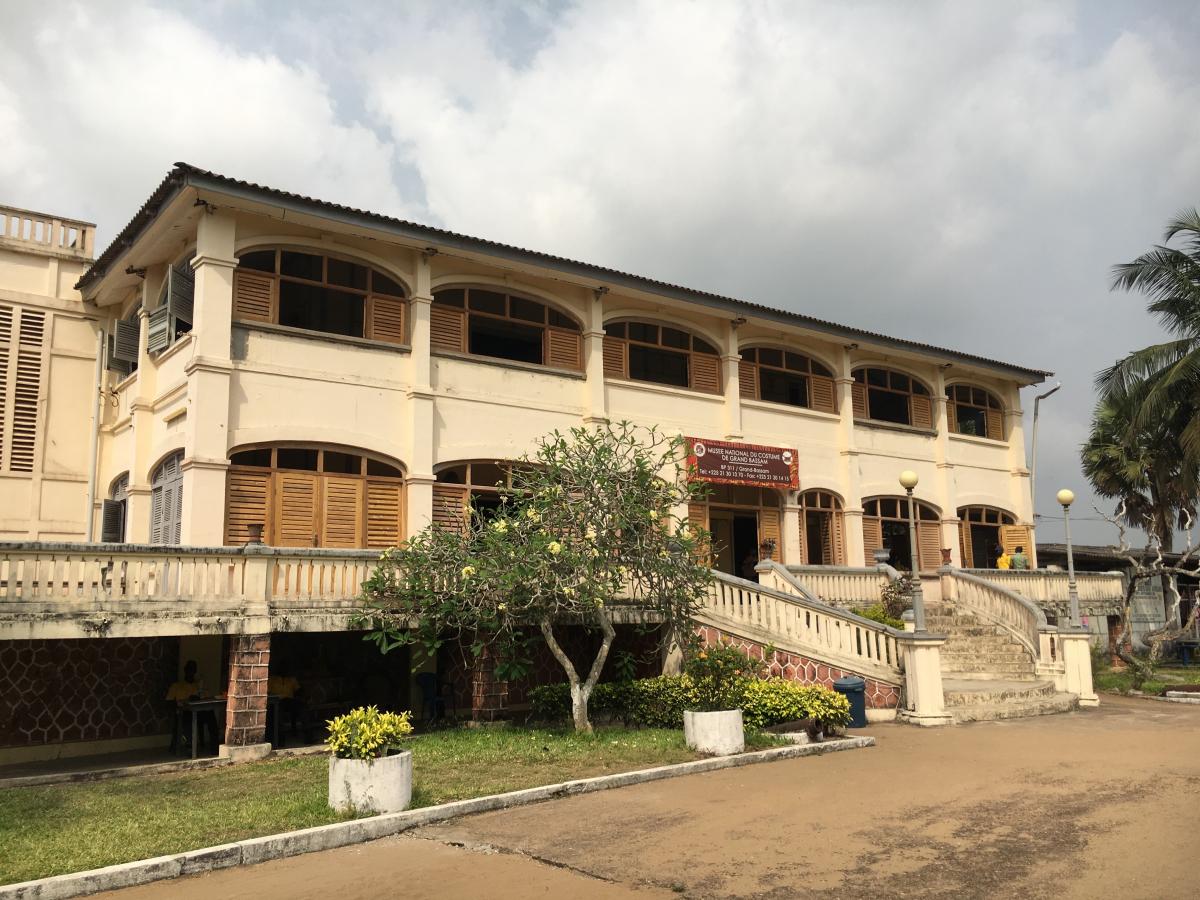 Since it is now lunchtime we decide to go to one of the resorts overlooking the beach; everyone has a restaurant, you'll be spoiled for choice.
We eat excellent fish by the Atlantic Ocean; here in Grand Bassam there is less humidity than in Abidjan, although the warm, dry climate of the North of the Ivory Coast is quite another thing.
After lunch we visit the Musée National du Costume de Grand-Bassam, that is located inside what was, during the French domination, the Governor's House; it occupies both floors of the building and exhibits interesting prints and objects, but the museum is much less well looked after than that of Abidjan.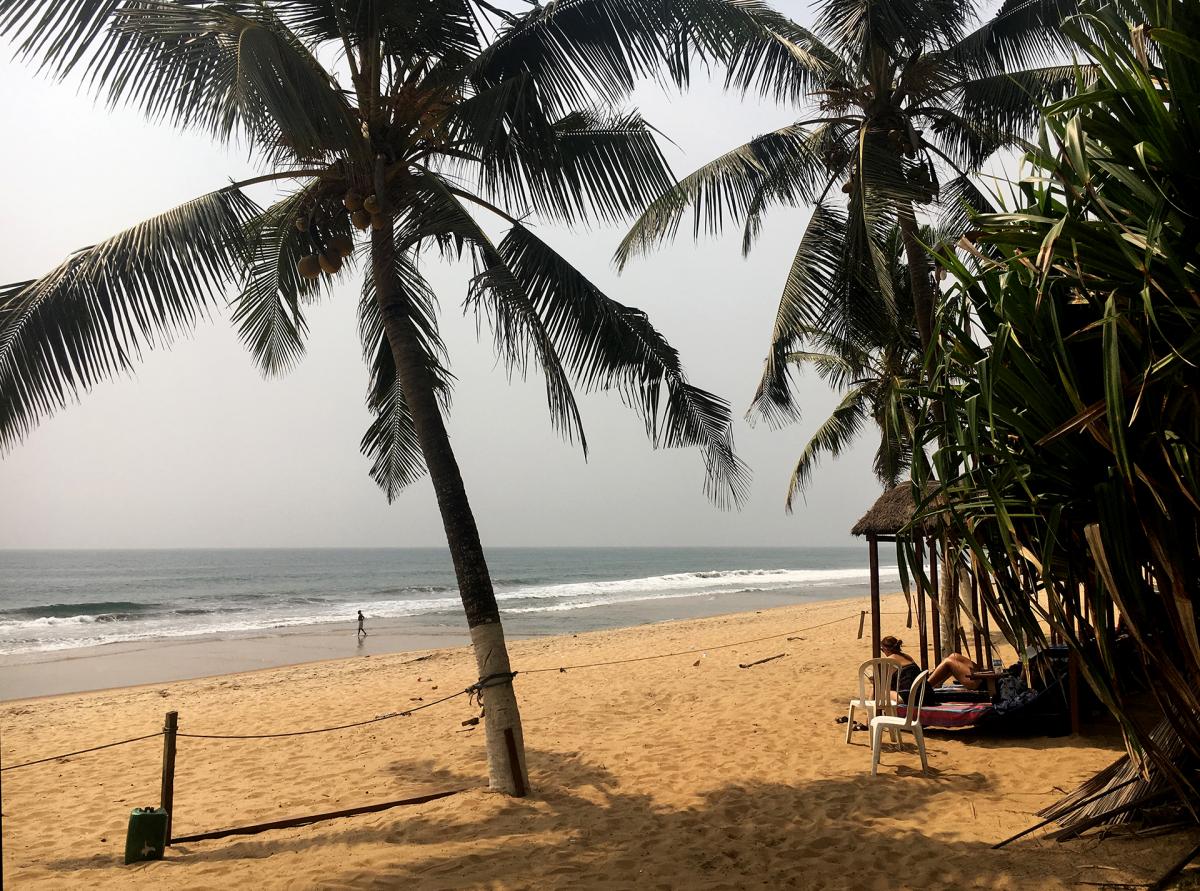 In addition to the Governor's House, other colonial buildings in Grand Bassam have also been restored; many others are still abandoned and this contributes to their decadent charm.
Then we cross the bridge and go to Nouveau Bassam, here, along the main road, that heads towards Abidjan, there are many shops that sell crafts, antiques, masks, statues, paintings, jewelry, bronze objects, furniture and much more; the shops follow one another for more than one kilometer on both sides of the road.
Obviously we cannot miss the last occasion of Ivorian shopping, moreover, when we passed by car, I saw some wonderful Baulèmasks, we cannot prevent us from taking them.
We see some shops and then we enter the one where there are exposed many Baulè masks; they are hospitable and invite us to come and sit on a sofa and insist on offering us something to drink, we have already understood that the negotiation will not be a quick thing.
The owner of the shop is called Picasso, he sits there with us while his boys wear masks on masks to see, while we chat and we joke with him.
The masks are all beautiful, we just have to choose which ones we want to buy and, above all, negotiate the price.
We start an endless negotiation on the price, we have had a lot of fun; we joked and laughed with Picasso and it took us about half an hour, but in the end we buy 3 beautiful and colorful Baulè masks, and a series of other objects.
We are happy with our shopping, also because we have gone from € 940 for 2 Baulè masks to € 120 for 3 masks, different magnets and other items to give as gifts, not bad!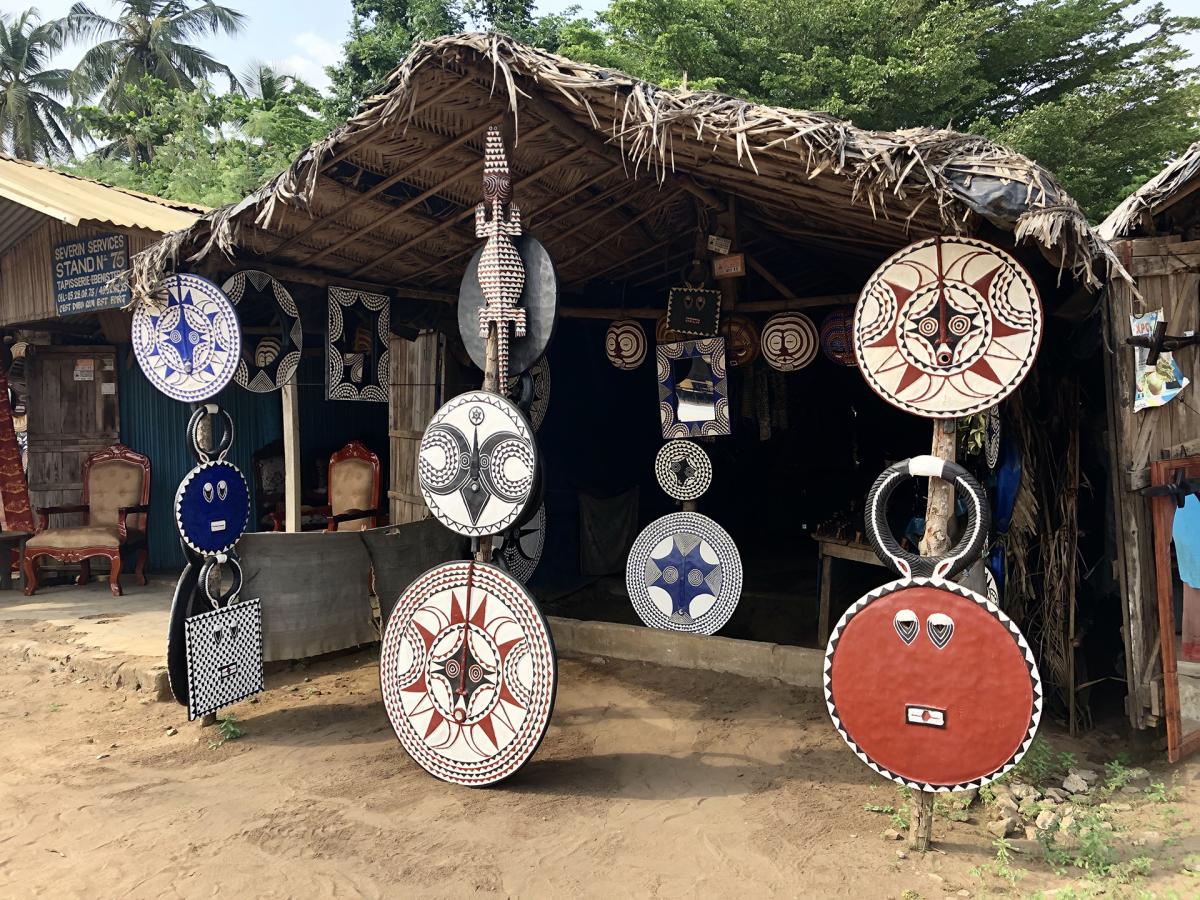 We leave Picasso's store and take a tour to see the other stores, but we are not going to buy anything else, we are just curious; we make an exception only for roasted peanuts and sold in the beer bottle, we had already taken them in Benin, that time they were in the Campari bottle.
When we decide that we have seen enough shops, we return to our car; it is time to leave Grand Bassam and return to Abidjan.
Although today we have visited less than in the past days we are more tired, the humid heat has cut a bit our legs, but we are still satisfied with this last day in the Ivory Coast.
We return to Abidjan and follow the signs to the airport, but it is not yet time to leave, our flight will leave tonight.
We took a hotel in daily usage near the airport, so we can have a shower, relax and change before leaving; we have more than two hours and we can do everything calmly.
Unfortunately we are just running out of this journey, but it was an intense and wonderful journey and that gave us beautiful emotions.