Submitted by SafariADV on Thu, 2019-02-28
This morning we woke up at our hotel in Man, Ivory Coast and, after having had breakfast, we left.
Today a long stretch of road awaits us, almost 500 km, up to Yamousoukro, on a paved road but full of holes, some of them huge; so we must proceed with caution.
From this moment on we will not visit anymore villages and we will not see anymore tribal dances and rituals; we already have nostalgia.
The first stretch of road, that heads South, is actually in good condition.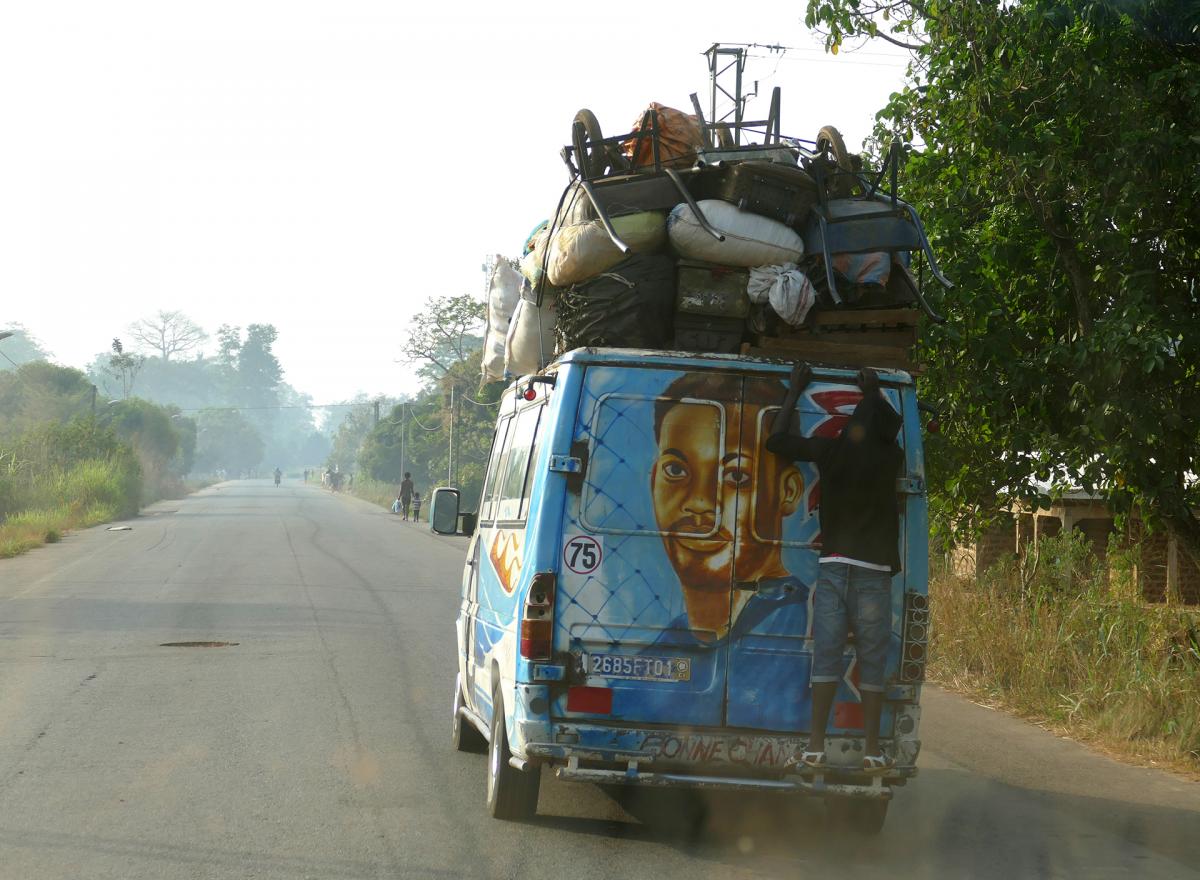 At a certain point, after about an hour's journey, we stop; on the roadside there are some cocoa plantations, we have already seen the cocoa in Ghana, but it is always interesting, moreover it is a way to break the long journey of today.
We get off the car and cross the road, there are 3 farmers, one by bike and two on foot; our guide asks them if we can visit their plantation, they tell us yes but they seem a bit weird by our request.
There are several cocoa trees, they are evergreen trees that produce fruit all year round.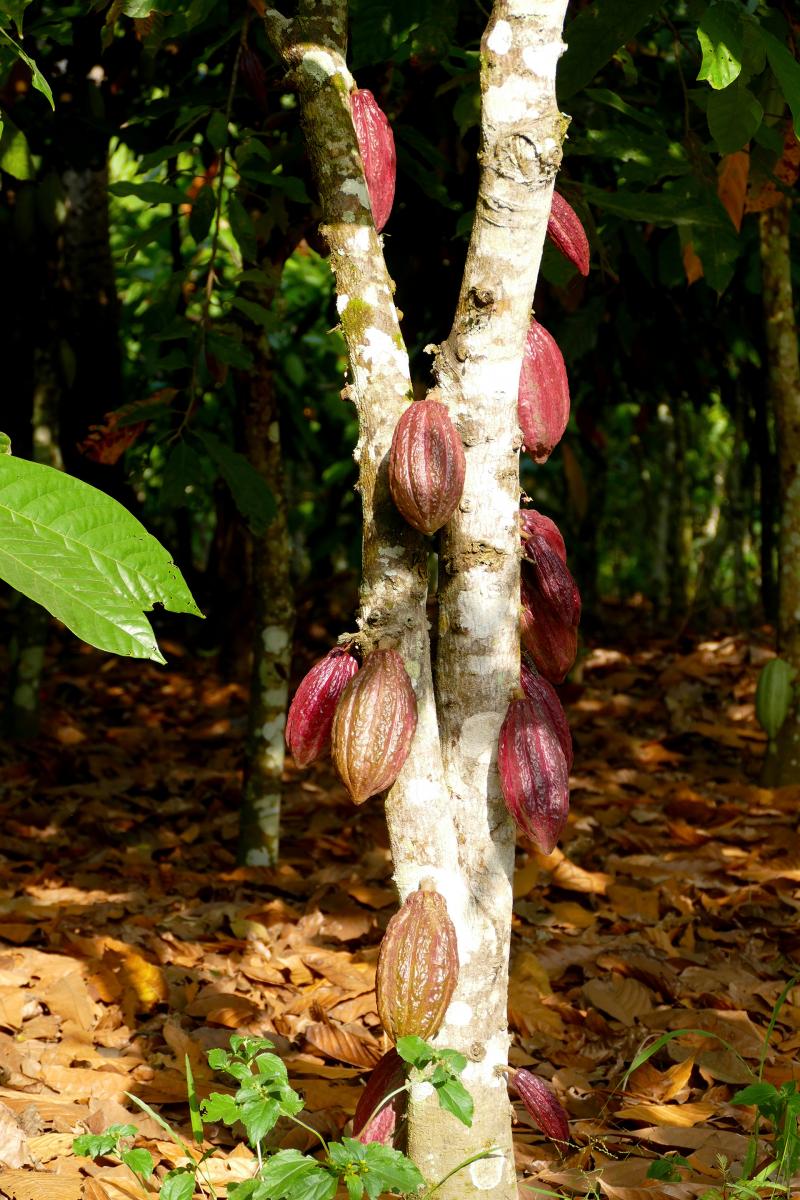 The flowers grow directly on the trunk or on the larger branches, they are tiny, when compared to the fruit that starts to form when the flower fades; initially the fruit is green or yellow, while when it is ripe it takes on a red / brown color.
The fruit, that is called cabossa, has a shape that resembles that of a slightly elongated cedar, when you cut its thick peel, inside it are the seeds, a fruit can contain from 25 to 40 seeds; the seeds are wrapped in a very fragrant, soggy white pulp.
The seeds are left to dry in the sun and then toasted; when they are lying in the sun an inebriating scent of chocolate is smelt.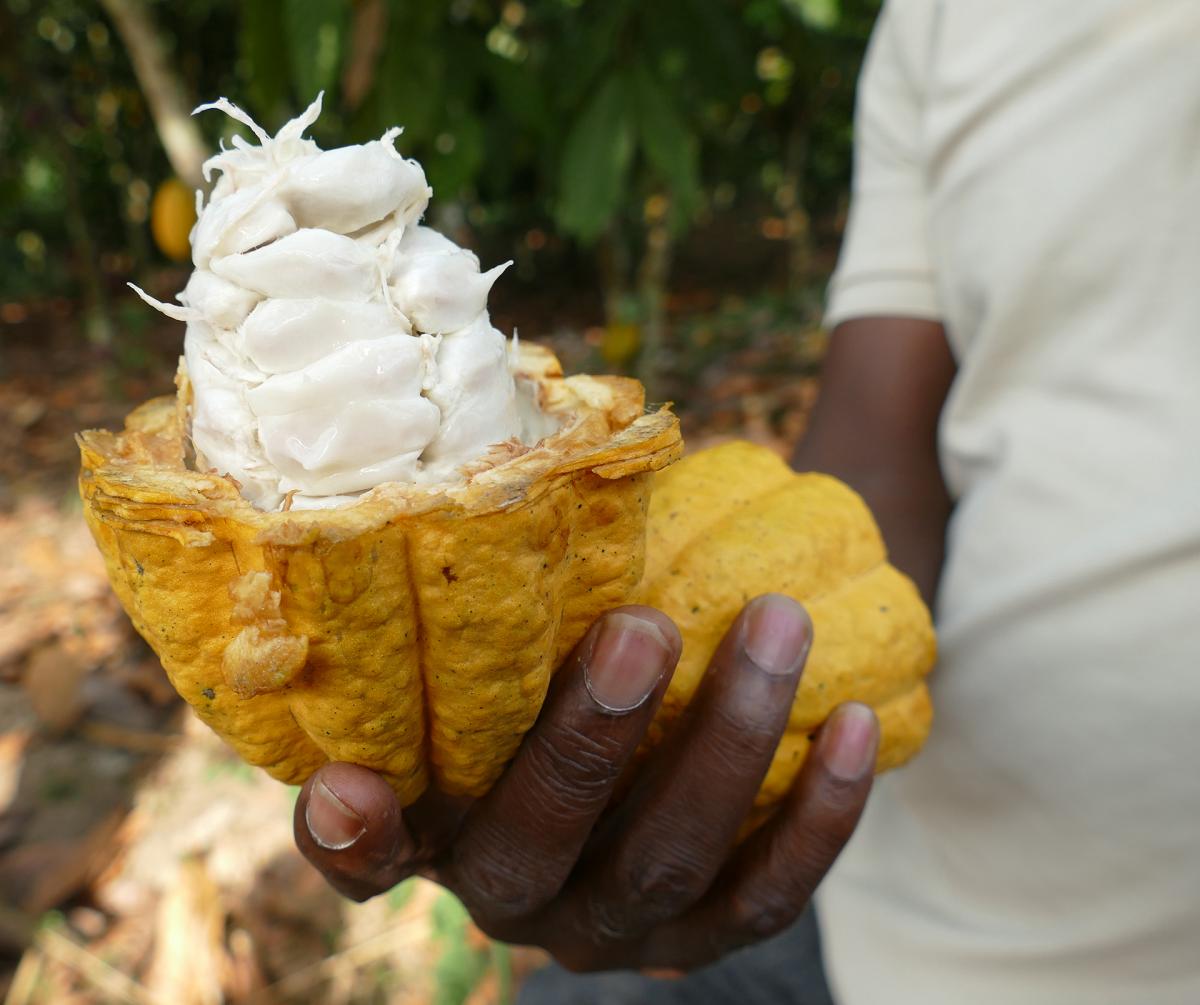 The Ivory Coast is the world's leading producer of cocoa, most of it is exported in seeds and then toasted and processed in the countries of destination, but there is also a small production of local chocolate; we tasted it and it's not bad at all.
We start again, the road is a bit monotonous, in this area there are no villages, only vegetation and the holes of the road; we do not envy the driver, it is not easy to drive here.
We travel for about 2 hours and then we stop in the town of Daloa; it's lunch time so we decided to stop here, as there seems to be some shops and some restaurants.
We go to a restaurant that inspires us, we do not understand if they are Lebanese or Moroccans, they also seem a bit confused about it; we cannot certainly understand it from their kitchen since, in addition to shawarma, they make pizza, pasta and croissants.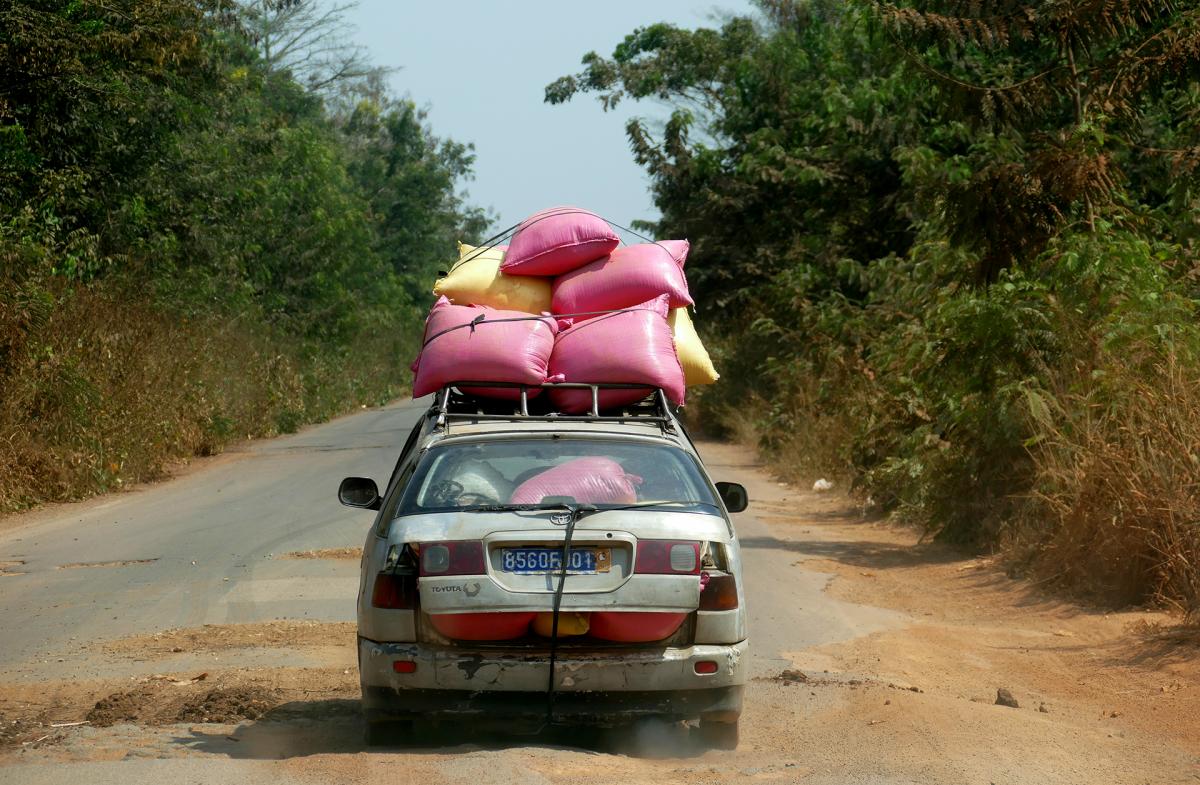 I order the shawarma, that has nothing to do with what we ate in the Middle East, but it is very good, while Silvan orders a pizza, wthathich has nothing to do with a pizza, but it is good.
It's a place a bit absurd, for a moment we seem not to be still in Africa and we do not understand where we are, it is an unthinkable cultural mix; but as we think this way, we did not know that surprise was yet to come.
The owner is intrigued by our presence and asks us where we come from, when we say "Italy" we see him run away, initially we did not understand why, but then we see him take the remote control and, suddenly, we hear the voices of Albano and Romina Power singing "Felicità", trasher than that there is nothing!
He is all happy to have Italian songs and tells us "in your honor", but they are one worse than the other and we cannot help laughing like 2 idiots; we went from Albano and Romina Power, the nightmare of my childhood, to Renato Carosone, to Pausini and Ramazzotti of the early years ... a tragicomic situation, but we still appreciate his gesture of hospitality.
We finish lunch, while we have fun betting what will be the next singer or the next song, and then leave again.
From here we go straight to Yamousoukro, we stop only for a "technical pit stop" near a cultivation of rubber trees and, later, where there is a small local market of fruit and vegetables, where we take some pictures.
At 4:00 pm we arrive at Yamousoukro and first we go to visit the Basilique de Notre Dame de la Paix (Basilica of Our Lady of Peace), it is a fake copy of the Basilica of St. Peter in Vatican City, although the materials with which they have been built, are undoubtedly, less valuable and moreover the whole church is missing; in fact there is only the dome and a replica, in miniature, of the colonnade, even if several columns are also missing.
Inside the basilica is modern, also because it was built only in 1989; it seems that they have spent about 300 million US dollars, a bit of a contradiction for one of the poorest countries in the world.
It does not make us crazy but we visit it anyway, because, even if it seems absurd, we think it must be seen anyway; moreover, the sun is setting behind the dome and the sky is tinged with the warm colors typical of an African sunset, from this perspective the fake Saint Peter seems almost beautiful.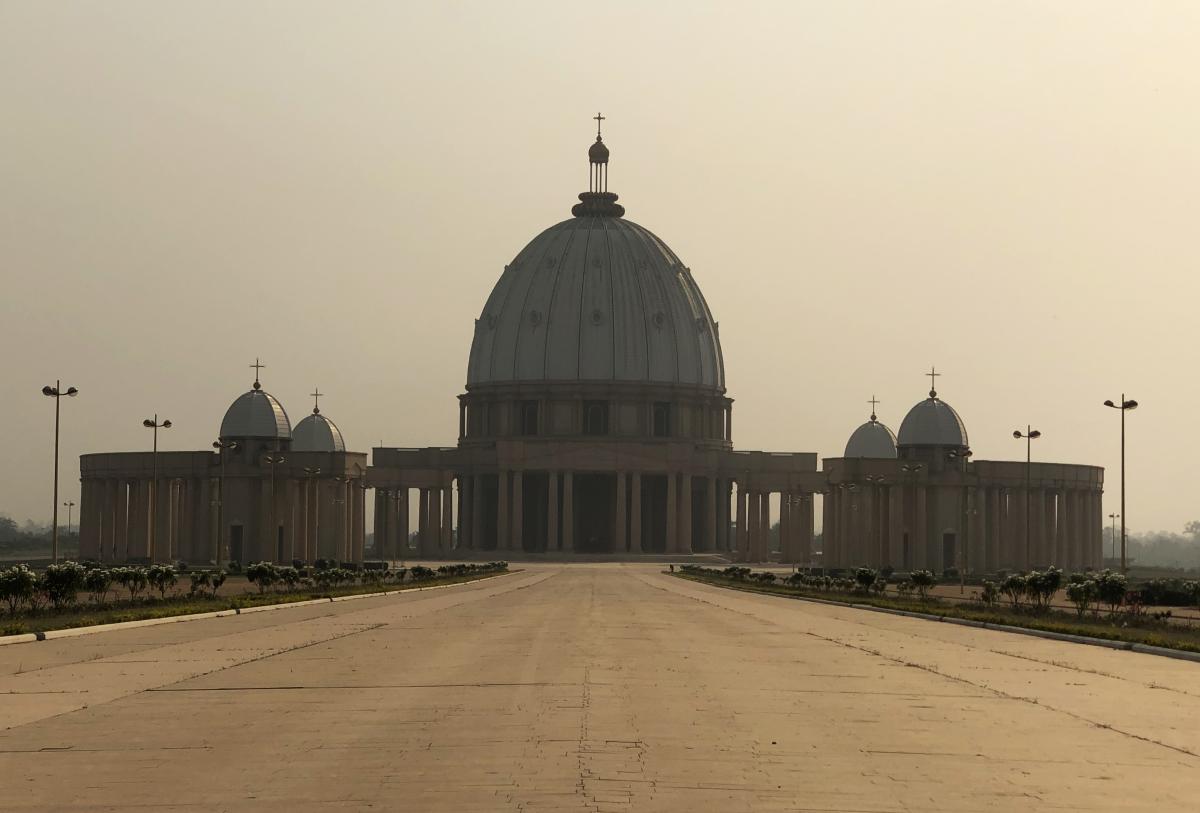 Before going to the hotel we make a stop near the Palace that was built by Houphouet-Boigny when he was president; his family still lives here, while he has been buried there, now it is a private building and therefore cannot be visited.
It is a gigantic palace, it has a perimeter wall 5 km long, and, along one side, there is what looks like a wide moat, but in reality it is a lake; inside there are several Nile Crocodiles, that were brought here by the former president.
After taking some pictures of a group of sleepy crocodiles, it was time to go to the hotel to rest; today was a long day.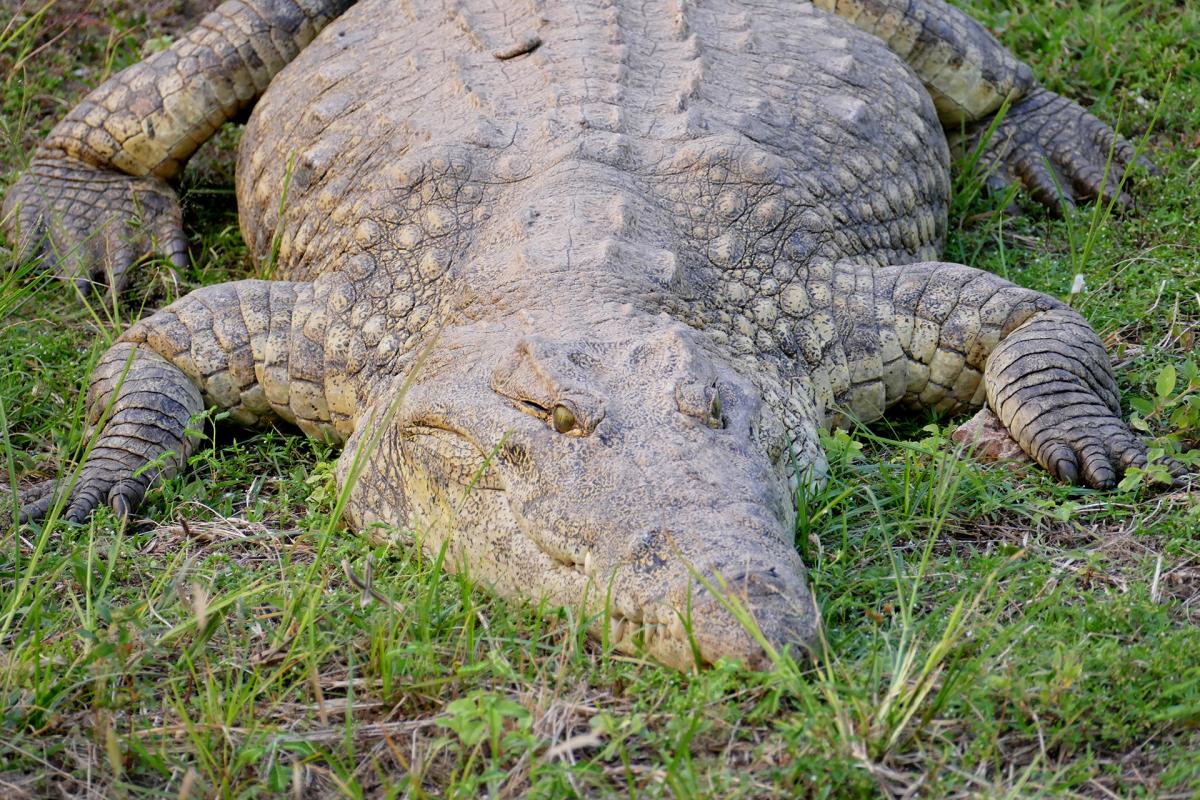 Data di inserimento:
Thursday, February 28, 2019