Submitted by SafariADV on Sat, 2019-02-23
Today was a busy day, we visited the blacksmiths village of Koni, near Korhogo, we were at the Senoufo village of Niofoin, where we saw the houses of the feticheur, we visited a Fulani village, but our day is not over yet : we go to see the Dance of the Virgins in a Senoufo village, the Ivory Coast is thrilling us!
To get to the village we go along a dirt road where many trucks loaded with cotton are parked, some are very old Mercedes never seen in Europe, they will be 50 or 60 years old, but in Africa there are no problems and they circulate quietly, the secret is to have a good mechanic !
We arrive at the village, park and get off the car, not far from there is a large mango tree under whose branches there are benches; some guys are sitting here, they look at us and say hello, so we get closer to chat with them.
We arrived a little earlier than the dance time, that is scheduled for 5:00pm, so we take a tour of the village.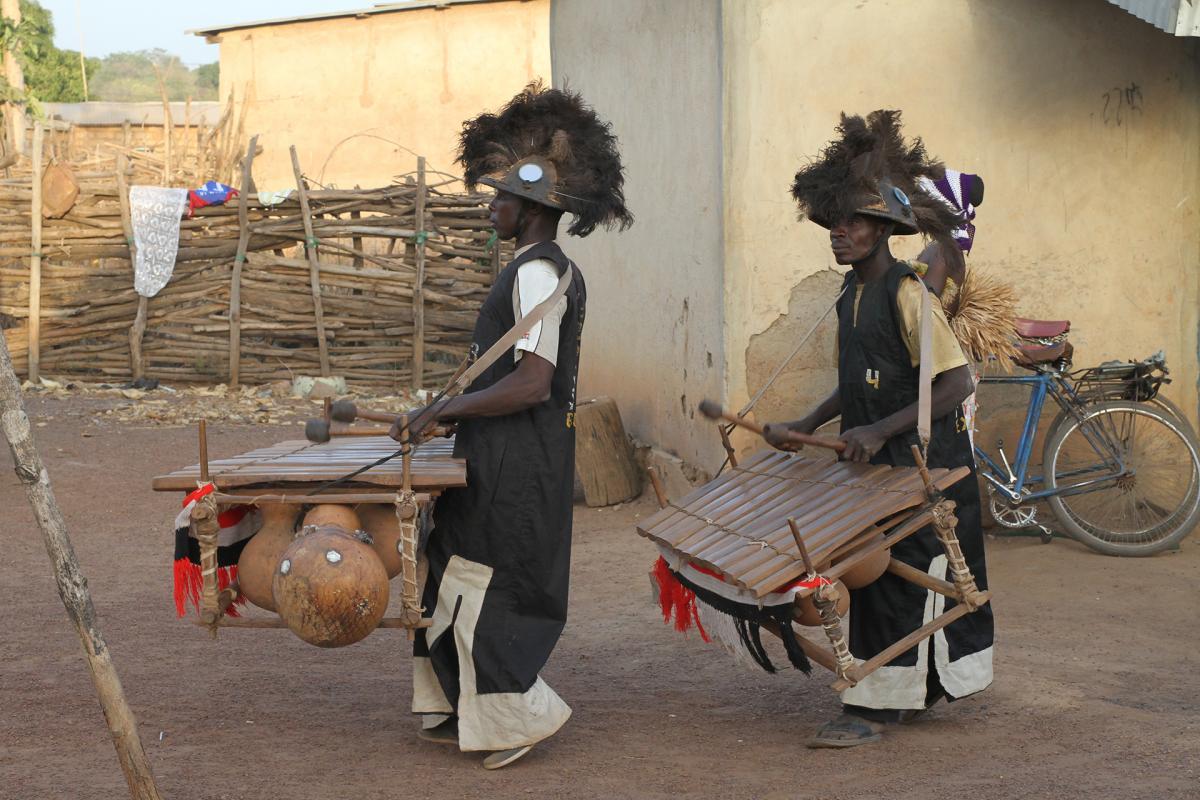 It is not a traditional village, there are rectangular houses instead of round huts, but it is still pleasant to go around; we meet some people who tell us "Bonsoir! Bienvenue! " and they smile at us, it's always nice to be welcome.
There is a beautiful light and we take some photos of the village and some details, then we go to the square where they will celebrate the dance, we sit on wooden benches, prepare the camera and wait.
At a certain point the musicians arrive: some boys play a small drum, that they hold under the arm and beat it with a curved piece of wood; three of them play a xylophone, that was made with wood and pumpkins, they wear it tied to the neck with large straps, this allows them to move and not remain fixed in one point, in addition they are wearing flimsy headdresses; finally 3 men play a wooden flute.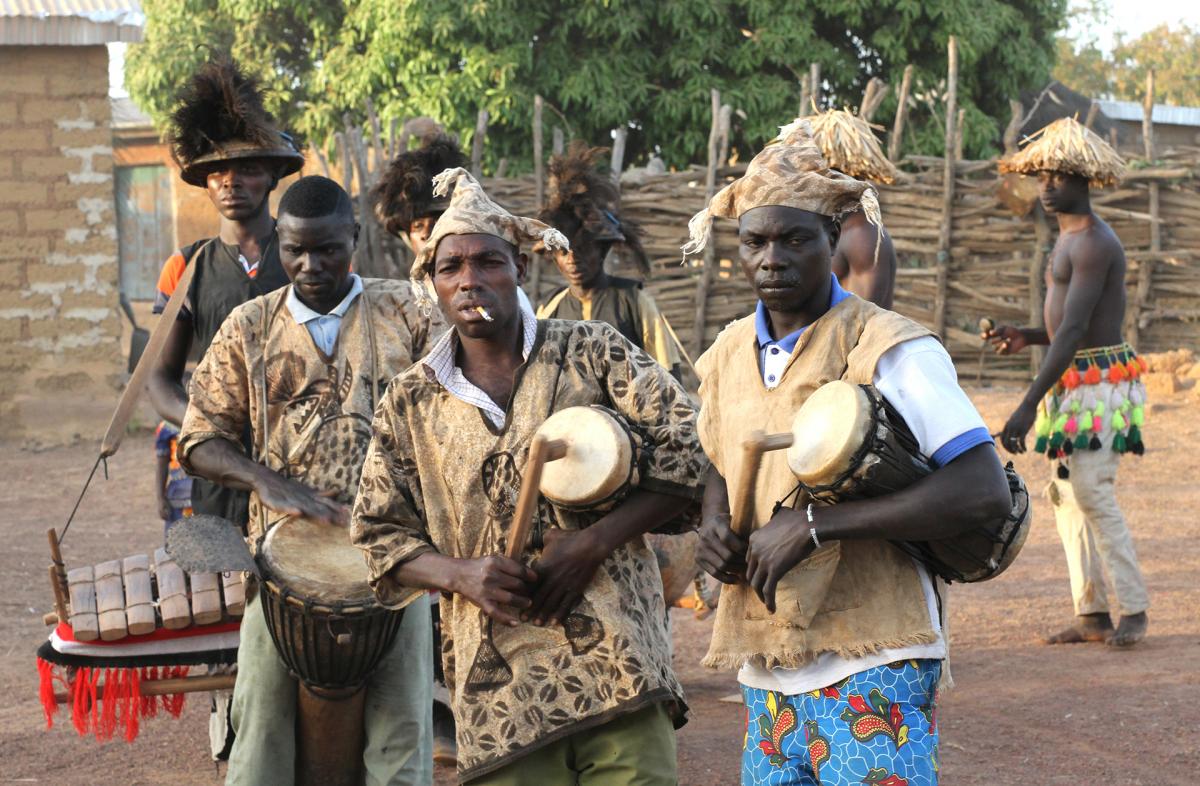 The first to enter the scene is the feticheur wearing trousers and a leather hat and holding a whip in his hand, that he sometimes pops, he often comes close to us, we hope not to be accidentally taken by his whip.
Then come the dancers, they are 3 men, wearing white pants with a strange colorful skirt and a straw hat on top, and 4 girls, wearing a skirt of cloth and have a kind of straw tail and hold in hand two more bunches of straw.
While the dancers dance, the feticheur goes around, seemingly oblivious to what he is doing, at times he seems even in a trance.
The pace is pressing even if the music is more delicate than the Senoufoand Baulédances we have seen so far.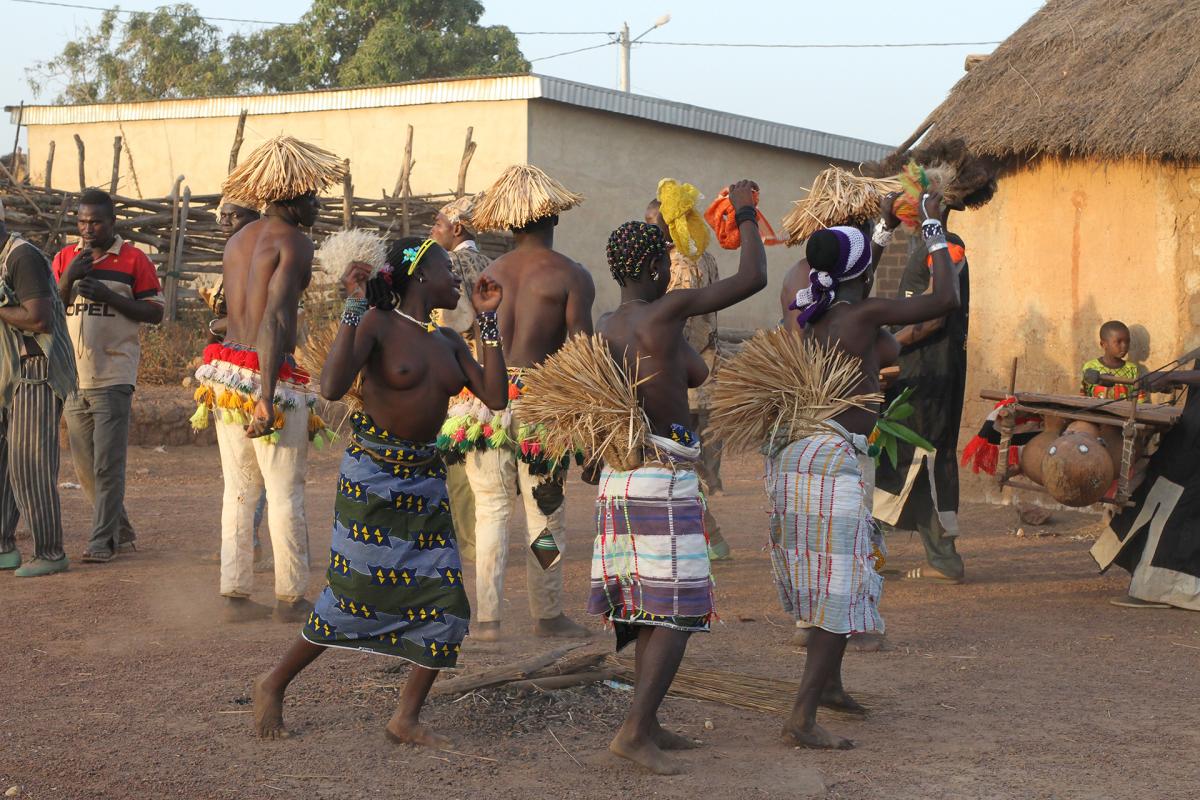 The men dance quickly moving their feet, while the girls move in a circle around the fire with more graceful movements; sometimes both the dancers and the musicians make a wide tour, passing right in front of all those who came to watch the dance, including us.
In one corner of the square there is a character wearing ceremonial clothes, covered with fetishes and shells, and he is seated on a colored wooden horse; he is the one who presides over the ceremony.
This dance is called Ngoro and is part of the Senoufo Poro women's ritual and is celebrated when women return from the forest; women, unlike men, must overcome only one level of initiation.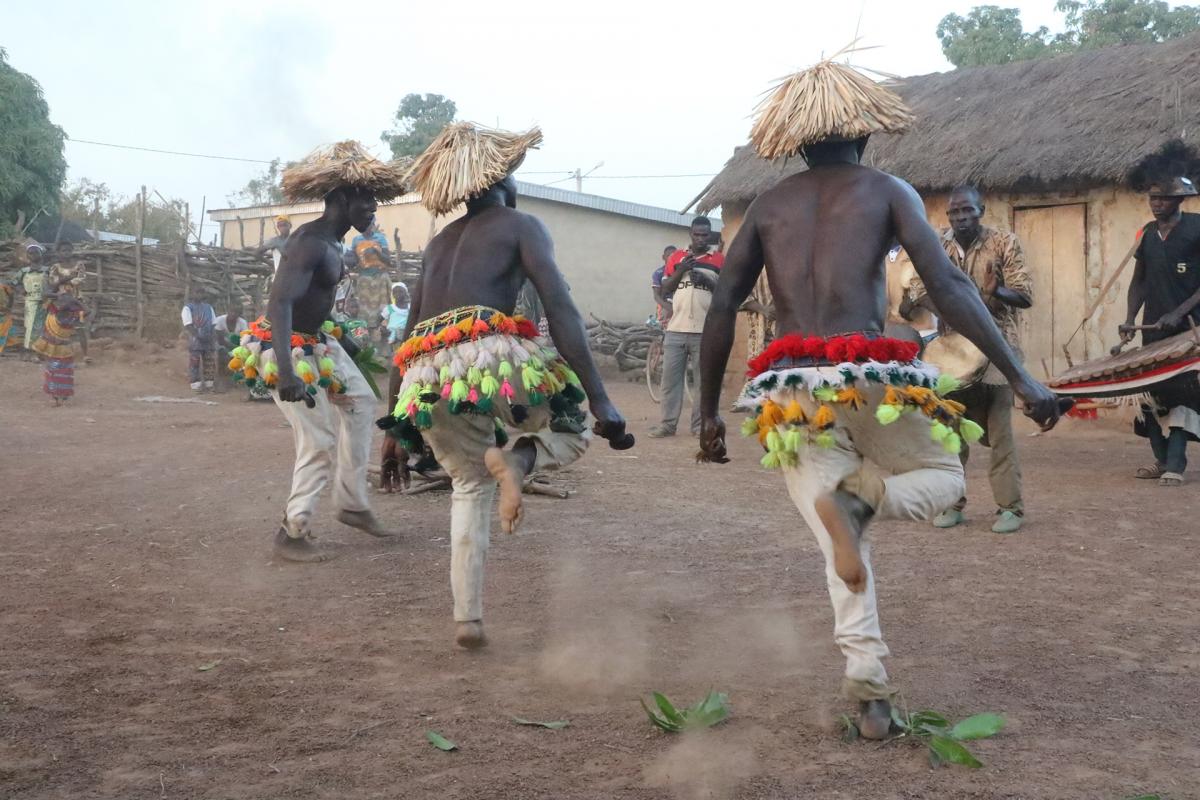 At the center of the open space, where they dance and play, there is a fire, the dance ends with the feticheur sitting on the fire and, dragging himself to the ground, extinguishing the fire.
It was very interesting to attend this ritual, also they were very kind and welcoming; this time we are not alone to assist, but there was also a representative of the ministry of tourism and, although Ivorian, he is immediately recognizable, he is the only one wearing a suit and is accompanied by a woman wearing a sheath dress and heels, in fact they look like two fish out of water.
It is time to return to the hotel, even today has given us 1000 emotions and we are happy, but now we deserve a little relaxation.