Submitted by SafariADV on Sun, 2019-02-17
We are at Bouake in the Ivory Coast and today we are excited because we will meet the Baulé, the population who lives in these lands; the Baulé are part of the Akan ethnic group, the main group of the Ivory Coast.
First we take a trip to the local market of Bouake, we adore the markets, especially the African ones, usually they are full of colors, perfumes, smells and confusion and this is not far behind.
The Bouake market is developed along the way, there are several women selling vegetables and fruit, what always strikes me is how they manage to be so clean and tidy despite exposing their goods on the ground in the dust.
Vegetables and fruit seem freshly harvested, tomatoes have an exciting scent, we would gladly stop to do the shopping!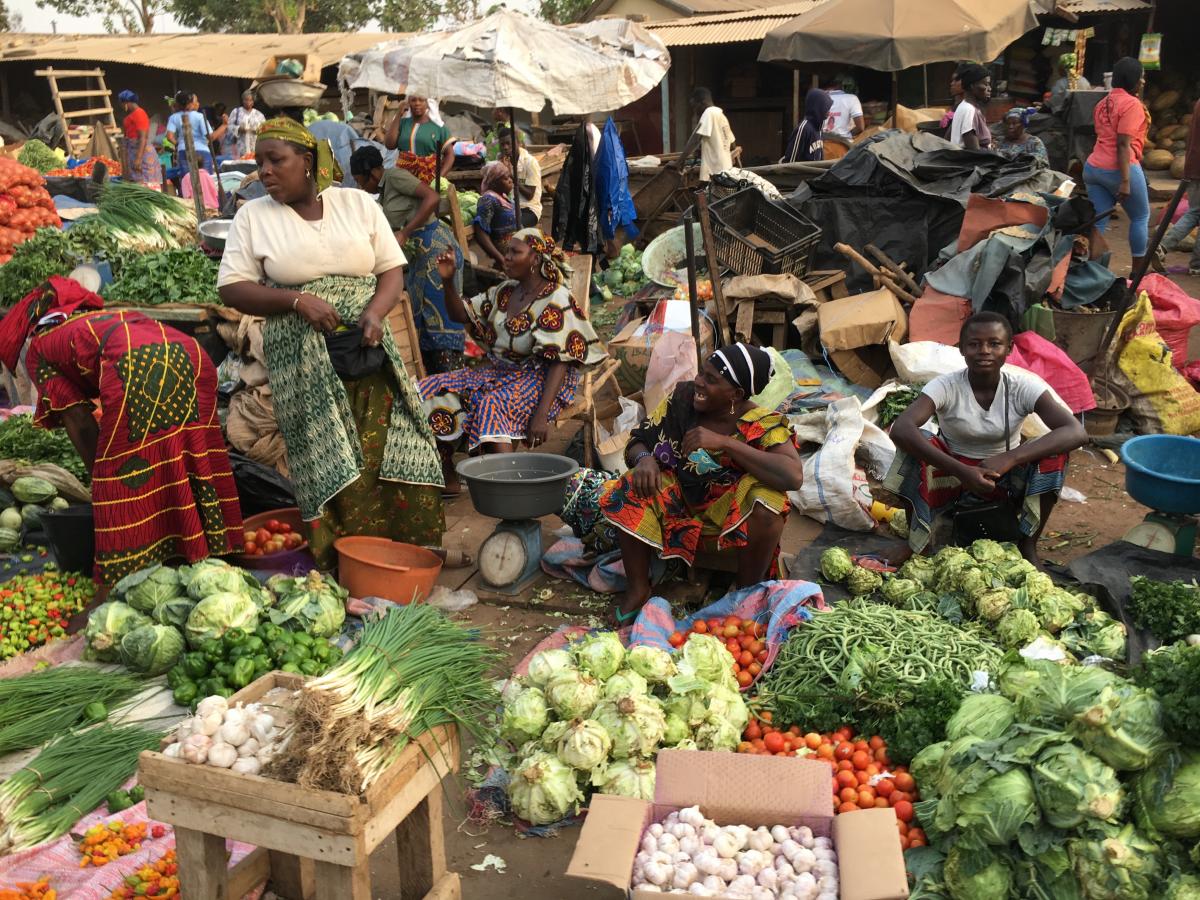 Among other things they sell the yam, in Ghana, Togo and Beninwe had gone crazy for it, we often hope to find it here in restaurants; it is a tuber bigger than potatoes and drier, it looks like cassava and is cooked in many ways, fried as chips is phenomenal.
Each stall sells at most 2 or 3 types of vegetables or fruit, probably this depends on what they can grow, it amuses us to discover the differences with what we find in our markets; we could spend hours here watching, talking to people and taking pictures.
Some stalls sell palm nuts, those with which the so-incriminated palm oil is produced; in reality, two different types of oil are obtained from the palm nut: from the pulp of the fruit a reddish and solid oil is obtained at room temperature that, if further refined, takes on a more liquid form and a lighter color and is used for cooking and in the food industry; from palm seeds, dried and ground, a dark yellow solid oil is obtained that, after refining, becomes yellowish-white, the latter is also known as palm kernel oil.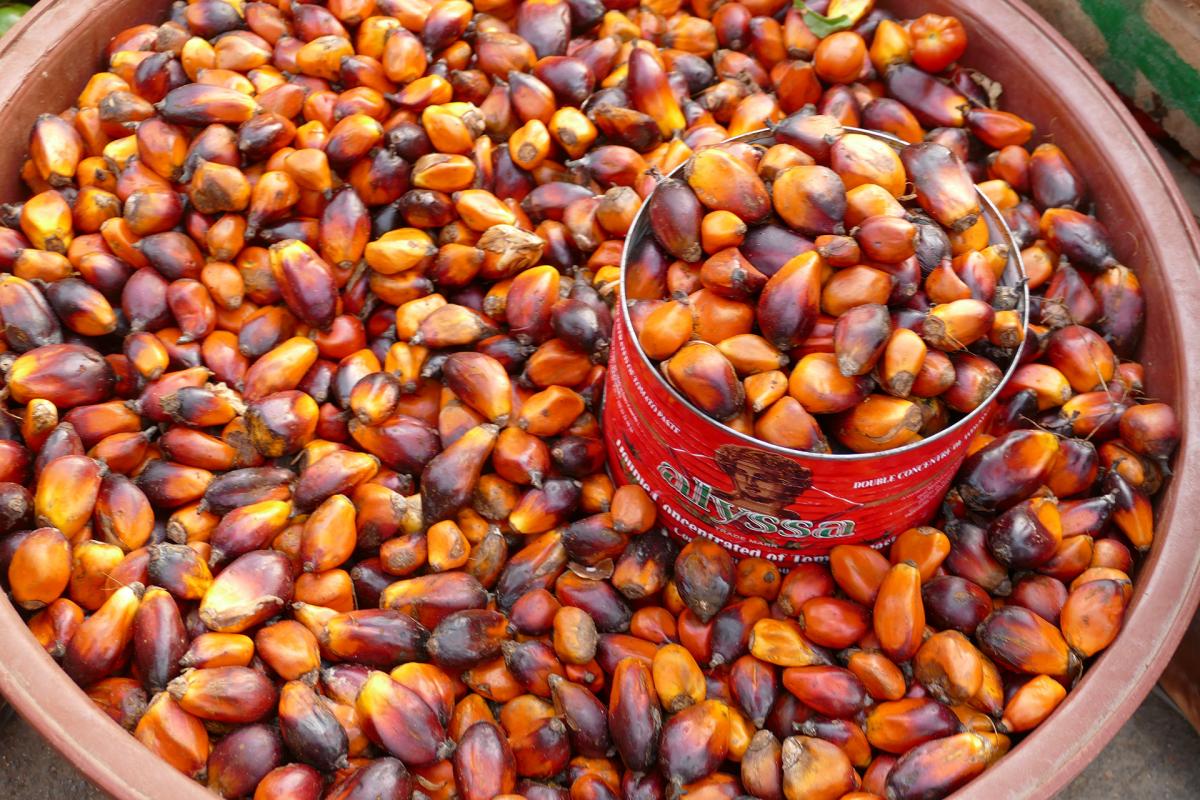 Other stalls sell fish, both fresh and smoked, others meat; we also see a guy who, after transporting quarters of beef into the trunk of the car, loads them on his shoulder and goes to deliver them to the butcher.
A woman, in a basket, sells several things, including a strange brand of spaghetti, we would be curious to find out how they are, even if, as Italians, they do not seem anything special.
One of the few signs of the presence of the French, in the past, in these lands are the baskets of bread that some women sell, carrying them on their heads or resting on the ground; they have nothing to envy to the Parisian baguette.
But there is not only food, a woman sells all sorts of cosmetics and her "stand" is a wheelbarrow full of colorful products.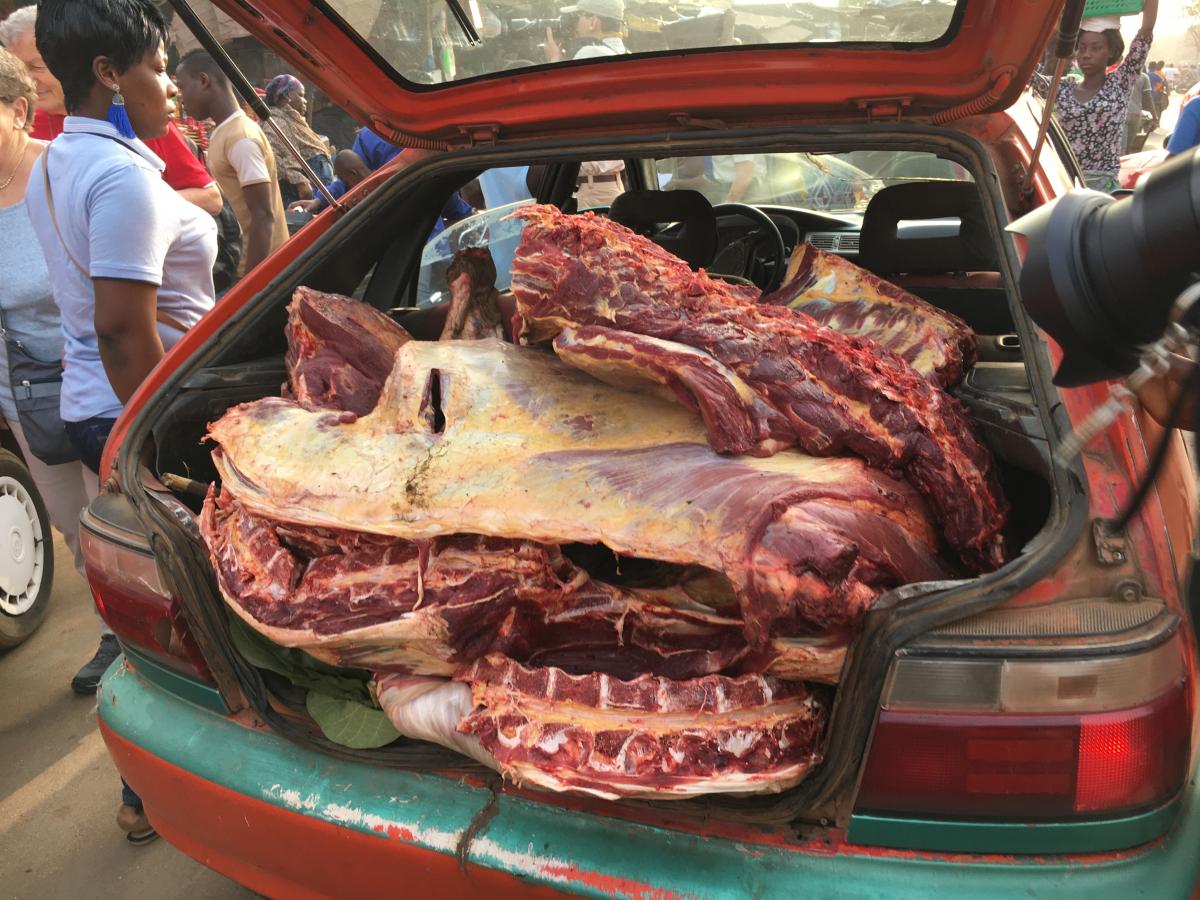 There are people everywhere, those who sell, those who wander through the goods to buy, motorcycles, some of which inexplicably entirely covered by crackling paper, that venture everywhere carrying goods, overloaded cars that arrive or leave, dust that rises from the street and a relaxed and fun atmosphere.
Although they are busy selling and buying they are intrigued by our presence, we look at them and they look at us and the funny thing is that we take pictures of each other, if we are intrigued by something they offer to make us taste it and they have fun joking with us.
Some cars and buses leave overloaded, many people come here to shop from who knows where and return home loaded with all sort of goods; we saw a collective bus that on the luggage rack, as well as bags and boxes, also carried a live goat ... they are too creative!