Submitted by SafariADV on Fri, 2017-10-20
This morning, after breakfast, we left Clanwilliam, the capital of the rooibos tea, and located in the Northern area of ​​the Western Cape.
We took the N7 to the South and drove to Moorresburg; the road is panoramic, in the beginning the Cederberg Mountains still make us a little company, then leave the place to a larger valley; finally, at Citrusdal, we cross two passages and head South-East; in this area there are several orangery plantations, that it is a shame we are almost at the end of the trip, otherwise we would buy them.
At Moorrenburg we turn right and we get on the R311 and then the R45 yesterday the Wit Mussel boy at Eland's Bay told us that a few days ago he went to the area between Koperfontein and Hopefield and saw some blooms, so we get the R 45 and we go to see .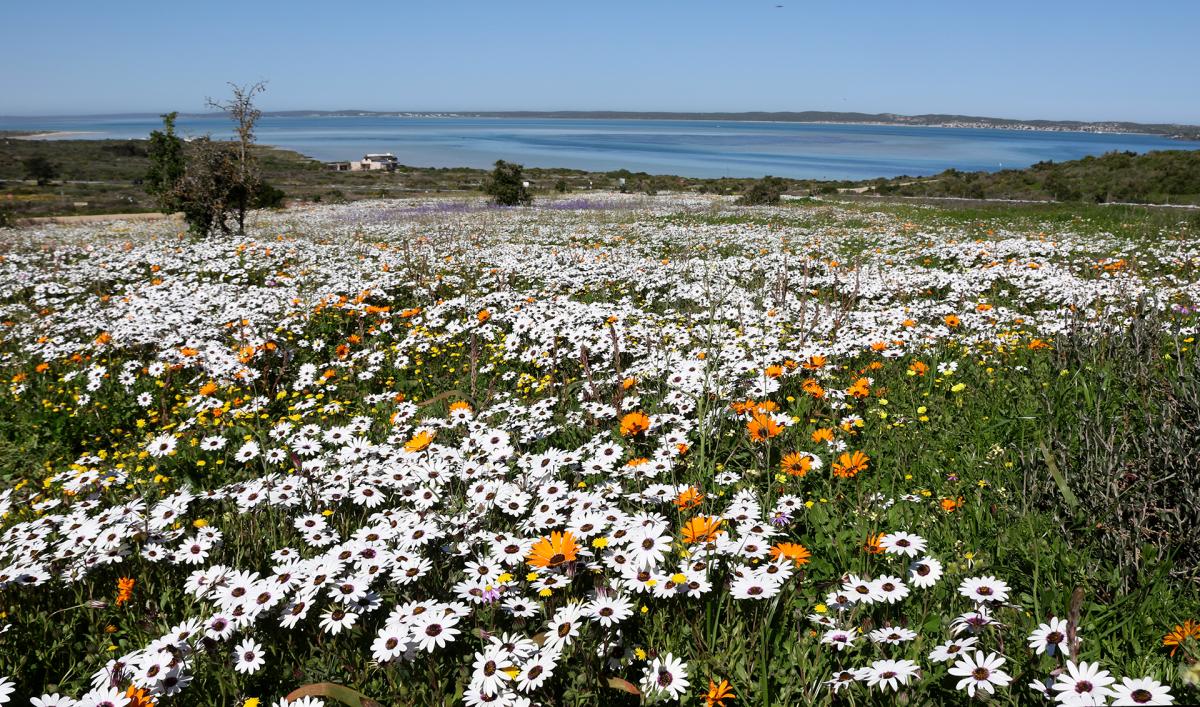 In fact, there are some flowers and some blooming bushes and we take a few photographs.
It is not easy to know in advance where to find the bloom because it depends a lot on the fog that forms on the coast, but also by the precipitation; the best thing is to ask the locals how we did it.
We arrive at Langebaan, a town overlooking the ocean, where there are many spectacular villas; here is also the entrance to the West Coast National Park, that occupies a strip of land between the Atlantic Ocean and an inner lagoon.
The park is mainly visited to admire the blossoming of wild flowers; but gives breathtaking views of the ocean and the lagoon, as well as the proximity of seeing some rare animals such as the Cape Mountain zebra and bontebok.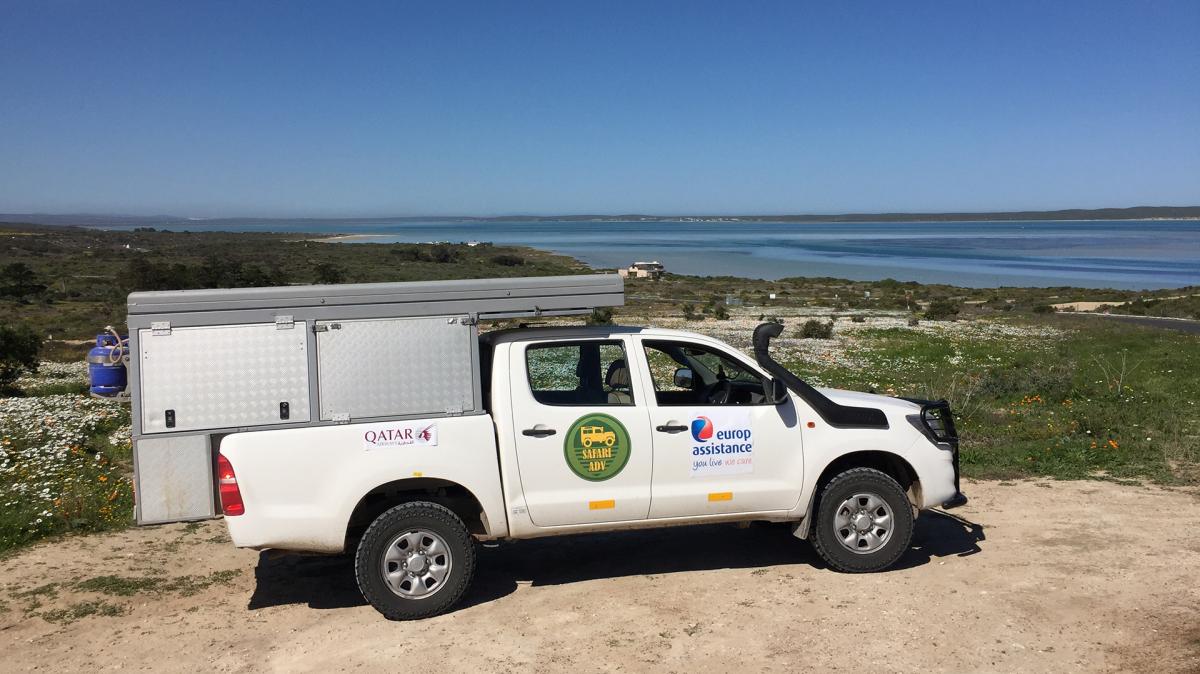 We take a ride in the park and have lunch on the Atlantic Ocean with a spectacular view of an immense deserted beach and some rocks, where the waves break violently; it's really a wonderful park and it deserves more consideration from travelers.
We go out from the most South exit and continue our journey to Cape Town.
Inevitably, as we approach the city, there is more traffic; it makes us a strange feeling since we are no longer used to it, in the last few weeks we have seen a few cars.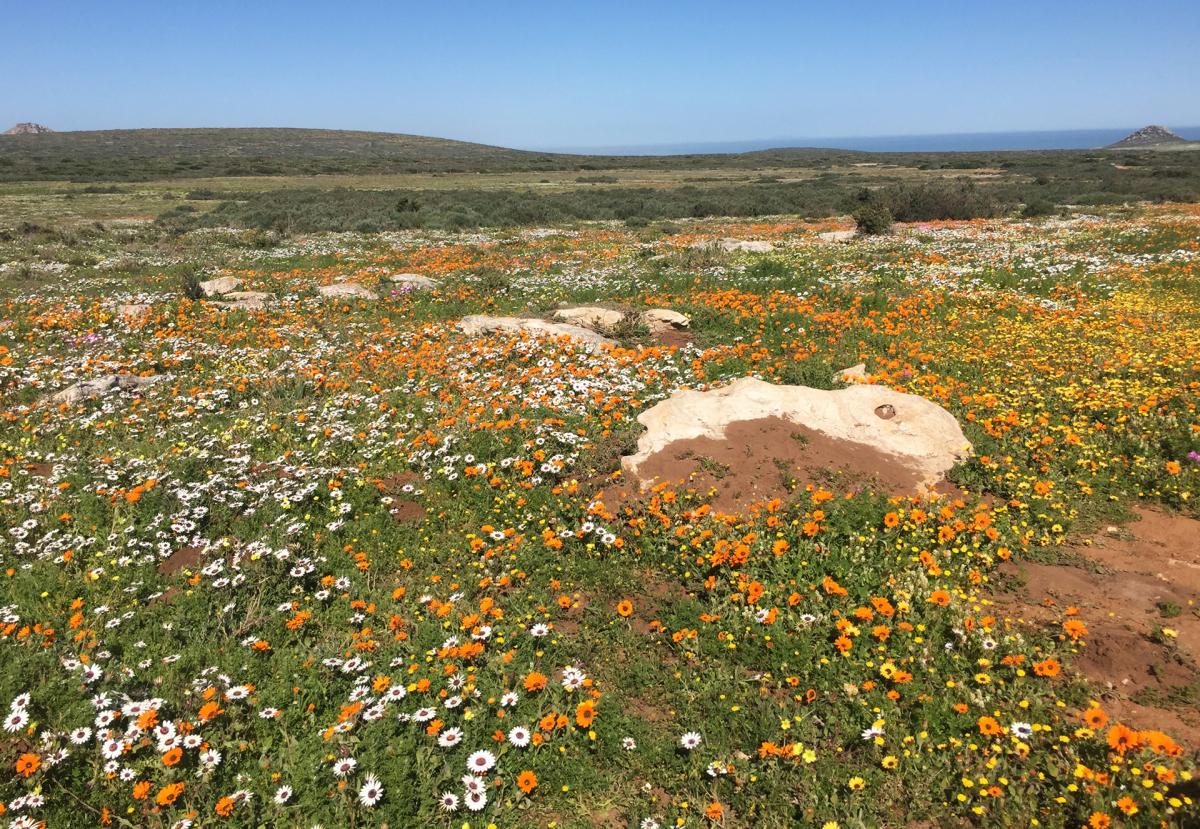 In front of us we see the Table Mountain, the Cape Town mountain, so called because its summit seems cut and flat as a table; as we approach it we see it in all its sunlit beauty even though, at some point, the clouds begin to peek out of the top and cover it, just as if they were a tablecloth.
We enter the city and easily reach our hotel located near the Waterfront; we will stay in Cape Town for three nights, it is the longest stay of the trip and maybe we can rest a bit.