Submitted by SafariADV on Tue, 2019-11-26
We are at the Central Kalahari Nature Reserve in Botswana and this morning we woke up at 5.30 am at our Deception Valley campsite; we slept a lot, last night we went to sleep at 9.15 pm; something that in Milan doesn't even happen when we're sick.
We have breakfast in the car, even if it's less cold outside than the previous days we don't want to go out, since it's not yet clear.
In a short time we prepare ourselves and then we leave, we have the feeling of being the only ones starting so early, the others are still all at the campsite; surely they are South Africans, usually they are mainly those who come here to the Central Kalahari to camp, they have a real cult for this style of vacation and, unlike us, they enjoy life more at the campsite, sometimes they don't even go on safari and stay at the campsite all day.
We go out on the main road and turn left, 5 km separate us from the Deception Valley; this is a sandy road even if we can do it easily even us who are not very expert on sand.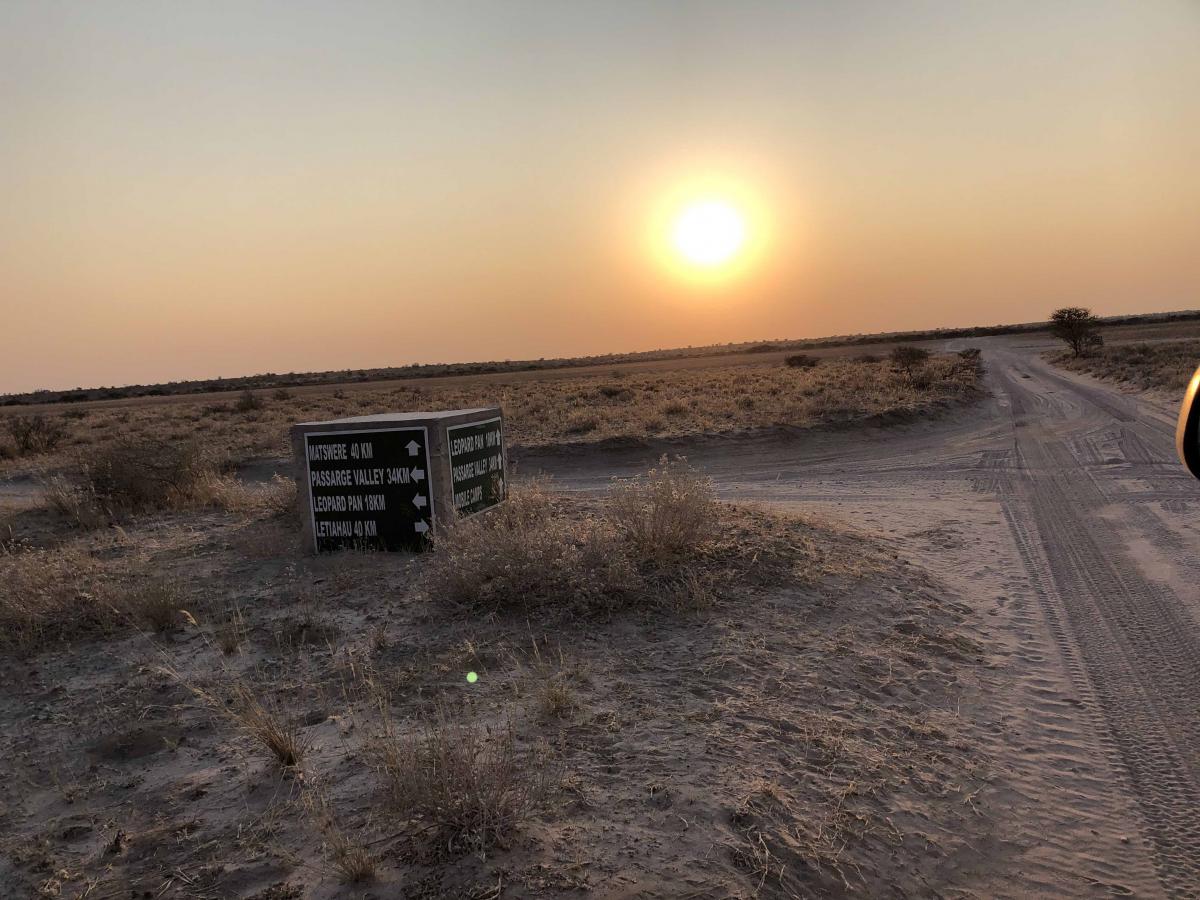 At one point we see footprints on the sand, they are undoubtedly fresh but, since the sand is soft and deep, it is not easy to distinguish the profile perfectly but it is certainly a cat, either a lioness or a leopard; we follow the footprints, often the felines walk along the road facilitating those who try to understand their direction.
We follow them for more than a km but then the tracks vanish when we arrive where the sand gives way to the hard surface of the Deception Valley, and now? We try to look around even with binoculars but we can't see anything, who knows where it went, whatever it was; patience we tried.
Instead of following the road that cuts straight into the Deception Valley, we decide to take the road that leads to the other campsites, the last footprints we saw seemed to point in that direction.
Obviously the footprints have disappeared and along the road of the campsites we see only other campers who, to tell the truth, seem to look at us astonished; in fact we have already been around for a while looking for animals while they seem to be just awaken and far from leaving by car, some probably won't even leave the campsite area, on the other hand for them camping is a bit of a ritual, a travel mode that they love and therefore enjoy every single moment, also living in Southern Africa they have all the nature they want at their disposal and do not have the same desire for safaris.
We return to the main track and head South; most of the track is in good condition, the bottom is hard and compact and the surface is smooth, but, in some places, there are depressions and tire grooves left by someone who got bogged down during the rainy season, now yes they are hardened and it is not a good idea to enter them.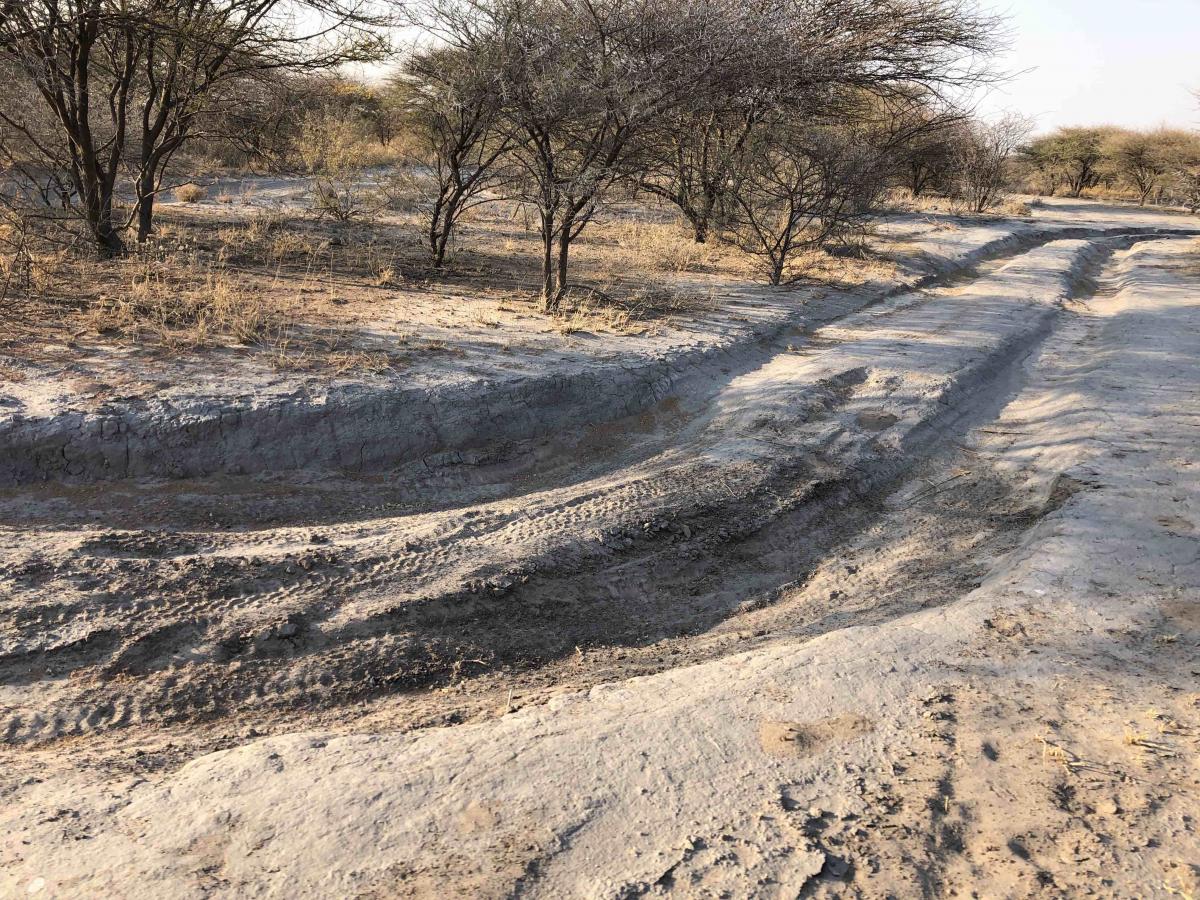 At one point we meet the two guys of the other evening, the French and the German, they are traveling in the opposite direction to us and they told us that yesterday they saw two lionesses not far from the road and we did not understand if they saw them also this morning; they are doing the last safari going to the Maswere Gate; they are directed to the Complex of the Makgadikgadi Pans; good luck and take care!
We immediately go to see if we find the lions, they told us that they are in the part of the track between the last campsite and the Letiahau pond; however, we proceed slowly because at this time of the morning they can still be active and therefore could also move, better to check well.
At one point "there they are!", a sighting that is almost incredible: they are very close to the road, they are a male and a female and they are both standing in the low grass; it was practically impossible not to see them even with an inexperienced safari eye.
They are both beautiful and young, initially we think they are in love but we observe them a little and change our mind; maybe it's not ready, we don't know, but we notice that the male lion looks insistently on one side, so we take the binoculars to look, we initially think of a potential prey but when we look in that direction we see two other male lions, incredible.
The two male lions are also close to the road and are sitting in the low grass in the sun with a perfect light to take their pictures.
We approach to see them better and we realize that in reality there are three of them, from where we were before one could not be seen because it was hidden behind a bush.
They are wonderful lions! They are young, at the pick of their strength, their mane is thick and they do not yet have the marks of scratches and wounds that they will inevitably have when they are older and begin to fight.
They are sitting in the shade of the few trees that are in this area and all three are staring in the direction of the pair of lions, but when we approach them we attract their attention; they are still quite young and look at our car with a little suspicion, so we immediately turn off the engine and look at them in silence and still, the only activity we do is take some pictures of them.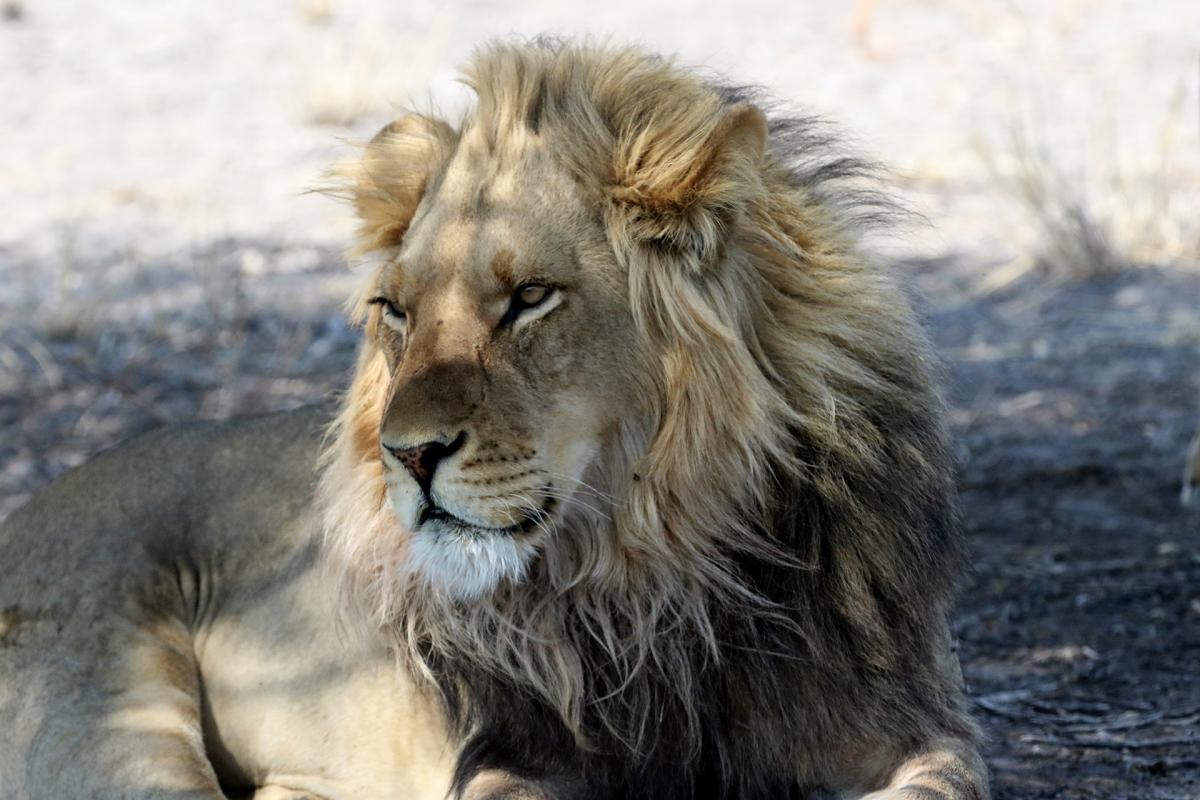 We are there a lot so that we lose the concept of time, we are also the only car within a radius of kilometers and, after a while that we admire them, we decide to continue our safari, at the limit we return later when we will come back.
We continue without meeting even a car and we reach the Letiahau waterhole, it is a small pond of still water surrounded by a small grove; the water is gradually drying, leaving salt deposits on the ground.
We find a place in the shade where to position ourselves and wait, shortly after, on the opposite side from where we are, some springboks arrive to drink; we watch them in silence so as not to frighten them.
When the springboks have gone we decide that while we are here waiting, we could take advantage of having lunch and so we do, we have everything in our ice bag we must not even get out of the car.
As we have lunch, other springboks and some kudus come as well to drinkand we enjoy this scene in complete solitude.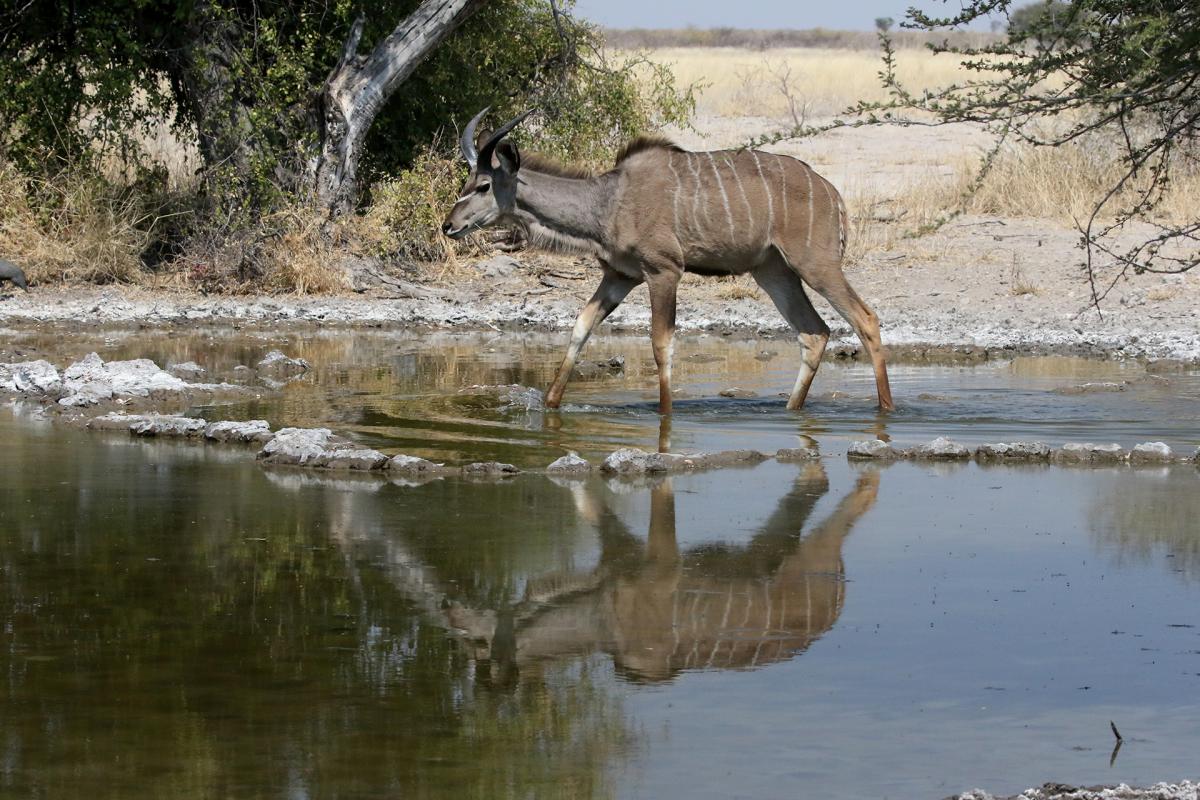 From here we decide to go back to where we came from but we proceed very slowly looking around to see if we spot anything, besides the oryxes that are a bit everywhere in the Central Kalahari.
At one point, near a tree not far from the road, we see a cheetah; it is beautiful and looks at us with its dark orange eyes; we stop and turn off the engine, we don't want to frighten it or make it nervous because the cheetahs are animals that are easily stressed and this specimen seems to us a female that has puppies, so it is very important that it is calm.
After taking a few photos, we turn on the engine and continue, we want coffee, so we leave the main road and drive along a road that leads to an arid area and where there is no vegetation, here we have a good view of the surroundings and therefore we can go down to get everything we need to make ourselves a good coffee while we enjoy the spectacle and desolation of the Deception Valley.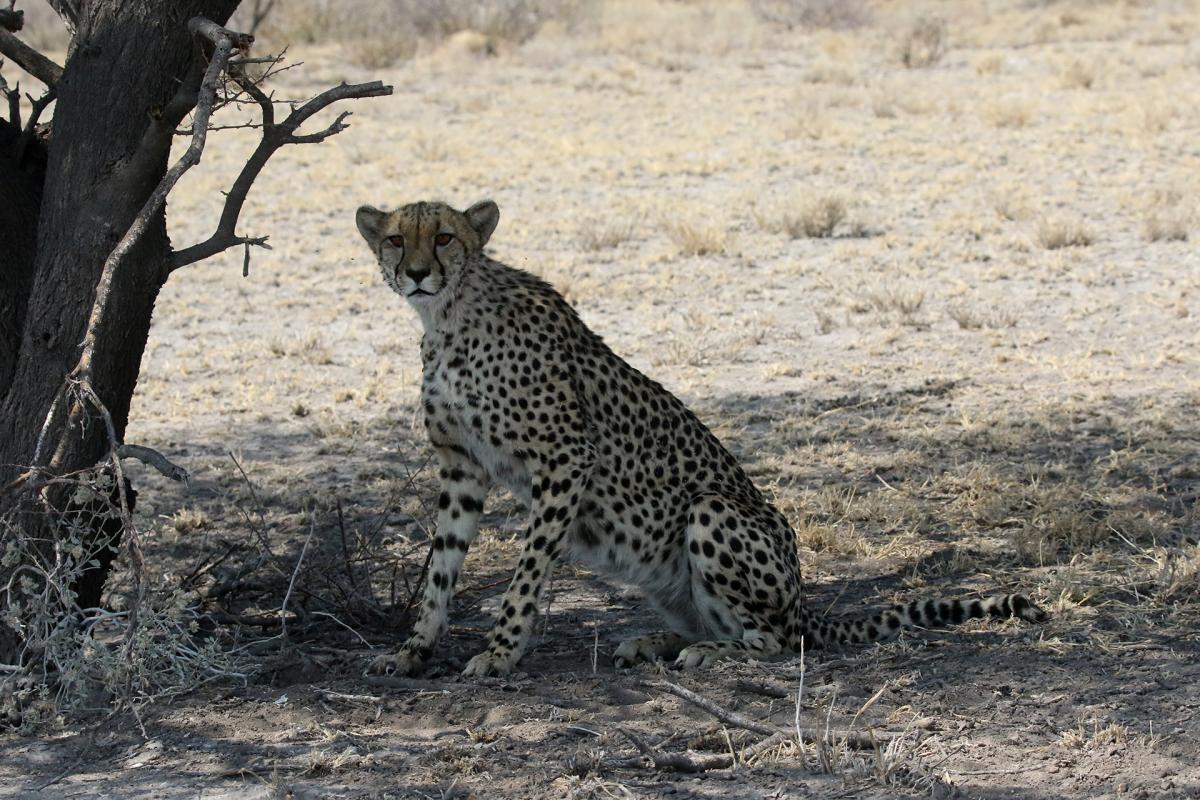 When we leave we go to see if our lions are still there: the three males are exactly where we left them, one of them is dozing while the other two are awake and look around carefully but no longer look in the direction of the couple that actually moved a little further.
They are beautiful, we take more photos, it will be a problem when we have to select them because they are all beautiful.
After a while we decide to say goodbye to our feline friends, we proceed Northwards and drive along the entire Deception Valley until we get to where the track that leads to the Leopard Pan begins; since it is still early to return to our camp, we decide to go to the Leopard Waterhole to see if there is any animal.
When we arrive we are alone, but after a short time another off-road vehicle arrives, he is a South African whom we have already crossed the other day, but today he is alone, the wife has remained at the camp with their friends.
He gets out of his car and asks us if we have seen something interesting today and we show him the photos of the lions and the cheetah and he tells us "I take a picture of your photos, so I show them to my wife and my friends who today did not want to leave the camp ".
We chat a little longer and he ends up waiting for us at his home in South Africa for a braai when we pass by his side and leave us his card; the South Africans, who at first glance often seem grumpy and unfriendly, are actually very hospitable and it takes very little to become friends right away.
It's already 5 pm, it's time to go back to our campsite, it's not the best to arrive in the dark; but when we arrive we see that there is a tent, a table, some chairs and other objects; we are amazed and wonder of whom they can be.
Shortly thereafter comes a family of South Africans from Durban, basically we have a double booking for this night; they would like to move and look for another place, but since they have already placed some things, we decide to move ourselves and go to the CKDEC06, for us nothing changes or rather, maybe our trap camera immortalizes something extraordinary tonight.
We lost some time and now that we settle it becomes dark, but we lit the fire as soon as we arrived so we carried on and we can cook almost immediately; we have dinner and stay out a little longer tonight, strangely here the air is warmer and yet we are just a few hundred meters from the other campsite.
We also enjoy this evening in the bush under a spectacular starry sky from which we can hardly look away.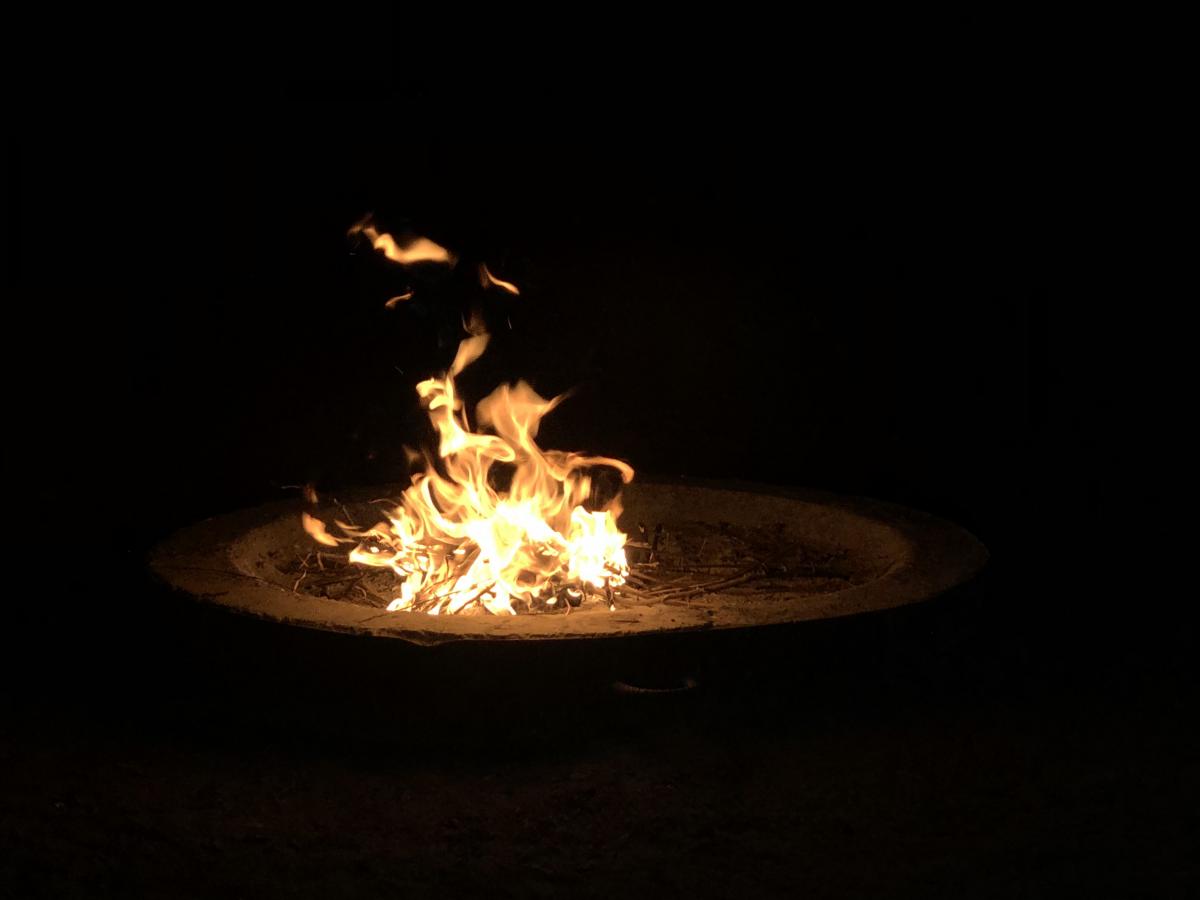 Data di inserimento:
Tuesday, November 26, 2019