Submitted by SafariADV on Mon, 2019-11-25
We are at the Central Kalahari Game Reserve in Botswana, we spent our second night in the reserve at the Sunday Campsite, number 4 to be precise, where we have already been 2 years ago and where we wanted to return.
Tonight we shared our campsite with 2 boys, a French guy and a German girl; although we had booked exclusively we did not feel like telling it and we hosted them.
At 6.00 o'clock they leave but we are almost ready too, we have already had breakfast, all we need is to close everything and go, well they were faster than us but they only have a tent on the ground.
We go down towards the Sunday waterhole, it is artificial and for this reason there is always water here; we stay there and wait to see if someone comes to drink, at the moment there are only different species of birds.
The two guys yesterday saw two honey badgers, they probably have their lair nearby, if so they could arrive this morning, too, hopefully.
In fact, shortly after, here they are! They come like two bullies, they are a male and a female, they are distinguished by size, the female is usually a little smaller than the male.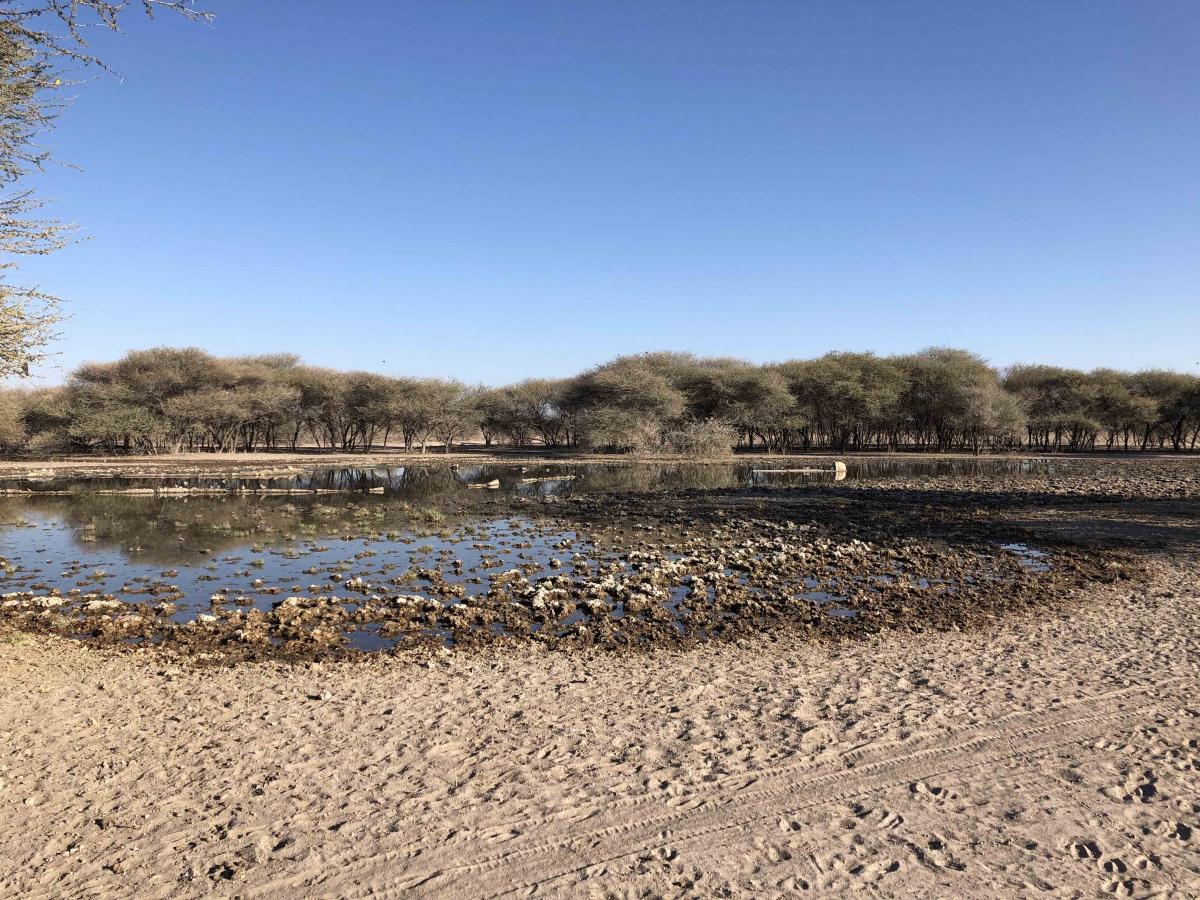 They trot towards the water and start drinking even if, in turn, they look around to see if anything happens.
When another car arrives they run away into the bush, is it possible that they are afraid of a car that is on the opposite side of the puddle while they are not afraid of lions or buffaloes or even all the other animals of the savannah?
Shortly after they return to drink even though they seem warier, they drink, they look around and then they run away again when they hear the engine of another car; but this time, however, they no longer return to the pond, we see them running towards the pan, who knows where they are heading, we cannot even follow them, they are too fast, and then we prefer not to disturb them.
The dawn light colors the sky and is reflected in the water of the pond, it is very beautiful even if the sand that rises with the wind slightly blurs the view and dampens the bright colors typical of the African dawn.
We wait a little longer and then we decide to go around the Sunday Pan, it is smaller than the Leopard Pan we saw yesterday but it could hide some wonder; there is only one way to know it: to cover the entire loop that runs all around.
We see two Kori bustards walking in the low, dry grass; these birds are typical of semiarid biomes such as the Central Kalahari Game Reserve, we have already seen them yesterday and we will certainly see them again in the coming days.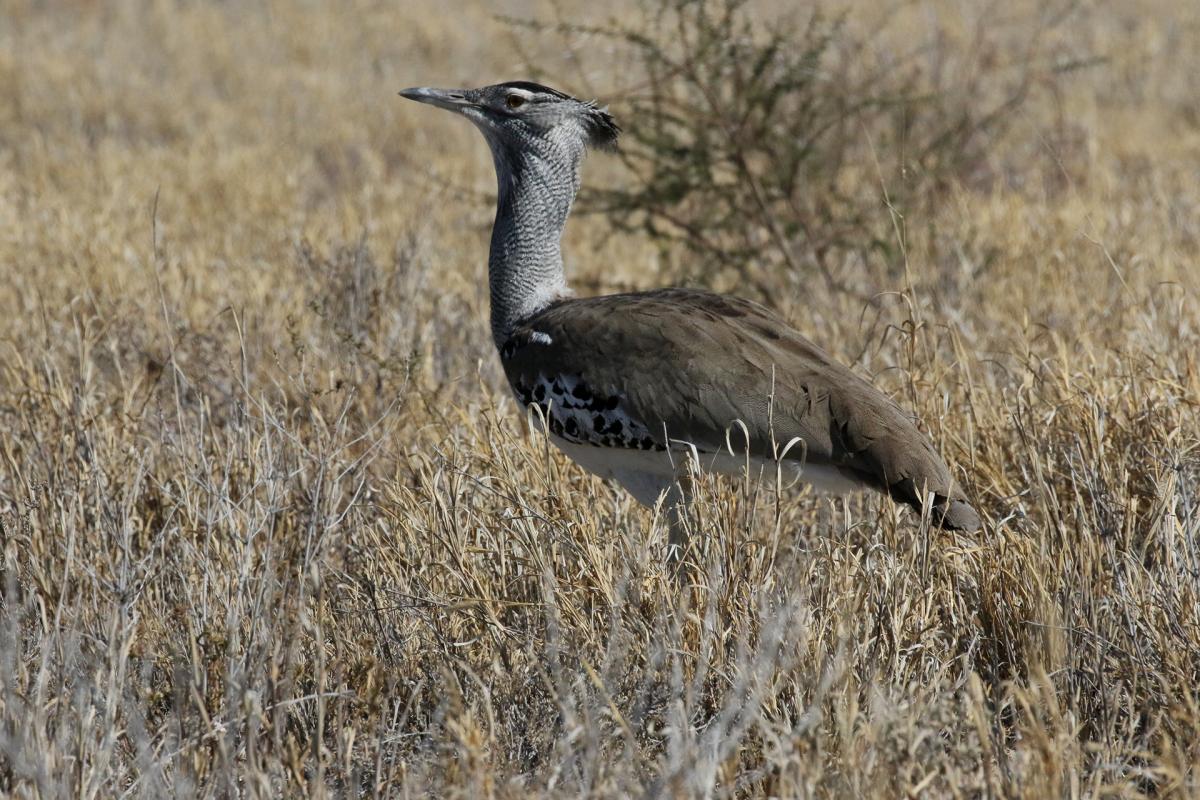 Shortly after we see the profile of two animals that run trotting, initially there seemed to be two jackals but, looking at them more carefully we immediately realize that they are not jackals but rather bat-eared foxes!
They are beautiful with their giant and pointed ears, long and thick tails and a snout; they trot along in the grass and sometimes turn to look at us, probably to check that we are not a danger; who knows where they are running, they are too funny.
We also see several springboks and a few oryxes, they are always beautiful to look at even if the opportunities to meet them here at the CKGR certainly do not lack.
Once the Sunday Pan loop is complete, we return to the Sunday waterhole to see if the situation has changed and if someone else has arrived, but there is none at all.
We choose a place in the shade and we prepare a coffee while we wait.
The other 3 cars that are here at the hole lose patience and leave, so we remain alone to wait; at some point, 3 female kudus and 2 male kudus arrive and immediately head for the water and start drinking while we take some pictures of them.
In the meanwhile, the birds that drink and bathe in the waterhole have also returned.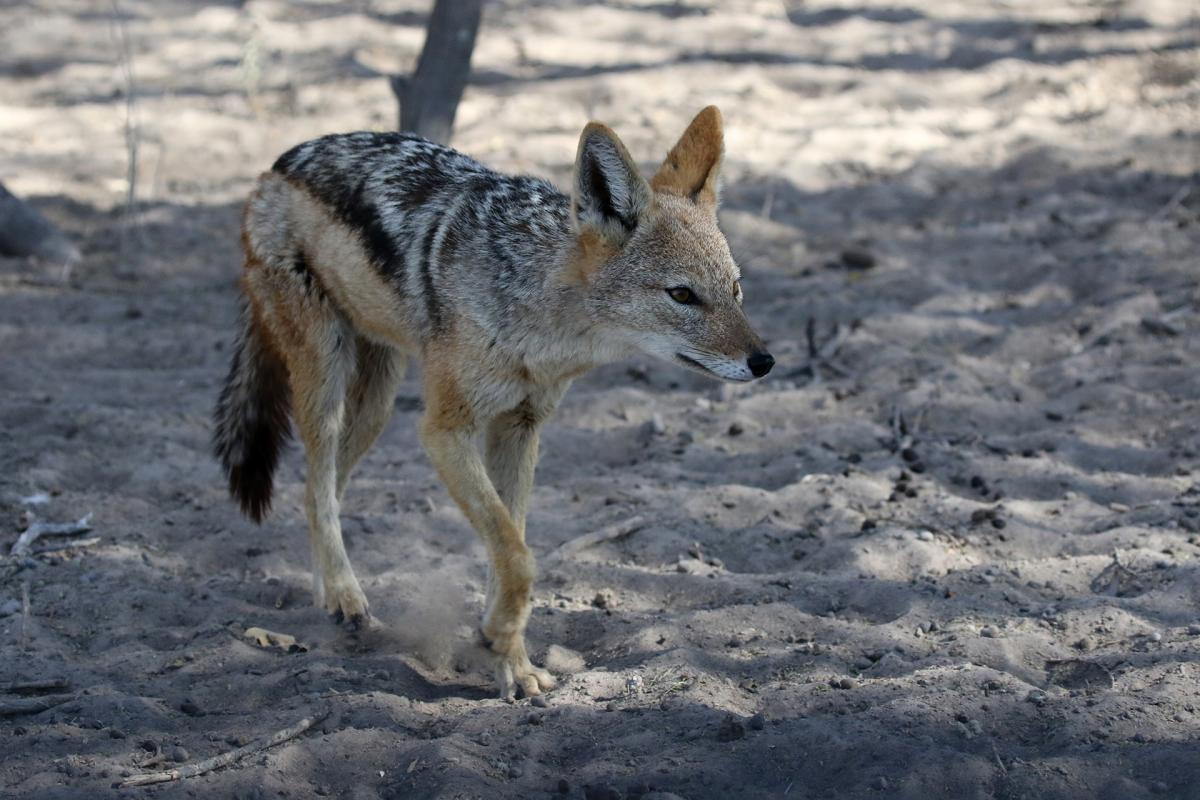 At one point, while we are focused on watching the kudus and birds, with the corner of our eyes we see something moving behind us, we look and discover a jackal that is located one meter from our car; the funny thing is that we look at it and it looks at us, it is obviously curious and maybe it is trying to figure out if it can find something to eat, while we take some pictures.
After a while we decide to leave, maybe we will return to this pond in the next few days, we will see, now we head North, towards the Leopard Pan and drive along the entire loop that is along its perimeter; we see some oryxes and several springboks that, regardless of the heat of the sun that is beginning to make itself felt, walk on the arid surface of the pan without even a hint of shadow.
We meet the cars that were at the hole before but they don't stop, they probably didn't see anything interesting; we complete the whole tour and then we head South and towards the Deception Valley, in the next three nights we will sleep here and explore this whole area.
The Deception Valley is much wider and more desert than the Passarge Valley, it seems a bit like the Death Valley; here it is even warmer and there is no shadow, except that of some skimpy acacia.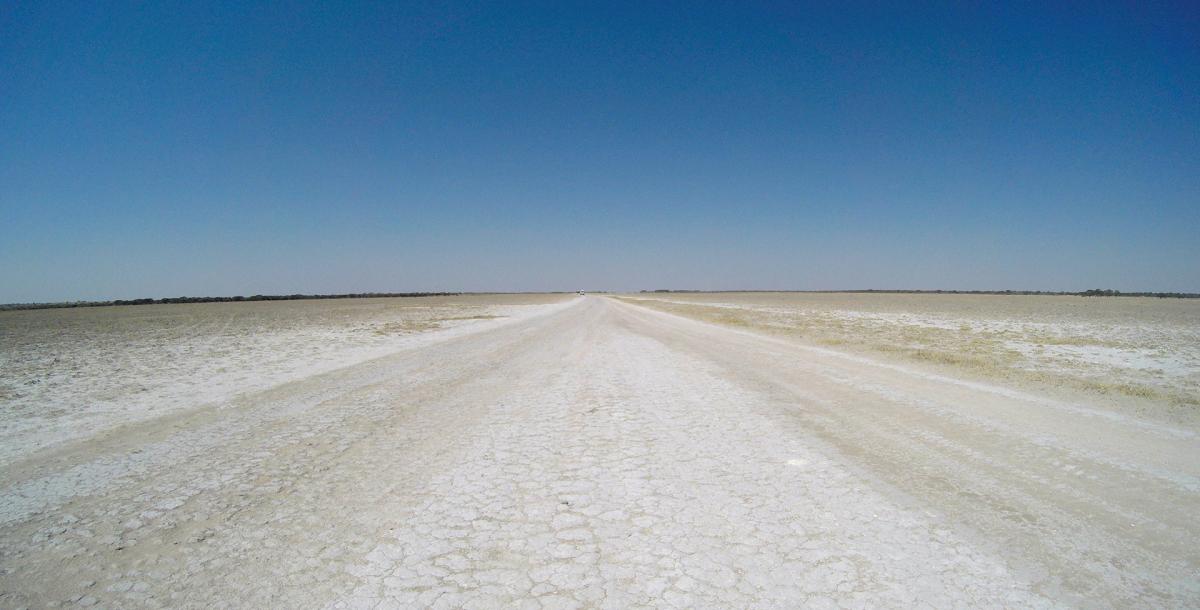 We drive along the main road that leads South, crossing the Deception Valley longitudinally; the bottom is hard and compact, fortunately there is no sand, but there are signs left by those who got bogged down during the rainy season, some are very deep, it is better to avoid them so as not to touch the ground with the bottom of the car.
We don't meet anyone, these are the hottest hours of the day and many will be at campsites or camps to relax, but we prefer to go around even though we know that many animals cannot be seen.
We arrive until the end of the Deception and we meet again the two Franco-German guys who seem happy to see us and we immediately find out why: they have lost their orientation and do not know where they are; they too run around with the map that they give at the entrance, in practice a grainy photocopy of a map too small to be useful for orientation.
We give them the information they need and then we continue our exploration; we decide to go back and go see the Deception Pan even if, in this period of the year, there is no water.
We drive around the entire perimeter of the dry pan, unlike the other pans we have seen so far, it has a gray surface; under the acacia trees, that are near the pan, there are lots of springboks, they took refuge here to find some shade.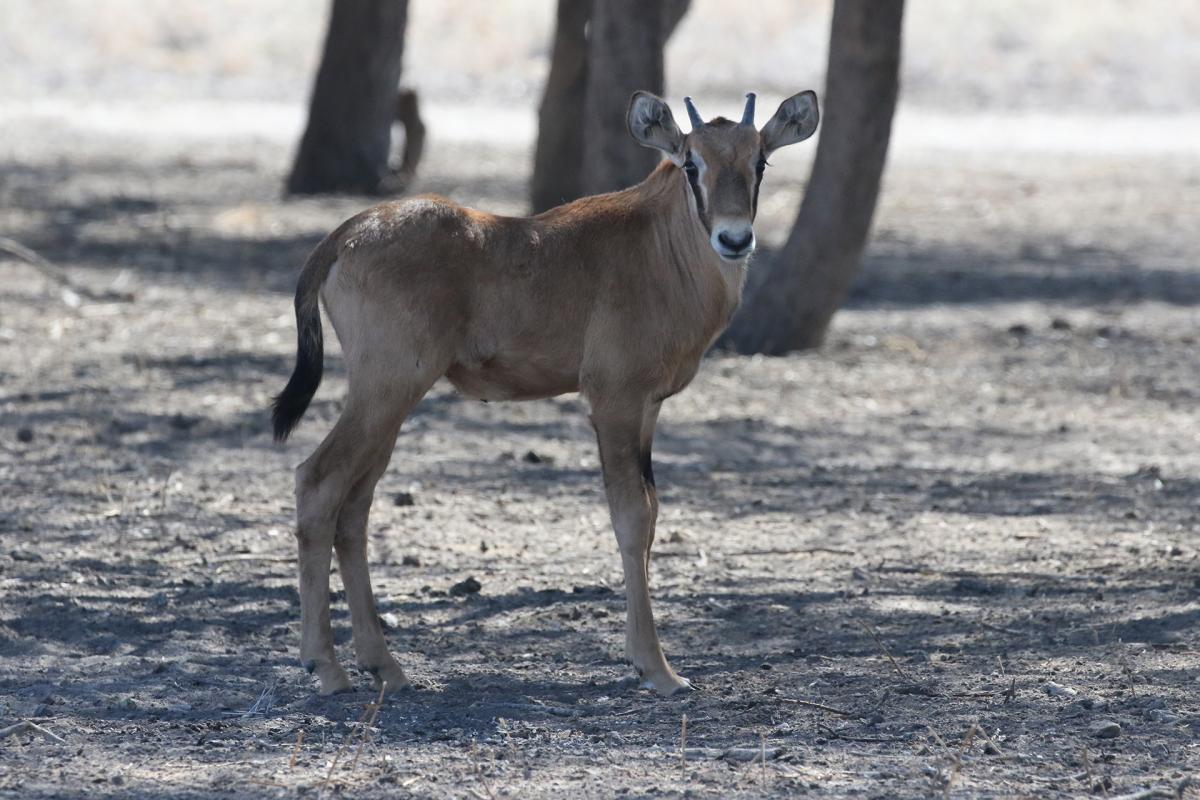 We are also looking for a place in the shade, we park our Dr. Livingstone and have lunch; today we have prepared some sandwiches.
We are there a while to enjoy the peace, the silence and the desolation of this place even after having finished lunch, also because with the heat that is there now it is really extreme to go around.
Shortly after, however, the desire for exploration prevails over everything else and then we leave again, we always head North.
At one point we see four giraffes that, coming from the acacias that are on the other side of the valley, are coming right in our direction; so we stop and wait for them, but when they are closer they stop and look at us halfway between the curious and the wary.
We turn off the engine so as not to scare them off and we take some pictures and then we leave again as they don't seem very used to the presence of cars, they probably see very few.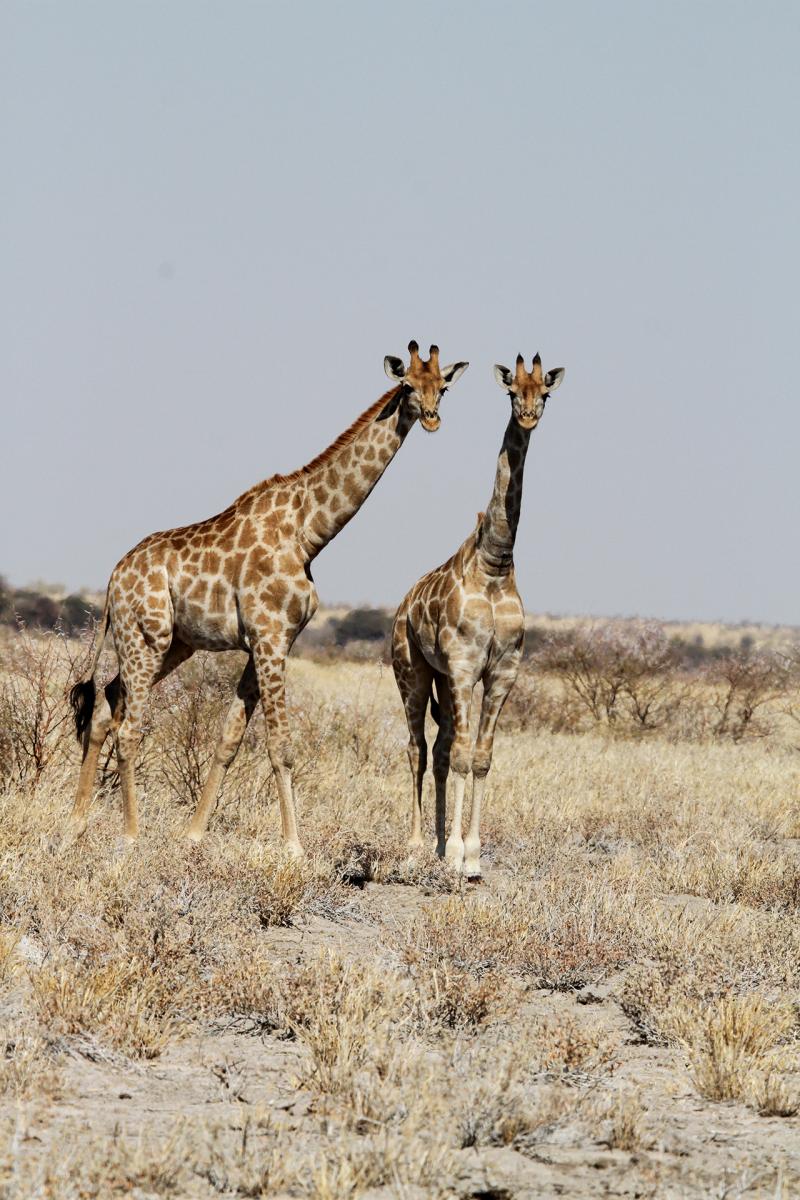 We go back to the Deception Valley, the road is not the best and so it takes a while, as we drive North we see different springboks, oryxes walking in the sun regardless of the heat and, suddenly, we see two more bat-eared foxes, we are in a different area from that of this morning, so they cannot be the same; but how many are there? And then they are crepuscular and nocturnal animals, what are they doing around at this time?
We take some photos, but they run away quickly, as always, and they don't give us much time to capture them.
When we get to the start of the Deception Valley, where the track leading to the Maswere Gate is also located, we are a little tired, today we have been around a lot and it's hot; so we decide to go and look for our campsite and, at the limit, if we really want to, we can take a ride at sunset.
We take the short cut that runs straight from East to West and crosses the entire North of the CKGR; two years ago we covered it all to reach the Motopi campsite, up then it was the only way to get there at a decent hour, in reality we arrived at 7.30 pm in the dark; it is a long and monotonous road, but this time we have to cover only a few kilometers.
Our campsite is the CKDEC02, located at the first deviation on the left; we take this secondary road and we try to follow the indications but the signs are old and in part they are broken, therefore we go a bit by intuition and we arrive at the camp.
We never arrived at the camp so early, it is 4.30pm and it was clear from the start that once we got here we would not go around anymore, so we prepare the camp, we also have time to relax a bit and enjoy the light and space.
Here too there are many little birds that seem to look for water like the other night, they beat with their beaks on our bottle of water, they make tenderness; we know very well that nature must take its course but our hearts are crying to see them like this, so we cut a plastic bottle and put some water in it, in a few minutes lots of birds arrive.
When the sun starts to fall on the horizon we have our usual spritz, indeed, to be precise, we do the pirlo, typical of the province of Brescia, that, unlike the spritz, is made with still white wine instead of prosecco.
Immediately afterwards Silvan lights the fire we use to cook, but also to create atmosphere after sunset; another day at the CKGR is over and we are a little tired but happy.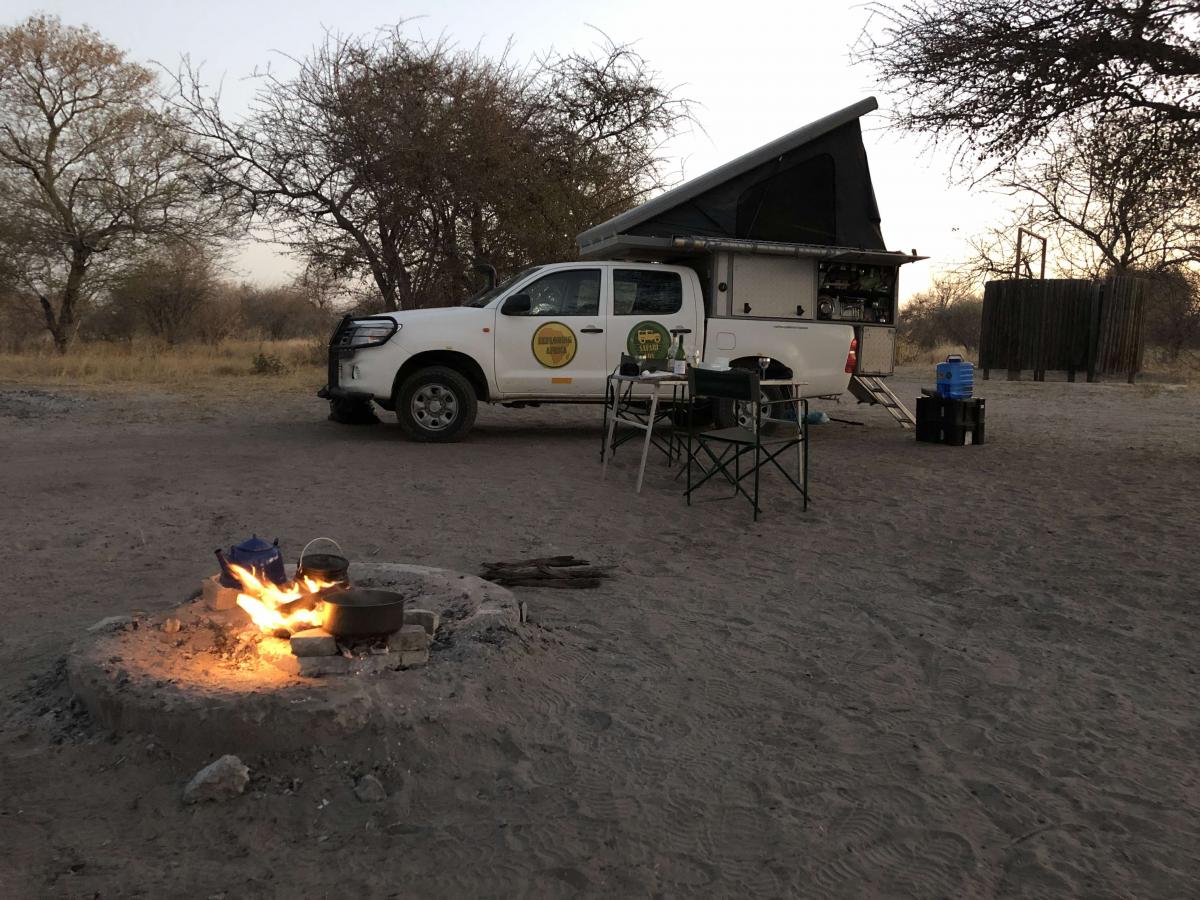 Data di inserimento:
Monday, November 25, 2019