Submitted by SafariADV on Sun, 2019-12-01
We are at Palapye in Botswana, this was the last night we spent in this beautiful country; we stayed at the Peaconwood Boutique B&B and, in addition to enjoying it as a structure, we had a great time.
We woke up at 7.30 am and went to have breakfast, the girl cooks us an omelet and sunny-side-up eggs worthy a star chef, wow!
We close our bags, close our Dr Livingstone and, before leaving to South Africa, we ask the girl if there is a tire dealer to understand if we can repair the tire we punctured yesterday.
She calls and, shortly thereafter, a guy comes to pick us up; we follow him by our car to the tire dealer who is on the main road.
It is a very large workshop, in fact with all the trucks that pass through here to go to the rest of Botswana and to Zambia, Zimbabwe and who knows where, he has to work a lot.
They tell us that our tire cannot be repaired, a part of it has torn open and we even lost a piece of it, when we changed it yesterday we hadn't noticed; so we have to buy a new tire.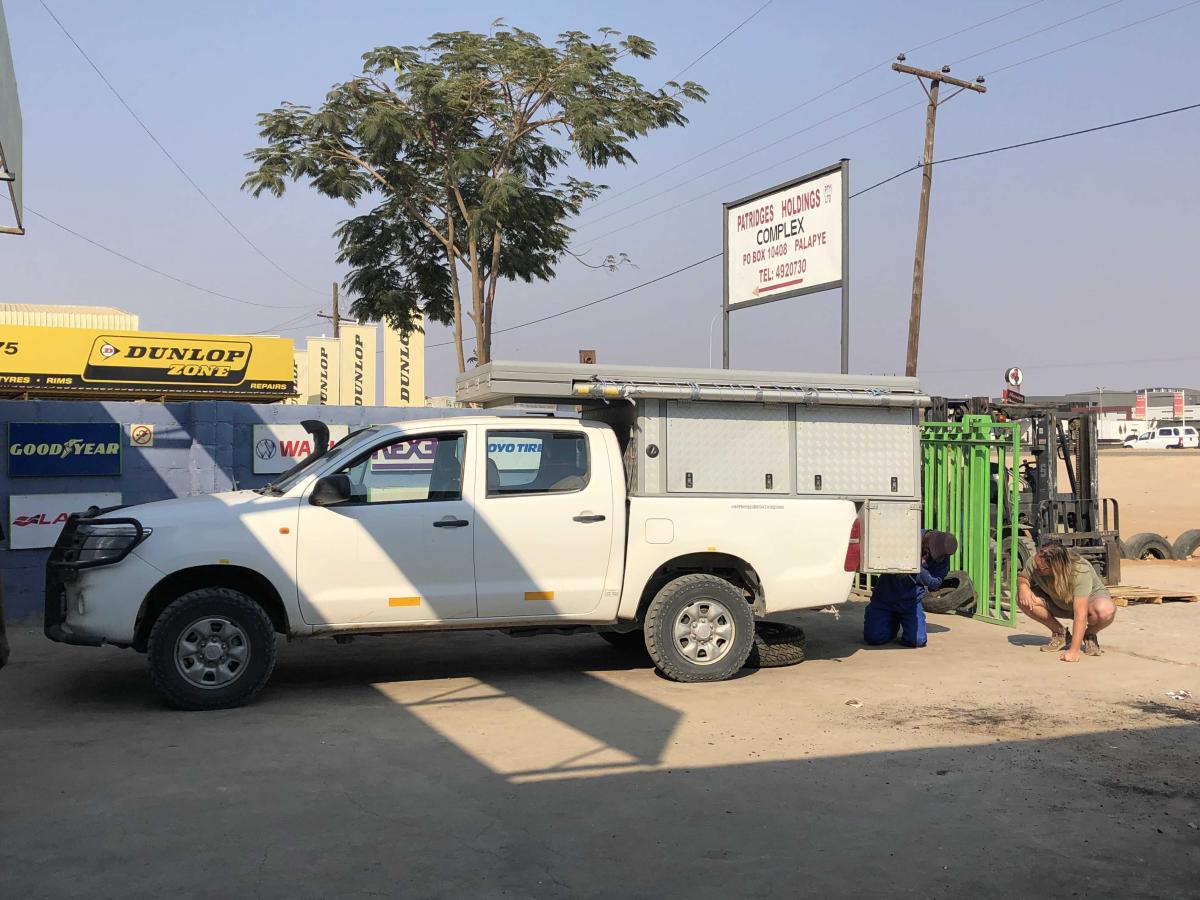 While we wait for the guys in the workshop to fix the wheel, we chat with the boy who came to pick us up and find out that he is the owner's son; at some point he says "Ah but you are Italian, do you know Travaglioli?", initially we try to understand if he is saying something the wrong way, it has happened to us many times to struggle to understand Italian names because they are crippled, but we realize that we don't recognize any known name, such as that of a footballer for example; so we make him repeat it and he repeats exactly "Travaglioli"!
He must have understood from our lost gaze that we had no idea who he was talking about, so he gestures for us to follow him and leads us to see a machine that is used both to remove and to mount the rims on the tire and shows us the brand name and repeats "Travaglioli" again, as if he had told us "Brad Pitt".
We discovered that he is very well with this machine and he tells us to tell "Travaglioli" when we return to Italy ... very well, we would like to tell him that in Botswana there is an admirer of them, the problem is to find them!
After positioning the tire in its place, the time has come to leave, also because today we have 500 km to go to reach our destination tonight: Pretoria.
From Palapye to Martin's Drift, the border post with South Africa, we have to travel about 100 km; obviously there is almost no one along the way; let's say that traffic is certainly not a problem that afflicts Botswana.
Before arriving at the border, we stop at a fuel pump, grab something cool to drink and fill up as diesel is cheaper here in Botswana than in South Africa and why not taking advantage of it since we are here.
We arrive at Martin's Drift and, to our surprise, there is an absurd queue at the border, almost all of them are private and very few truck drivers; but where are they all going? Usually there is hardly anyone there.
We waste a lot of time queuing both to exit from Botswana at Martin's Drift, and to Gobler's Bridge to enter South Africa; fortunately that many are on foot and we are in the car, so we pass in front of several people walking on the bridge of the Limpopo river.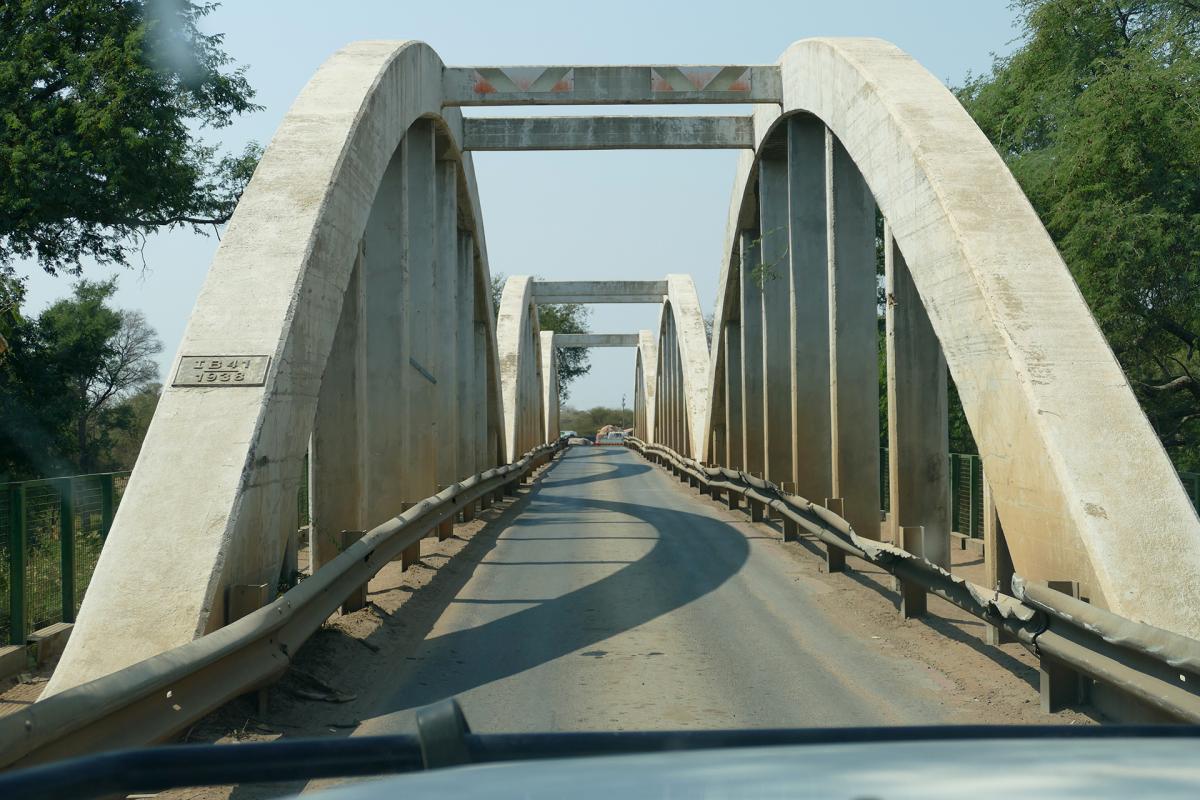 In the end we lose more than an hour to cross the border, fortunately today we have no commitments or plans, whatever time we arrive is fine; on the other hand we chatted with a few people and this is always have a lot of fun.
Welcome back to South Africa! We returned to South Africa after about three weeks in Botswana and after a wonderful and exciting trip; our journey is about to end but we are happy and satisfied with this wonderful experience.
We leave the border post behind us and drive in the direction to Pretoria, but we cannot fail to notice the infinite queue of trucks waiting to cross the border, the queue exceeds 2 km, given the slowness with which the documents are done they are likely to be here for days waiting.
It is lunchtime but for several kilometers there is nothing on the roadside, only farms and nature reserves, so when we arrive near Lephalane we decide to stop and look for something.
As soon as we enter the inhabited center we see a fuel pump with a small shopping center behind it, the Marula Mile, we enter the parking lot certain to find something and in fact there is a KFC; we park our Dr Livingstone and enter.
It is full of people but we are the only whites and, it may be our impression, but it seems to us that we are not as well-liked as it happened to us in many other places and we soon understand why.
Shortly after, in fact, 3 whites enter and greet us even if they don't know us but only because we are white and already this attitude does not drive us crazy, as if it were not enough shortly after they treat the KFC staff as if they were their servants ... well if the whites who live in this part of the Limpopo usually behave like this it is obvious that people don't love them.
We do not like to witness such situations, it is understandable that the recent past does not help, but instead of remaining fossilized on anachronistic positions, they should all look ahead and seek the best for the community.
The thing that I regret most is when someone, seeing us white and with a South African car, may think we endorse certain behaviors; we don't want to have anything to do with certain behaviors.
When we finish having lunch we take our Dr Livingstone and set off again, in hindsight we did well to stop at Lephalane because for the next 100 km there is nothing left.
When we finally arrive on the N1 we can travel at a slightly higher speed, thank goodness because we are a little tired and we can't wait to get to Pretoria.
We arrive around 4:00 pm, our hotel is the Sheraton Pretoria that is located in front of the park where, on the opposite side from us, there is the Parliament Building; tomorrow morning before leaving for Jozi we can take a tour.
We relax a little in the room, we are tired and we do not want to venture into the city for dinner, we do not know Pretoria well and we do not want to have to search and evaluate the various options nor to have bad surprises or to end up in some wrong city area; we prefer to dine at the hotel in relaxation.
Tomorrow the last stretch of road of this journey awaits us, we return to Joburg and the day after tomorrow we have the flight to go home; better not to think about it.