Submitted by SafariADV on Sat, 2019-11-30
We are in the Central Kalahari Game Reserve in Botswana, the time has come to leave today; we are very sorry because this was our last night in the wild and this morning leaving the CKGR we will make our last safari hours of this trip; in the end we have been around for almost a month and unfortunately the time has come to go back to Johannesburg and then go home.
We woke up at 6.00 am, have breakfast and set up our Dr. Livingstone to leave; at 7.30 am we leave the campsite and head towards the Deception Valley.
Obviously, even if this morning is little more than a transfer to get out of the Central Kalahari, we still look around, you never know what a safari can reserve and when.
We take a short tour in the Deception Valley and see many oryxes with some cubs, some are really small, they are too beautiful, they are much lighter than the adult specimens and have very small horns, they must have just come out.
We take the 40 km track that leads to the Maswere Gate, on this stretch of road it is very difficult to spot many animals as there are a lot of bushes that close the view, also the sandy track is at a lower level than the level where the bushes grow.
At some point we see a group of slender mongooses that crosses the road running, they are very fast and it is impossible to take some pictures of them because in a moment they have already disappeared in the bushes.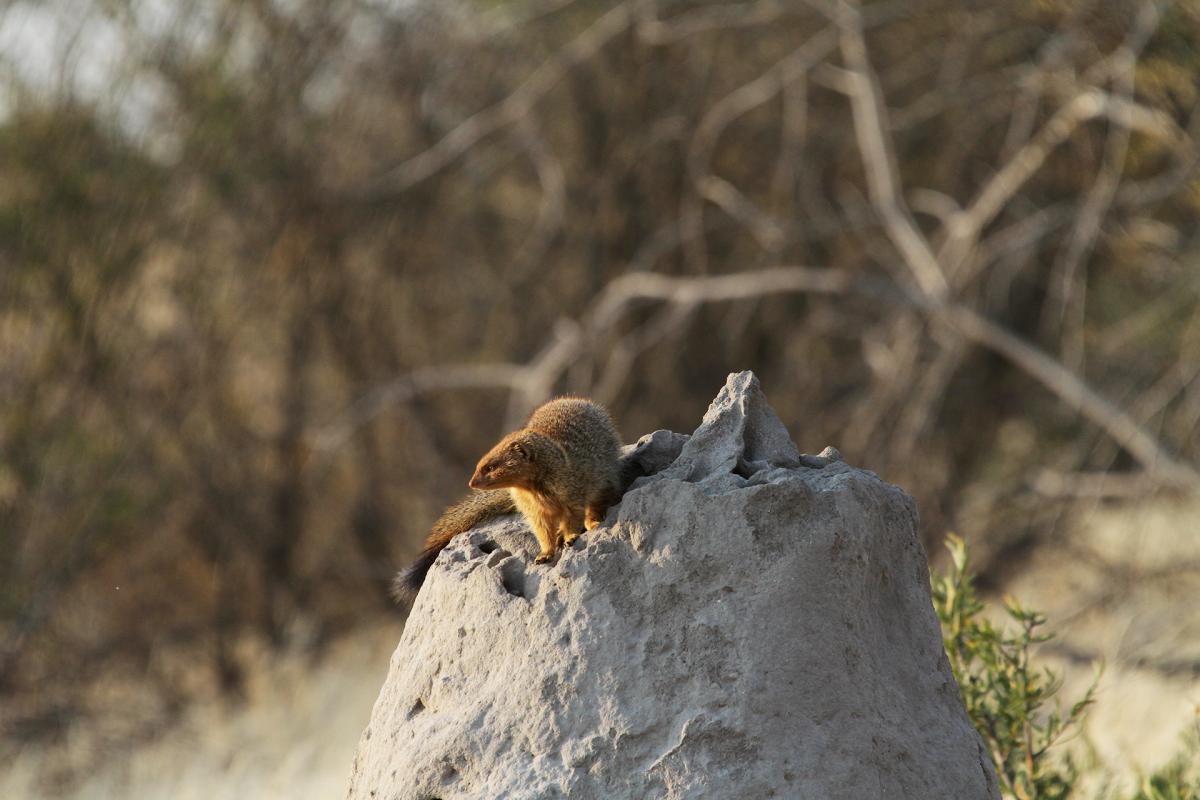 When we arrive at the Maswere Gate we check out of the park but, before leaving, we decide to have a coffee at the wooden structure with the thatched roof where we had lunch when we arrived five days ago.
While we are enjoying our coffee there we see four guys greeting us, we wonder who they are and then we recognize the South African we met several times at the CKGR in the past few days; the rest are his wife and friends.
They curiously approach our Dr. Livingstone, we also offer them a coffee while we chat but they are all involved to understand how our car is built; we also open the roof and they look at it in ecstasy, it seems that they have never seen one built like this.
During this trip we found out that people really like our Dr. Livingstone, especially South Africans who ask us where we got it and who have never seen cars built like this, the curious thing is that we bought our car right in South Africa.
We say goodbye to our friends, who are waiting for us at their house for a braai the next time we come to South Africa, and we leave; we travel the 40 km of the track that leads us to Rakops and to the main road.
From here we have to go to Palapye, but first we enter Rakops and go to our tire friend where we had already gone two years ago, to inflate our tires; it is certainly easier and faster than inflating them with the compressor.
Since we are here in Rakops we also take advantage of filling up our Dr Livingstone, despite the fact that the second tank is still full.
After that we leave and head South, today we have a lot of kms ahead of us and along the way we have no stop to make except to break off somewhere for lunch.
We have already traveled this stretch of road when from the Khama Rhino Sanctuary we went to the Boteti River at the beginning of this trip to Botswana; we were definitely more thrilled, since we still had many days ahead of us and so many wonders to see.
Along the road there is no traffic, there is never traffic in Botswana, we only meet a few cars, but it is really a rarity; we continue our journey and, once we have passed the city of Orapa, the capital of the mining industry of Botswana and an off-limit city for those who do not work there, we decide to stop for lunch at Letlhakane.
The town of Letlhakane is the perfect place to shop, to have lunch somewhere or to refuel; here is also one of the offices of the Wildlife of Botswana, where fees can be paid to enter the parks and reserves of the country.
We just have to have lunch and we go to Nando's, a South African chain that cooks only chicken with sauces and spices that recall Mozambican cuisine, the chain logo is the typical Portuguese cockerel; in all these years we had never gone to Nando's and it was a pleasant surprise, we liked it very much, it is perfect for a quick and healthy meal.
After lunch we leave, we would like to get to Palapye before sunset because it is never a good idea to drive at night, in addition to some drunk who might be around by car, the real danger in Botswana are the animals that wander at night and are difficult to see in time.
As we go East, suddenly, we feel like a bang, what happens? We stop at the roadside and go around the car to check what happened and we see the right rear wheel that deflates quickly: a tire has blown up!
After all the dirt road, the sand, the stones, the water it burst right on the asphalt; it had probably already worn out and the weight of Dr Livingstone on a harder surface, like asphalt can be, did the rest.
And now? We take the crick, identify the right point where to aim it and start lifting Dr. Livingstone, but it's not that simple, luckily a car stopped with two men and a girl on board; despite being dressed all elegant, they rush to lend us a hand and in the end they do everything.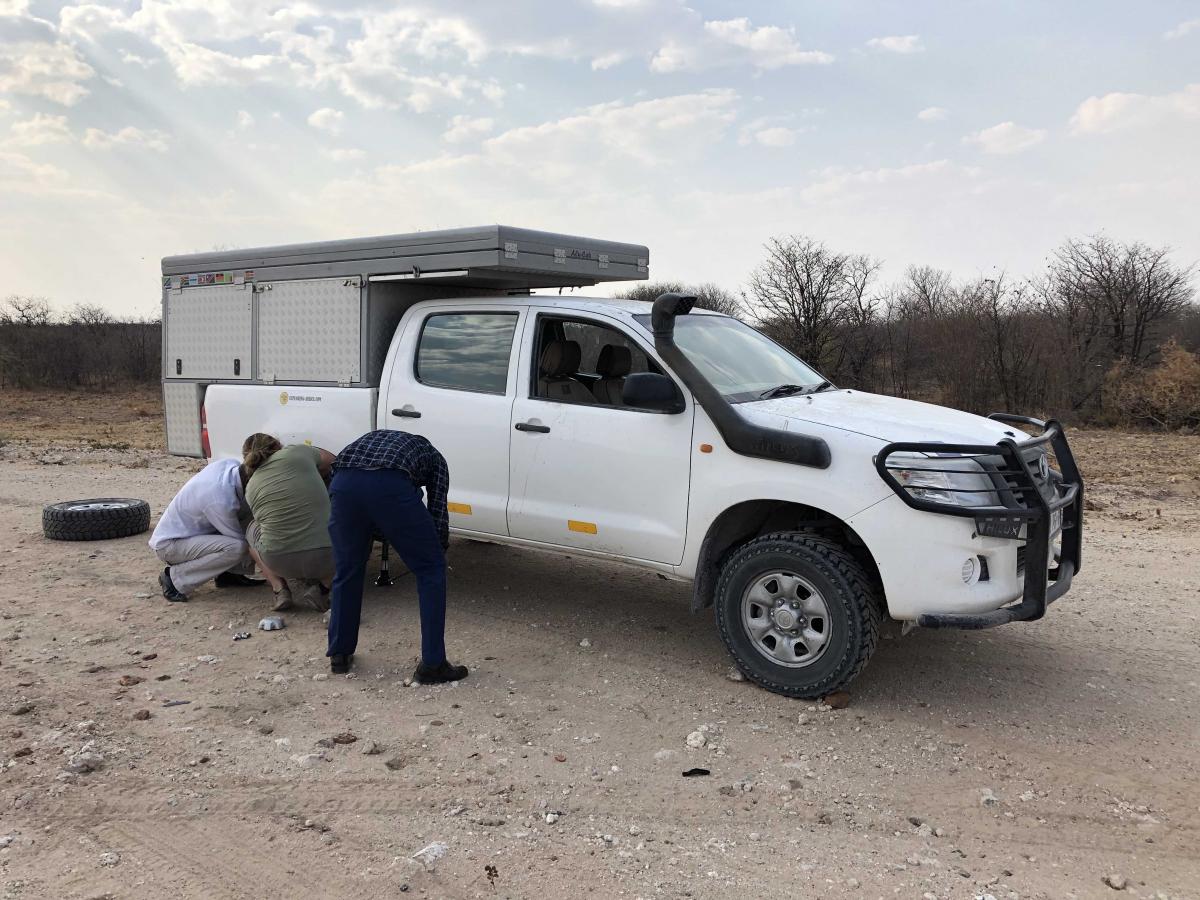 In about 20 minutes we are ready to leave, we give them a bottle of wine and we see that it makes them very happy.
We continue our journey to Palapye, there is not much missing and we can't wait to get there to relax a bit and take a shower, we need it after all the sand of the Central Kalahari.
At Palapye we took a very nice B&B called Peaconwood Boutique B&B; the structure is new, the room is large and comfortable, you can park inside the courtyard, there is security and the common part is furnished as if it were a house with a kitchen where, if you want, they cook everything you want, outside there is also a small swimming pool.
They are very nice, they are all women and they are nice and hospitable, we really feel like we are at home; we don't want to cook or have something prepared, we prefer to order a pizza at Deboinars', it won't be a real Italian pizza, but it's still good.
We have dinner at one of the tables in the dining room and then go to the bedroom, even if we don't sleep immediately we are tired and so we relax a little.
This is the last night we spend in Botswana, tomorrow we return to South Africa.
Data di inserimento:
Saturday, November 30, 2019