Submitted by SafariADV on Sun, 2019-11-24
We are in Botswana at the Central Kalahari Game Reserve and this morning we woke up at our campsite at the Passarge Valley, the CKPAS02; our Dr. Livingstone gave us a nasty surprise and made us worry a lot:when we were ready to go, we started it but we couldn't fit the gears.
The only solution at that time was to push it to the main road and hope that some other cars would pass by and help us; fortunately, after pushing it for a few meters, we tried again and the problem was solved by itself.
Finally we leave from our campsite and reach the main road that crosses the whole Passarge Valley from East to West; we turn to the right because we have decided to go along it all today, since then tonight we move to another area and in the coming days we will explore a different area of ​​the CKGR.
The landscape of the Passarge Valley is amazing also the fact of not crossing other cars, now that we no longer need help, it is fascinating.
We drive all the way to the Passarge Waterhole, along the trail we do not see many animals, only a few giraffes and several oryxes, but we still enjoy the beauty of this semi-arid and, in appearance, inhospitable place.
When we get to the Passarge Waterhole we see lots of springboks that are definitely here to drink, even if there is very little water; our attention is caught by two males that are fighting: they face each other fearlessly with their heads down, colliding with their horns; fighting they raise the sand but they don't seem to care about anything but to win the match they started.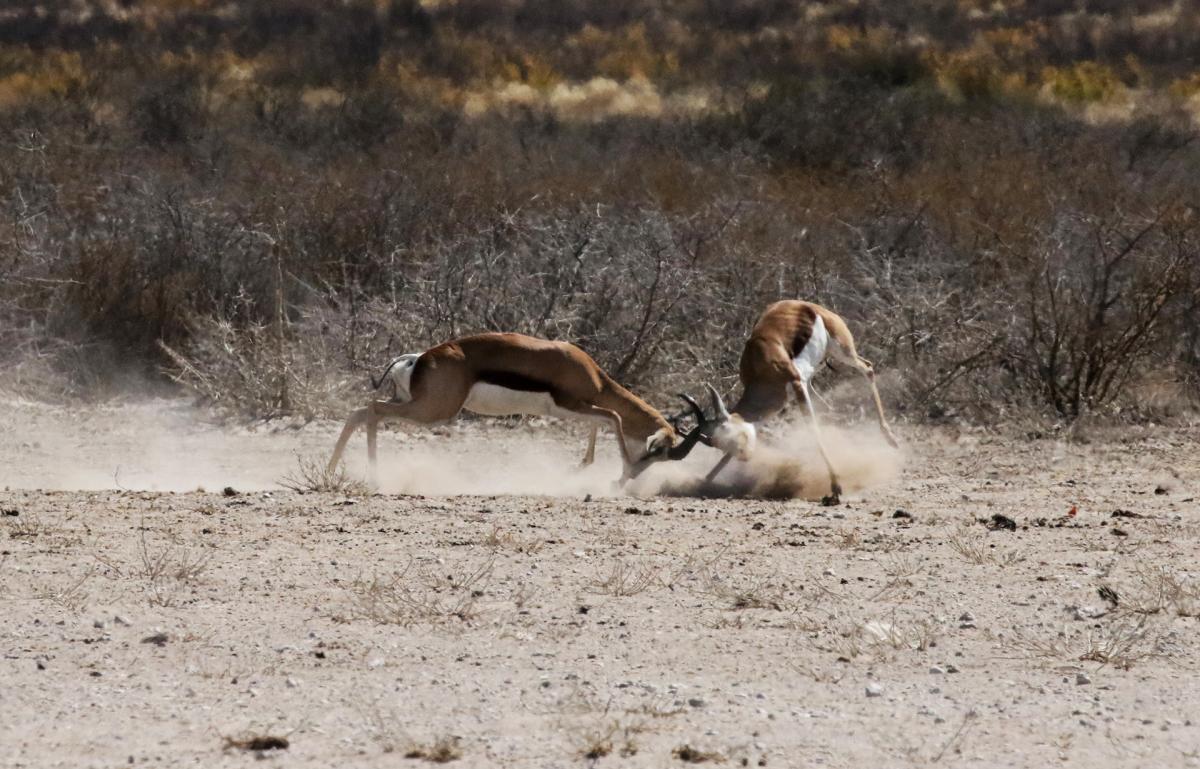 Here at the waterhole there is only us and another car, they are two boys, he is French and she is German; they tell us that they have been here for a while and just before we arrived they saw two honey badgers coming to drink, so if we hadn't had that problem with Dr. Livingstone maybe we could have seen them, too .
Patience if it is destiny we will see them sooner or later while we are here at the CKGR.
We stay here for a while and take a walk around to see if there are any feline prints, but we don't see any; we get back to the car and, while we wait for some other animals to arrive, we make ourselves a coffee, in fact we did well to wait because some oryxes arrived shortly after.
After a while we decide to leave and drive along the road of the Passarge Valley, we see bat-eared foxes, jackals, bustards and other birds.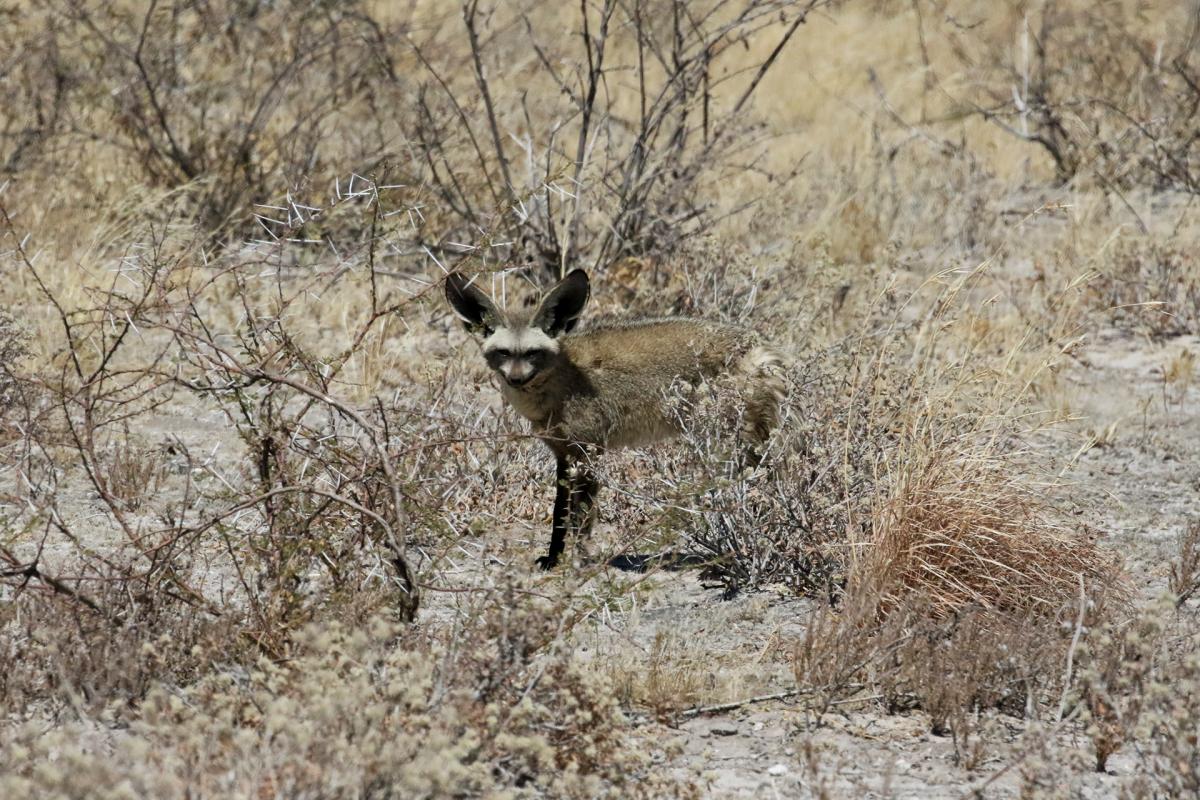 Since it's lunch time we go to the CKPAS01 camping area, take out the table and chairs and have lunch in the shade of a tree; in the central hours the sun is hot and it would be unwise to stay in the sun.
Obviously, even if we are eating and relaxing, we look around anyway because you never know which animals can be nearby and we don't want surprises.
We take it slow but at some point we decide that it is time to resume our exploration of this part of the Central Kalahari.
We arrive at Leopard Pan and decide to do the whole tour along the perimeter of the Pan, that is dry at this time of the year; we spot several oryxes and other antelopes and enjoy the wonder of the immensity of the pan.
We continue our safari and arrive at the Sunday Waterhole, and, by a strange coincidence, today is just Sunday; we position ourselves with our car in the shade and wait for someone to come to the hole.
In reality we don't have to wait long, in fact we see some oryxes that come to drink, they also pass very close to us but our presence doesn't disturb them the least; they drink and then go to the Sunday Pan.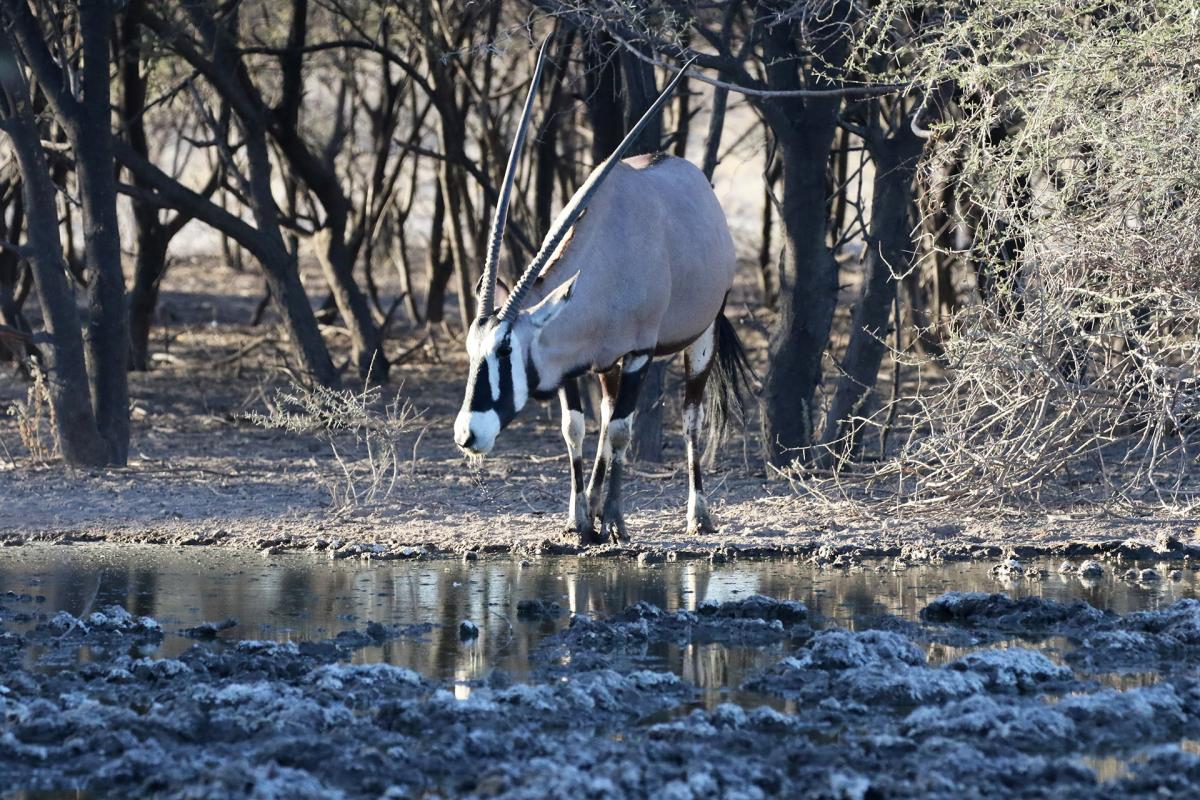 Shortly after a jackal arrives, it is very close to us, it looks around furtively, it is probably observing if there is any opportunity to steal food from someone, in reality it also looks at us, it keeps an eye on us and probably trusts little our presence; after carefully observing all the surroundings it decides to go back where it came from.
After a while we decide to go to our campsite, CKSUN04, thet is right above the Sunday Waterhole; we have already been to this campsite two years ago and we loved it, so we decided to come back and stay for two nights.
When we arrive we find a tent on the ground, who knows to whom it belongs; in theory, each area is reserved for a single guest but sometimes it happens that they are wrong and make a double booking; we will then discover that this is not the case for a double booking but the tent owners have made reservations at random in the CKGR and then every evening they position themselves where they like.
If we were South Africans we would be nervous about the fact that they positioned themselves here, but they do not create a problem for us, indeed we are pleased.
We find out later that they are the two boys we found this morning at the Passarge Waterhole; we exchange a few words with them and we joke a little, they are nice.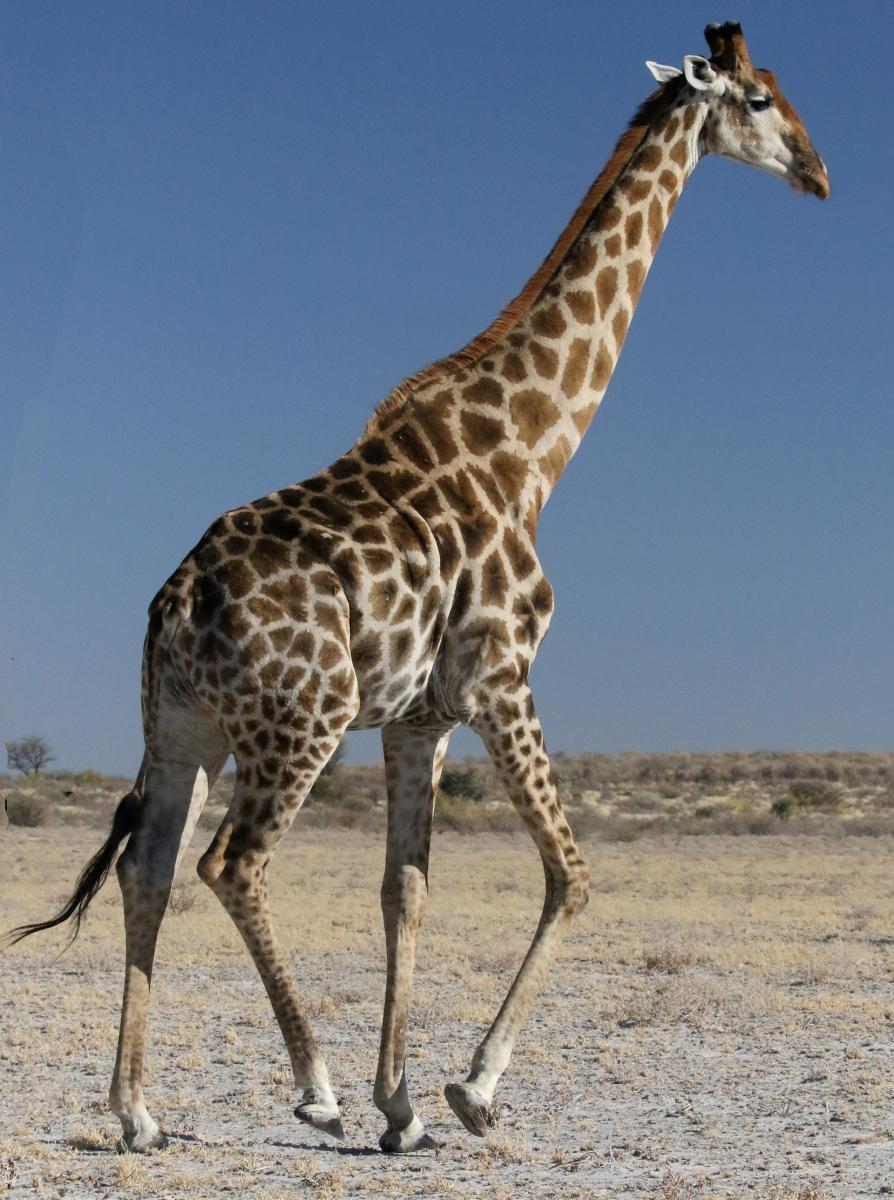 We say nothing to them but we think they are traveling a little too spartan, on the verge of safety, I don't know if I would sleep with a light curtain, and not a canvass, resting on the ground and not even if I were sitting on the ground in the sand with my back in the bush; we offered them to sit at the table with us, but they told us not to worry because they are fine on the ground too, happy with them.
We cook on the fire a delicious spicy pumpkin soup in our cast iron pot, in this chilly weather in the evening we really needed it, and we accompany it with a Boer sausage.
Tonight we are out near the fire until 8.30 pm a record!
We have a chat with the two boys while an owl, a Giant Eagle Owl, hovers over our heads; it is hunting but, despite its entanglement, it is unable to capture anything, but the night is still long.
It starts to get really cold so we decide to get into our car but not before having positioned our trap camera, we hope to be lucky like last night, maybe we still see the owl.
We stay for a while in our living room but we get sleepy soon, so we go to sleep, tomorrow we will have another busy day.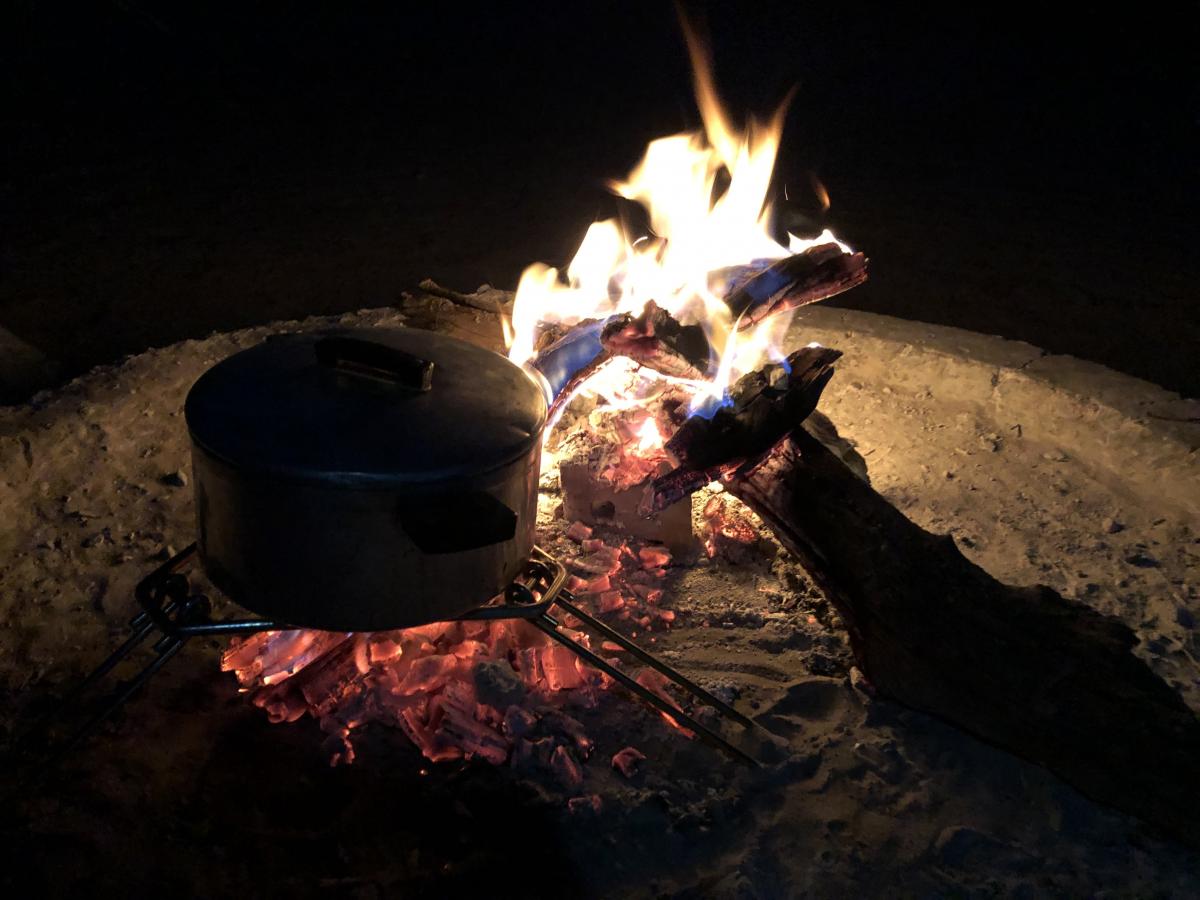 Data di inserimento:
Sunday, November 24, 2019